Horses and cowboys are ubiquitous to the romance genre.
A good steed and a tough man is such a well-known trope that it seems impossible to separate "The West," and all the romantic notions that period conjures, from the genre as a whole. But it was thanks to one woman that Western Romance was writ into existence.
New York Times best-selling author Janet Dailey transformed the genre and put the United States on the map, literally. Since 1976, her pioneering work has sold an estimated 300 million copies worldwide and counting.
Horse Network sat down with Alicia Condon, Dailey's long-time editor at Kensington Books, to talk about the enduring influence of the legendary writer.
Horse Network: Tell us about the first time you met Janet Dailey. What was she like to work with?
Alicia Condon: I had a wonderful trip out to Branson, Missouri, to meet with Janet, which was just fantastic. She showed me the inn that she was in the process of renovating and the home that she and her husband had built where they kept horses. It was almost this fairy tale property that they had created. I got a chance to really get to know her on a personal level as well as a professional level.
Janet had very strong ideas and was very opinionated. If she didn't think that something was right in her book, she would let me know straight away. She didn't always accept my suggestions for edits, but she listened to them all. She was very inspired and very passionate about her writing.
HN: Janet changed the way we think about romance novels and the landscapes around them. Talk about that.
AC: Yeah, definitely. She started out writing for Harlequin, and changed the Harlequin Romance novel by bringing it to the U.S. Before that, almost all the writers were British, and the books were very much a product of the British mindset. They were all set either in England, Caribbean countries, or places that were colonial offshoots. So, Janet brought this fresh, exciting new approach, not only setting her books in the U.S., but having [prototypical] American characters who are completely different, very outspoken, and direct. She had powerful heroes and spunky heroines who wouldn't put up with any nonsense.
Along with Americans themselves, she really brought in American places in a way that they were almost a character in and of themselves.
HN: Janet Dailey's newest book is set once again in Branding Iron, Texas. Why do you think this fictional town so beloved by her readers?
AC: Santa's Sweetheart is the seventh book set in Branding Iron. This just happened organically. We didn't initially know that Branding Iron would become this place that readers love to return to year after year. It's a little town, kind of out of the way, but it's filled with people who readers can really identify with. They're not super-rich or glitzy.
As the series has gone on, characters reappear. So, you just feel like you're walking down the street in somebody's hometown. You know the people and their history, and you're happy to see them again.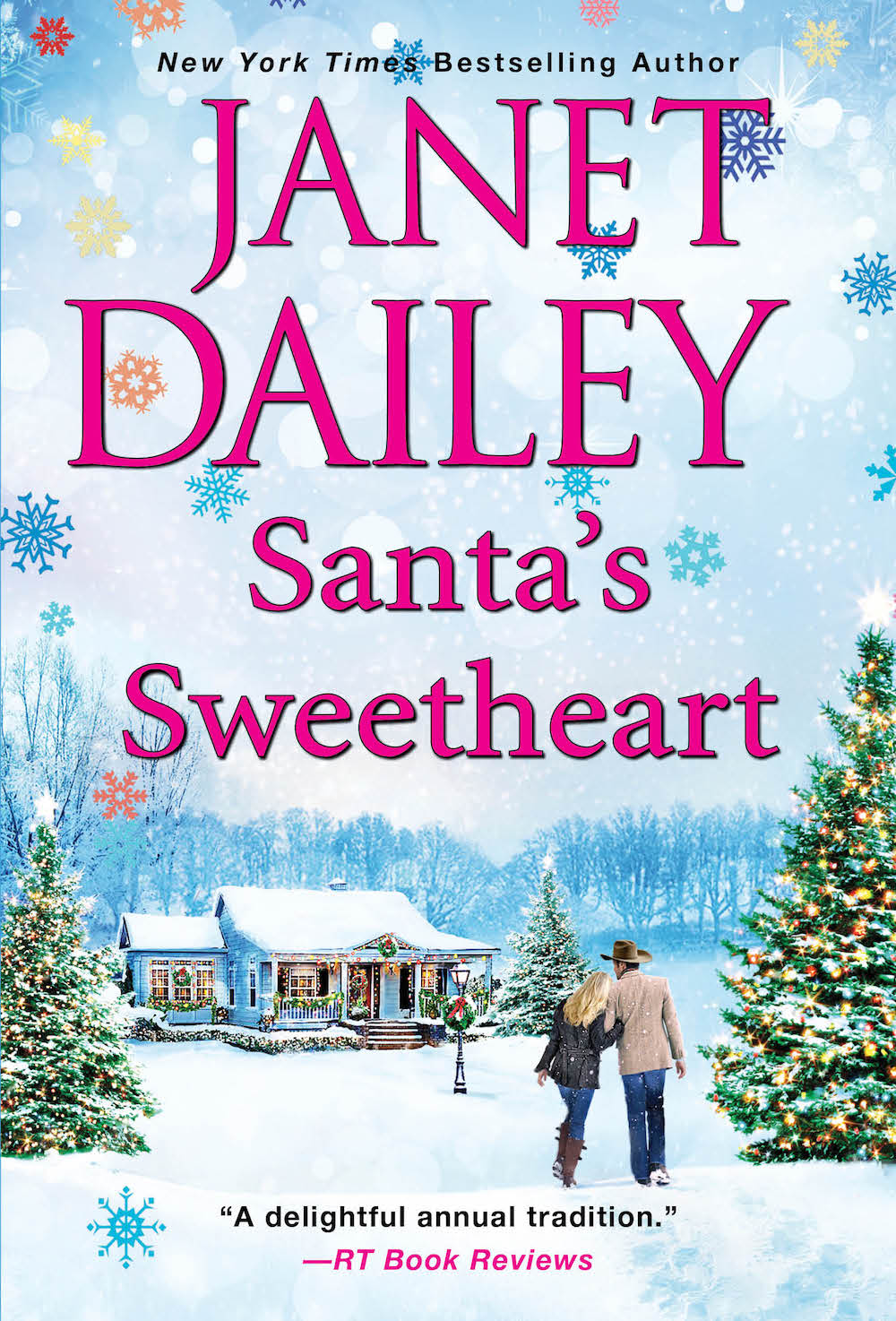 Branding Iron has some beautiful Christmas traditions, as well. One of them is the Cowboy Christmas Ball that always happens the Saturday before Christmas. Everybody gets dressed up in sort of old-timey western clothing. Everybody brings food, and it just feels so real, homey, and warm.
In Santa's Sweetheart, we see the origination of the Ball. The following three books jump back a generation so that readers learn how some of these beloved traditions first started out in Branding Iron. Conveniently, there's almost always a fresh snowfall.
HN: Why do you think the dynamic between cowboys and romance novels works so well?
AC: I think that Janet may have been one of the first writers to create that trope. I think the cowboy romances are so popular because, in the American imagination and I think worldwide imagination, cowboys are these rugged, loner, individualistic characters, and that's kind of the perfect hero. I mean, it's a man who isn't afraid to go out all by himself, face the elements and wrestle his fortune from the land. That's a very appealing kind of hero, a person who can stand for himself.
I think women tend to be drawn to that kind of man.
HN: Horses figure prominently in many of her books. What was Janet's connection to horses?
AC: She didn't own her own horses until they settled in Branson. At that point, she had two Arabians who were sisters named Misha and Mira. It turned out that Misha was pregnant, and she had a foal that Janet ultimately named Heiress after a book she wrote.
HN: Janet has been an incredibly prolific writer, with well over 100 titles to her name. What are a few of her most horse-centric books?
AC: I would say Calder Brand. In it, the hero establishes his own horse ranch in Montana at the end of the 19th century, and he learns a more intuitive way of training horses.
Then I would suggest Paradise Peak, which is one of the new Americana books. It takes place on a former dude ranch in Tennessee that's fallen on hard times and they start rescuing horses.
One of the Tylers of Texas books especially focuses on horses. The hero is responsible for training all the horses on the ranch. His relationship with the heroine begins because she has acquired this beautiful but temperamental horse.
HN: Janet's writing on horses seems to span different disciplines. It goes far beyond cowboys.
AC: Yes! The horses appear in very different roles in different novels. One of the things that Janet Dailey is known for is her research. One of the marks of a great writer is the ability to do research and write about it so that it feels like real life.
I think she just had an incredibly deep well of creative energy that bubbled up in these stories. I think that Janet was fascinated by people and by learning as much as she could about all different kinds of people doing different kinds of things. And as she became interested in a topic and researched it, the stories came to her out of that.
Janet Dailey's latest book, Santa's Sweetheart, is available now in fine book stores everywhere. Find an online retailer near you.