The next best thing to riding horses is watching horse movies. Everyone has a childhood favorite. See where yours ranks on our list.
1.
War Horse
War Horse is an inspiring 2011 film about the bond between a man and his horse. This remarkable story explores the power of love and friendship during a time of war.
2.
Seabiscuit
Set in the depression-era, Seabiscuit tells the true story of an undersized racehorse who inspired the nation.

3.
The Man From Snowy River
The Man From Snowy River follows 18 year-old Craig, who has to work to get his family's farm back on its feet following the loss of his father.

4.
Spirit: Stallion of the Cimarron
Spirit: Stallion of the Cimarron tells the story of a wild stallion (so wild, he could only be a cartoon) as he travels across the western frontier.

5.
National Velvet
National Velvet stars a young Liz Taylor as Velvet Brown, a young equestrian who wins a downtrodden horse in a lottery and tries to turn him into a champion.

6.
The Black Stallion
After surviving a shipwreck that has left young Alec stranded on an island with a mysterious Arabian stallion, the boy and the horse are forced to find common ground. The Black Stallion tells the story of their rescue and the bond they form as they prepare to race the fastest horserace in the country.
7.
Secretariat
This 2010 Disney film relives Big Red's unrivaled dominance on the racetrack and his owner's determination to get him there.
8.
Champions
Bob Champion and his horse Aldaniti overcome (what else?) numerous obstacles in this 1981 film, based on a true story.
9.
Hidalgo
Hidalgo tells the story of a Pony Express courier and his horse, Hidalgo, who together travel to Arabia to compete in a legendary horse race.
10.
Shergar
Based on a true story, an Irish racehorse is kidnapped by the Irish Republican Army, which did not heed the memo: "Keep the horses out of this."
11.
Dreamer: Inspired By A True Story
Starring an impossibly adorable Dakota Fanning, Dreamer tells the story of a horse-crazy little girl and her mission to rehabilitate an injured horse. Based on a…yeah.
12.
The Horse Whisperer
The Horse Whisperer is a film about a handsome horse trainer (Robert Redford) who helps a young girl (Scarlett Johansson) and her horse on the road to recovery after a traumatizing riding accident.
13.
The Derby Stallion
Starring a young Zac Efron, The Derby Stallion explores the bond between a former trainer and a defiant 15-year old boy with a passion for horses.
14.
All Roads Lead Home
All Roads Lead Home follows the life changing relationship between a girl, a horse, and a dog (aka the Holy Trinity) following a tragic accident.
15.
Horse Sense
Horse Sense tells the story of two cousins and their month-long adventure on the family ranch.
16.
Virginia's Run
Following the death of her mother in a horse-riding accident, a teenage girl cares for the foal of her mother's horse.
17.
A Horse For Danny
The made-for-TV tale of a young girl and her search for a winning horse for her horse-trainer uncle.
18.
Running Free
Running Free chronicles an Arabian colt born into slavery during WWI and one boy's pursuit to set him free.
19.
Black Beauty
Taking place in 1870's England, Black Beauty is the stallion narrating the circle of life in this family favorite.
20.
Flicka
Starring Tim McGraw, Flicka is about a young girl's attempt to tame a wild mustang and make it her own, while proving to her father that she has what it takes to take over the family ranch.
21.
The Horsemasters
The Horsemasters follows a group of students as they work tirelessly to earn the all-important British Horse Society certification. These things aren't just handed out as party favors, you know.
22.
The Horse in the Gray Flannel Suit
Exploring the search for purpose in a business dominated world, The Horse in the Gray Flannel revolves around a businessman and his use/exploitation of his daughter's horse to market and promote a stomach medication. Obviously.
23.
Phar Lap
An incredible true story, Phar Lap was a beloved Australian racehorse in the 1930's. The film explores his successful and dramatic life as he races in events across Europe and in the United States.
24.
Something to Talk About
This 1995 film starring Julia Roberts and Dennis Quaid follows Grace (Roberts), the daughter of a horse breeder (Robert Duvall), after she finds out her husband had an affair.
25.
Ladyhawke
This beautiful film is set in medieval France and is a favorite for many horse and fantasy fans, but not nerds. Nope.
26.
The Electric Horseman
A former rodeo cowboy is hired to be a spokesperson for a cereal company in Las Vegas but runs away in costume on an electric-lit horse in this 1979 romance-adventure starring Robert Redford and Jane Fonda. Make sense?
27.
A Day At The Races
A Day At The Races is the Marx Brothers take on a veterinarian posing as a human doctor, a racehorse owner, and a misfit racehorse, who, together, try to keep a sanitarium open.
28.
Miracle of the White Stallions
General George Patton and the U.S. Army rescue the famed Lipizzan Stallions of the Spanish Riding School from the dangers of World War II.
29.
Into the West
Two impoverished gypsy boys in Dublin go on an epic adventure when they follow a mysterious white horse into the Connemara.
30.
Casey's Shadow
A boy and his father raise a foal and train him all the way to the All American Quarter Horse Futurity.
31.
All the Pretty Horses
Based on the stirring novel by Cormac McCarthy, All the Pretty Horses stars Matt Damon as a Texas Rancher on an intense journey to Mexico following the death of his father.
32.
Let It Ride
After a cab driver learns about a horse race that's about to be fixed, he wins big. Ignoring the advice of those around him, he decides to bet it all on a horse named Hot to Trot. What could go wrong?
33.
Wild Hearts Can't Be Broken
Wild Hearts Can't Be Broken is the story of a teenage runaway during the Depression who lands work as a stable hand for a girl-and-horse high diving act, though she dreams of being a diving girl herself.
34.
Moondance Alexander
When a spirited teen finds a lost pinto pony, she returns the horse to its owner, but convinced the horse has the potential to be a champion jumper, she has the owner train her and the horse for the Bow Valley Classic.
35.
Ruffian
The true story of the legendary filly, Ruffian, from her rise to stardom in the 1970's, to her tragic downfall on the racetrack.
36.
Two Bits and Pepper
When two girls are kidnapped for ransom, their horses, Two Bits and Pepper, hatch a plan to rescue them. Not based on a true story.
37.
Saving Winston
A troubled teen finds a troubled horse and the two embark on a path to redemption.
38.
The Silver Brumby
A mother tells her daughter a story about the Prince of the Brumbies, which were feral horses in Australia. The brumby is supposed to find its place, but is threatened as one man tries to capture and tame it.
39.
The Long Shot
A woman and her daughter move to Colorado after her husband leaves. She finds peace and healing (and maybe a little love) while working on a horse farm and ends up entering her horse in a high-stakes riding competition.
40.
Misty
Two siblings set their hearts on owning a wild horse named The Phantom. Caught in the town's annual roundup to thin out the herd, the siblings must outbid everyone. The Phantom has a surprise for the kids: a foal named Misty. Paternity tests are pending.
41.
Racing Stripes
A zebra thinks he's a racehorse in this charming comedy. With the help of a teenage girl, he works to fulfill his racing dream and accept himself for who he really is.
42.
In Pursuit of Honor
In Pursuit of Honor tells the story of a United States Cavalry detachment who defies orders by refusing to slaughter its horses.
43.
The Horse Boy
The Horse Boy is an inspiring documentary based on the autobiography of a father's journey to help his autistic son.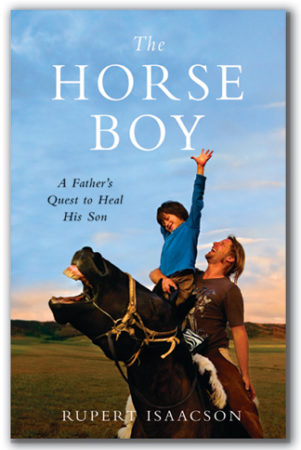 44.
Dark Horse
Dark Horse is a 1992 film about a teenager's required community service at a local stable. When tragedy strikes, the girl learns more about strength and courage than ever before.
45.
Tonka
A 1958 Walt Disney Western, Tonka is about a US cavalry horse that survived the Battle of the Little Big Horn.
46.
It Ain't Hay
After giving a horse candy and accidentally killing it, Abbott and Costello set out to make amends in this 1943 comedy. Sounds like a hoot.
47.
Boots Malone
This 1952 film explores the seedy side of racetrack life. Boots Malone follows the story of an agent who has fallen on hard times after his star jockey is killed.
48.
The Killing
Centered around a racetrack heist and the murder of a racehorse, this black and white film noir is gritty and bold.
49.
Wall of Noise
Wall of Noise is a 1963 racetrack drama about a respected horse trainer who becomes the owner of a racehorse with the help of another horse owner's neglected wife. This film explores the power of love, wealth, and dedication.
50.
The Rocking Horse Winner
A 1949 fantasy film features a boy who is able to accurately predict the winner of horse races by rocking back and forth on his own rocking horse.