While many people looking to adopt a horse find themselves searching for a riding partner, the trend of adopting a horse as a companion-only is one that continues to grow in popularity. 
"Adoption of a horse as a companion-only is a new approach to what horse ownership can look like. Horses can be enjoyed for more than riding and many people are seeing the benefits," said Days End Farm Horse Rescue (DEFHR) CEO, Erin Clemm Ochoa earlier this year in "Companion-Only: A New Approach to Horse Ownership" on Horse Network.
For many, adopting a companion horse—another horse or animal or for themselves—is extremely rewarding, according to DEFHR Assistant Trainer, Leigha Schrader. Many view companion-only ownership as an opportunity to build new equine-related skillsets that go beyond riding and often find they are more involved in the day-to-day care of their horse and spend time enjoying ground activities such as liberty work. This type of companionship, Schrader notes, fosters a truly unique and extraordinary horse/human bond.
Currently, Schrader is working with three special horses—Veda, Loralei, and Rib-Rab Reuben—that are looking for their forever homes. While the three horses come from different backgrounds, and each one has its own distinct story, they all share the potential to be the perfect equine companion for a human or another horse.
Veda
Veda, a 17-year-old Quarter Horse mare, arrived at DEFHR in 2017 as part of an 18-horse rescue mission. She was in very poor body condition, suffered from dental and hoof neglect, and was covered in lice. It was also discovered that she had chronic uveitis in her right eye—a condition that results in sustained inflammation of the eye.
When the eye didn't respond to treatment, veterinary and animal care experts decided it would be most humane to remove the eye. According to DeEtte Hillman, Director of Equine Programs at DEFHR, "Veda handled the change like a pro and hasn't looked back!"
Veda is fully rehabilitated and having one eye hasn't hindered her. While she cannot be a full-fledged riding horse due to an old coffin bone injury that keeps her from being completely sound, she enjoys giving pony rides to children, and is happy to do very light riding with small adults. Veda keeps it drama-free in her field and is an all-around easy keeper. She would make a great companion for a family looking to open their hearts to one more horse.
Loralei
Pretty Loralei is a 23 year-old-Paso Fino mare that arrived at DEFHR as part of Journey's rescue mission earlier this year. Like Journey, she went into "retirement" but was left to her own devices in a field of 50 horses. It took animal control officers nearly two weeks to catch her and bring her to safety—an indication that a considerable amount of time had passed since she'd been handled by humans.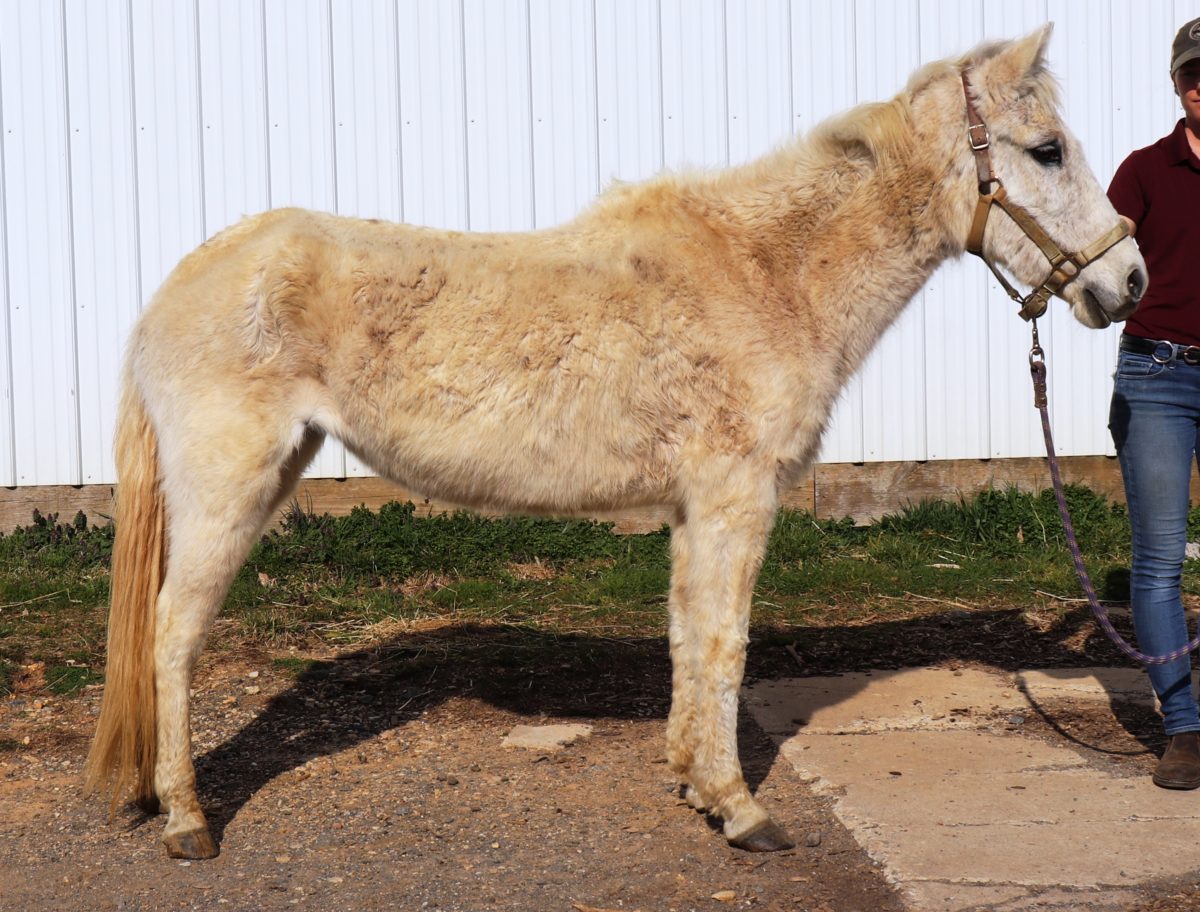 Though she arrived with hoof and dental neglect, Loralei rehabilitated well and is ready for a loving home to live out her days. She is shy at first and prefers to have her humans earn her trust, but once that happens, she becomes a loyal friend. Loralei would be a great companion for an older horse, or younger horse that could stand to learn good manners.
Rib-Rab Reuben
Reuben, a 22-year-old Quarter Horse, came to DEFHR in 2018 as a result of supporting a rescue mission in Culpeper, VA. The gelding arrived in poor body condition, with rain rot, and with dental and hoof neglect. Though he is skeptical of humans at first—a trait that suggests he's had a hard life—he thrives with kind and patient human guidance.
Reuben was previously adopted out through DEFHR's guardian program (a win/win program where expenses incurred by the adopter are tax-deductible while DEFHR retains ownership of the horse) but was recently returned to the organization after the companion horse for which he was adopted passed away.
Although he is no longer rideable, Reuben enjoys dabbling in ground and liberty work and is currently working on liberty circles at the walk and trot, as well as recall and backing at liberty. Reuben is a sweet fellow that likes connecting with one person. According to Schrader, earning his trust is one of the greatest gifts you will ever receive.
DEFHR hopes that the companion-only ownership trend is one that will continue. Whether you're looking for a friend for another horse, or for yourself, one thing is certain. By bringing a companion horse into your life, you'll be giving an animal you love the life it deserves.
For questions about DEFHR, please email welcome@defhr.org.
For more than three decades, Days End Farm Horse Rescue has been renowned for working to not only prevent equine abuse and neglect, but also to educate the public about equine welfare and help their staff, volunteers, and members of the public become better horsemen and women. Learn more about DEFHR's adoptable horses as well as their numerous education and volunteer opportunities. Visit www.defhr.org or follow them on Facebook and Instagram.