Up until 2012, Canadian Olympian Jill Henselwood had "an absence of bad luck" in her career. 
Named to the national show jumping team in 1991 (less than two years after making her Grand Prix debut), she had a string of early successes and was named Rookie of the Year in 1992. In the decades since, she's competed on over a dozen Nations Cup teams and represented her country at every major championship—multiple times. Those include the World Cup Finals (1992, 2005–2008), World Equestrian Games (1994 and 2006), Pan American Games (1999, 2007, 2011) and Olympics (2008 and 2012).
Notable among those were the 2007 Pan Am Games with Special Ed, where she became the first woman in 24 years to win an individual equestrian jumping gold medal, and the 2008 Beijing Olympics in which her clutch clear round in second half of the team final set the stage for Canada's three-member team to jump off for gold against the USA. (Canada took silver.)
Then Henselwood's fortunes turned.
"Right after the London Games, I went hunting for prospects. I ended up buying two horses that had all the jump, all the athleticism, but they were a little tricky in the mental part," said the Oxford Mills, Ontario-based rider.  
The first was a Zangersheide mare named New Idol Z.  
"She was a super, super jumper—kick her back feet up to the ceiling," enthused Henselwood. "But she was a little hard on herself in the front legs and ended up getting shin splints."
Surgery to remove the splint bone failed to improve the condition. The mare was never competition sound again. 
The second horse Henselwood picked up was Quidam Blue, a stallion with a history stopping at the water.
"He could jump a building, he could give you a good result, and then they'd put that water element in a little bit of a new way and his instinct was to be afraid of it," she continued. "It's very difficult to train an instinct, to train fear. You try to do it with repetition and confidence and everything else, but he got hurt in the training part at about the three-year mark in his career."
Both horses transitioned out of her international string into the breeding program on Henselwood's Juniper Stables, leaving her without a Grand Prix mount.
"That's the first time in my career that I went to zero," she said. "All of a sudden, I was standing on the sidelines looking in and saying I would still like to compete and no opportunity."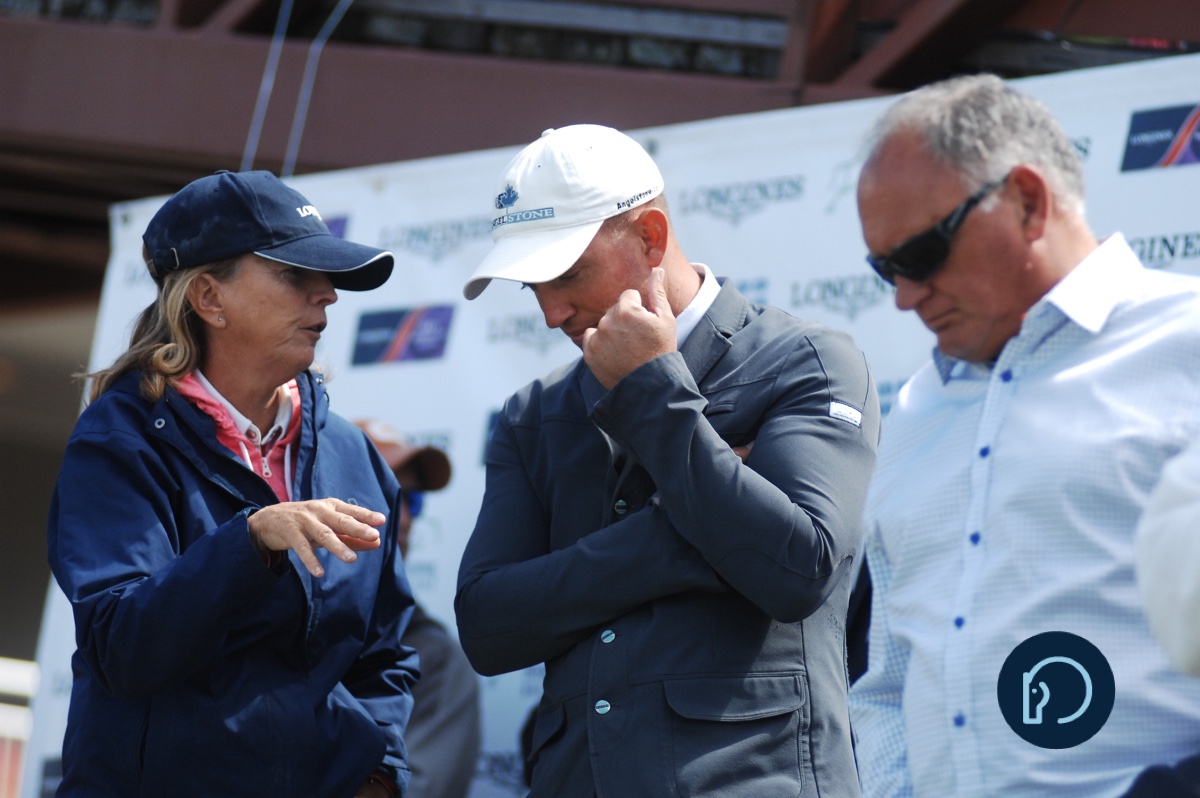 Priced out of the "prohibitively expensive" global market, Henselwood redirected her attention to training a string of up-and-coming students.
"I love to share what I know. I love to train the horses and teach," she said.
The result has been her most successful student group to date. In three years, Henselwood has taken Canada's Ali Ramsay from the 1.10m division to competing internationally on Nations Cup teams for Canada. Another former student, Chris Surbey, went on to compete at the World Cup Finals in Omaha where he was the top-placed Canadian rider.
"I've always had good riders to help—I've gotten athletes to red coats and Nations Cup. But my gosh, I've never had the history of successes we're experiencing right now in my athlete group. Ali Ramsay was .03 seconds behind Ian Millar in the first leg of the Canadian Championship," said Henselwood.
"So why is that? Is it because I'm solely focused on them?"
But the success of her students has done little to damped the Olympic medalist's desire to compete these past five years.
"The thing I learned on the sidelines is that I don't want to be on the sidelines," said Henselwood. 
"It's not the same motivation as when the win is totally in your hands. When you set somebody up—you could do the prep, the flat work, the warm up, make the strategy—but once they enter the ring, it's their destiny that's unfolding. Competing is a hugely different type of reward than helping someone.  
"I'm not saying one is better than the other. But, for me, one is better than the other. I'm still driven by the love to compete, the love to win, the development of the horse—it's very motivating for me." 
Last year, the Canadian team veteran began orchestrating her return to elite competition. That in itself has been an ongoing adventure, starting with the surprise investor who came on board early in the process—Henselwood's 87-year-old mother.
"I told her what I was doing and she said, 'I think you need help now, not when I'm gone. I'm going to give you a bit of money,'" smiled Henselwood.
"In the beginning of my career, my mum—she was a stay-at-home mum—used to sort of scrimp on the grocery bill to give me just a little bit of help for entry fees. Here in the latter part of my career, to have her help, it's really close to my heart. She doesn't have a lot of money.
"It means so much to me to be in the sport. For it to mean something to her that I continue, it's really special."   
Backed by a new sponsor group, Henselwood set out to find a seven-year-old Grand Prix prospect. The search took her to the Young Horse Championships in Belgium, Holland and France where she scouted a few promising candidates.
Still, luck wasn't on her side. Two of the horses, she later discovered, were out of her price range. The third, a Paint horse in Belgium, was being reserved for a national rider.
"I was striking out pretty good," said Henselwood  
The tides turned when two different sources sent the two-time Canadian national champion a video of a gelding ridden by Germany's Timo Beck on the same day.   
"Same horse, same competition, in the same day, from two different sources—I thought that has to mean something," she said.
Henselwood sent a colleague in Germany to try the horse. When the report came back positive she added Beck's farm to the list of stops she'd make on her next horse shopping trip to Europe.  
"I actually started with him, before I went to Emile Hendrix and the usual guys I deal with," she said. 
There was just one hitch: his age. The gelding was only six—and one woefully behind in training at that.
"It's quite a story how this horse became available for me," said Henselwood.
A fire at Beck's farm the year prior devastated the hay barn and arena. All 25 horses on the property were set loose. One horse died. The gelding cut his right shoulder when jumping out of an enclosure.
"The horse really had a non-summer in his five-year-old year. Timo was busy putting his place back together at the start of his six-year-old year. He said it took the insurance company a long time to rectify the details and get started and he had a two-and-half-year-old son, so he had plenty on his plate and these young horses were a little bit put on the back burner. So he hadn't ridden them too much," she shared. 
On their first trial ride, Henselwood jumped poles.
"He wasn't experienced," she said. "The second day I jumped big and he was really good. Timo, said, 'If you don't take him maybe I'm going to keep him.'"
She took the leap and imported the horse.
Now seven, the gelding is being developed by Henselwood at the nine-week HITS Desert winter circuit in Thermal, California. But her sights are firmly set on making it back to the international ring.
And that's where the kicker comes in.
"The horse's name is Canntinue," smiled Henselwood. "That is his name. He was born and registered in the FEI in that name. I think that's a sign that maybe I should continue.
"How much more career will I have? I don't know. Obviously, you have to have an absence of injury in stay in the sport or you are relegated to the coaching chair pretty quick. I don't want the coaching chair yet. For me, the history is yet to be written." 
With a little luck, Tokyo 2020 will be in it.