"The elusive 80 percent! We captured it…it exists," laughed Laura Graves.
The US rider and her veteran partner Verdades broke the 80 barrier in the Grand Prix Special in Rio, assuring the American dressage team of their first medal since 2004.
What Graves didn't know heading into the stadium was that the bronze medal was hers to lose.
"Going in I had no idea what I needed to score…" confessed the 29-year-old. "I haven't watched a single ride today. It's not something I can do when I'm competing."
While teammate Steffen Peters said he knew what he needed to score to keep the Americans in medal contention, Graves was intentionally left in the dark.
Explained US chef d'equipe Robert Dover:
"I wasn't nervous when Laura was about to go because I knew the exact score for her to bring us into the bronze medal was a 73.600%. I watched Laura warming up. I felt very confident that she could do that. Debbie [MacDonald] and I said let's just let her think that she needs an 80 because that's what she's going for and she got it."
An 80.644% to be exact. A score 2.35 points higher that her previous personal best.
"I knew it was going well [during my test], you just always hope that your reflections match up with the judges. To see my teammates so happy and to have a personal best with a score I'm been reaching for, it was the icing on our cake today," said Graves.
In addition to Peters, Allison Brock and Kasey Perry-Glass rode for the USA in Rio. It's the team's first podium finish since the Athens Games in 2004.
"If you wanted to see a 52-year-old guy acting into a 10-year-old boy, you should have seen me in the stands when Laura was coming down the center line," said Peters. "I was crying my eyes out. It was just one of those absolutely amazing experiences!"
The heavily favorited German team captured the gold medal with scores in the 80s from Dorothee Schneider, Kristina Broring-Sphrehe, and Isabell Werth. (Their drop score was an astounding 76.261% from senior team rookie Sonke Rothenberger.) Great Britain took team silver.
Graves finished in fifth individually behind Werth (GER), Charlotte Dujardin (GBR), Schneider (GER), and Broring-Sphrehe (GER). The top 18 horse and riders return for the Freestyle on Monday where all scores reset to zero.
Come that day, there's just one place you'll find the 29-year-old American while she's waiting to compete.
"I sit in the barn in front of my horse," said Graves. "We've been here since 6:30 am and that gives me a sense of calm making sure he is on all four legs, knowing how he is feeling, and that he is fed properly. He gets a bit of a massage. That's how I get ready."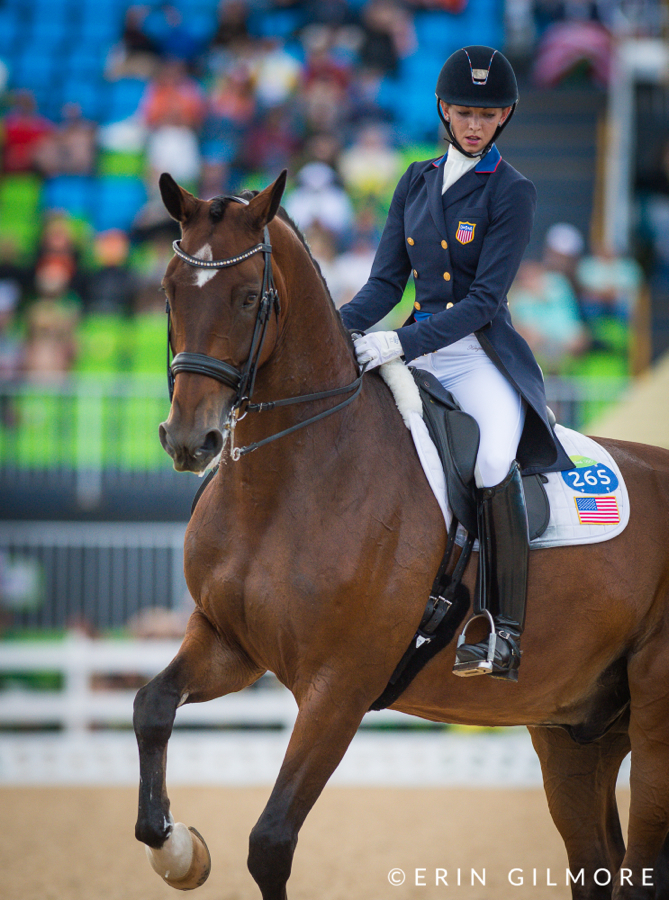 ---
Stay up to date with our on-the-ground coverage of the 2016 Olympics!
Follow Horse Network's Performance Editor, Carley Sparks, live from Rio. And for even more behind-the-scenes action from the ground, follow us on Twitter.