"It was a long way to come to Mexico, so we need to make it worth it," deadpanned Roadrunners Kaitlin Campbell.
The team did exactly that at Major League Show Jumping Monterrey. Held at the historic Club Hipico La Silla, surrounded by a sea of green and the Cerro de la Silla mountain range, Roadrunners jumped to the win in the MLSJ Team Event and into second position on the rankings leaderboard. They are now tied with Crusaders on 43 points.
Heavy favorites Eye Candy expanded their lead to 54 points in Monterrey with just two events left in the MLSJ season, both of which will be held at Desert International Horse Park in La Quinta, California. While Lucky Charms dropped to fourth.
"It is a nice result to move up the standings," continued Campbell. "The next two weeks, we're in our home, so hopefully we can make a big result."
Here's how it played out.
The crusade came to a halt
Eye Candy and Lucky Charms brought out the heavy hitters for Monterrey. Mid-season recruit Conor Swail made his second appearance for Eye Candy alongside three-time team event winners Jacqueline Steffens and Paul O'Shea. For Lucky Charms, it was MLSJ Traverse City I dream team Shane Sweetnam and Jordan Coyle along with new addition Andres Azcarraga. All six found clear tracks around the Guilherme Jorge designed 1.50m track, assuring their spot in the top four.
A.I.M. United, represented by a trio of Olympians Ashlee Bond, Daniel Bluman and Eugenio Garza, also advanced to Round 2 on a team total of just four. Roadrunners completed the quartet, squeaking into the top four on eight points and team total time of 207.63 seconds, just ahead of Diamond Devils (8, 214.97s).
Otomi Warriors were knocking at the door on nine faults but ultimately failed to make the cut. Blazing 7s debuted Rowan Willis alongside team staples Cara Raether-Carey and Nicolette Hirt, but dropped a rail each to finish on 13. Last week's winner was this week's weakest performance. Crusaders retired after Samuel Parot and Patricio Pasquel collected eight faults apiece, putting paid to any hope of advancing.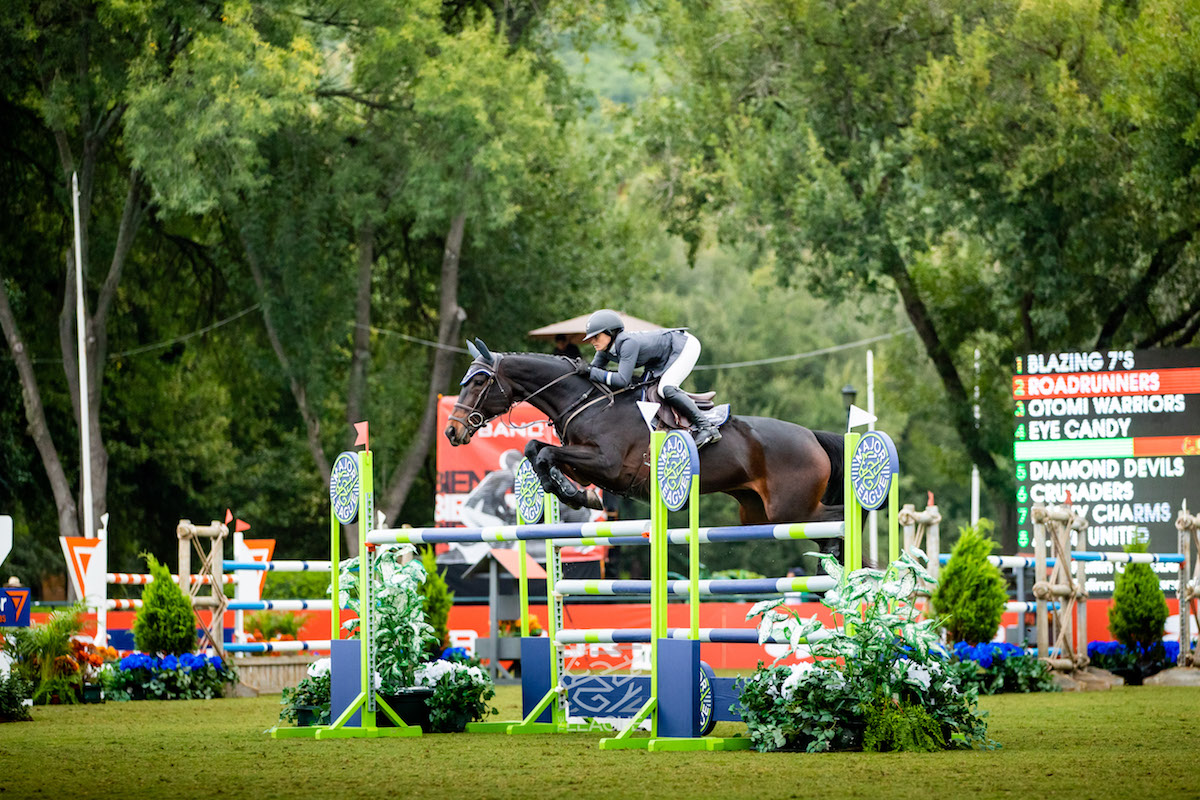 Charms luck turned in Round 2
Clear rounds were the clear path forward in Round 2. Eye Candy advanced to the gold medal match with foot perfect performances by Swail and Steffens, stopping the clock at 78.54s. They were one tenth of a second faster than Roadrunners' Campbell and King (78.645s). Both advanced to the gold medal match.
The wheels came off in the second round for the Lucky Charms and A.I.M. United. A run out by Lazy and Bond and a pair of rails for Azcarraga and Al Capone relegated their respective teams to the bronze medal match.
Alex Wilson is the man with plan
Roadrunners stuck with what worked in San Miguel de Allende, where they captured their third podium finish on the season.
"[The team strategy for Monterrey] was pretty simple," said team captain Alex Wilson. "Two weeks ago, we did pretty good with this line up [of horses and riders] and we kind of kept it the same. Christian always delivers in the jump off for us the last two weeks."
"Christian's horse is a faster horse across the ground," King explained. "My horse is fast, but he jumps a little high and hangs a little bit. So I was happy that [Christian] got to go in the jump off position. And I think we worked it out just right because Kaitlin and I were within one hundredths of a second or something crazy (39.29 to 39.35 seconds). And he was a second and a half faster (35.37s), so we picked the right one to go last and put the pressure on."
Heineking faced off against Eye Candy's O'Shea aboard Hellcat, the mare making her first appearance for Eye Candy, and carved out the win by one tenth of a second.
In the bronze medal match, it was Garza vs Coyle. The A.I.M. United rider came out on top with the fastest jump off time of the day, 35.29 seconds.
Heineking's day didn't start as well as it ended
On NKH Centro Blue, Heineking appeared in good form. Off his horse, he could be seen limping around the arena.
"I'm a little sore," Heineking admitted. "I had a little fall in the morning. So but you know, it's the sport, that's how it goes."
Capturing Roadrunners first Team win likely dulled the pain.
Roadrunners will come out swinging in the Desert
All six Roadrunners are slated to appear at MLSJ La Quinta next month, including three-time Olympic medalist McLain Ward and World Equestrian Games team gold medalist Adrienne Sternlicht.
"We have a good team going there, and all of our horses have won big classes at the Desert Horse Park, they know that ring. They know the jumps. They know how to go fast there, so they should be able to deliver a result there," said Campbell.
"Our other members aren't exactly slouches," added King.
Major League next stops in La Quinta, CA for the final two legs of the season, December 2–11.