A scant two weeks into 2020, merrymakers and numerologists were not the only ones to gladly sweep out the old year and welcome in a new decade. For racing industry professionals and fans, 2019 was a fraught year.
Let's take a final turn.
The year that was saw a first-ever race-day disqualification by Churchill stewards of apparent Kentucky Derby winner Maximum Security for "interference."
National headlines and local protests came in the aftermath of 47 on-track racehorse deaths during the winter meet at Santa Anita Park and the euthanization death of Mongolian Groom, fatally injured during the Breeders' Cup Classic, this despite enhanced safety measures and track improvements enacted by owners, The Stronach Group.
Similarly, a far smaller but unusual number of deaths occurred at nearby Del Mar racetrack, statistically the nation's safest track.
Things were equally fraught abroad.
In Peru, four stallions were slaughtered, including G3 winner The Lieutenant, half-brother to Triple Crown winner Justify. The crime was committed purportedly for meat, but is as yet unsolved and prompted the closure of that nation's oldest breeding farm, Haras Barlovento along with the impending sell-off of its remaining stock, including several mares in foal.
Not deadly but sad, Australian racing fans bade goodbye to national heroine Winx, retired as a broodmare after corralling a record 37 consecutive wins in 43 starts racing exclusively in her home country. She is presently in foal to I Am Invincible.
Two-time Arc winning mare Enable failed her historic attempt to win a third consecutive Arc as old foe Waldgeist silenced an expectant crowd at Paris' Longchamp, besting their heroine by a length-and-a-quarter.
The Longines Hong Kong International Races did take place before a record crowd at Sha Tin, though the pro-democracy protests that roiled the Chinese territory lent a taut atmosphere to the proceedings.
But while 2019 may be tarnished, 2020 begins as all new years do, shiny and filled with the hope of better days and months to come.
Let's see what's ahead as the 2020 gates open.
The year 2020 began with a promising, but less-than-perfect start.
The Santa Anita Winter season got off to a much safer opening under dry Southern California skies, though one death has been reported so far. The safety enhancements enacted by The Stronach Group last year will remain in effect and the dirt track's drainage system has been markedly improved.
*****
Eclipse Award nominees were announced Jan. 4. Winners are determined solely by first place votes by the 254 combined eligible members of the National Thoroughbred Writers and Broadcaster (NTWAB), the National Thoroughbred Racing Association (NTRA) and the Daily Racing Form (DRF). (Full disclosure: this writer casts a ballot as a member of the NTWAB).
Turf superstar Bricks And Mortar, who has since been retired to Shadai Farm in Hokkaido, Japan, went 6 for 6, earned a Vox Populi Award and seems a lock as Horse of the Year and perhaps Champion Turf Male, particularly after his incredible win, finding a path in the Breeders' Cup Turf:
Sprinter Mitole is a worthy HOTY nominee and love-him-or-hate-him Maximum Security finished his post-Kentucky Derby year with a flourish, including three G1 wins, to garner the third nomination.
The winners will be announced Jan. 23 at Gulfstream Park on Pegasus World Cup weekend. (*The full list of nominees and links to their accomplishments are here.)
*****
Speaking of the Pegasus World Cup, there've been some changes made. Owners formerly had to purchase a spot in the starting gate and a chance at a $9 million purse. That is no longer a requirement, but the purse is down to $3 million and horses will be required to run without race day medication of any kind.
A total of 17 horses have been invited, 12 normal and 5 reserve. Included is Omaha Beach, expected to make his last run before retirement to stud at Spendthrift Farm, KY. Defections can be expected because of the changes, many to the first running of the richest race in the world, the Saudi Cup. Those defections are expected to include the four Ms: McKinzie, Math Wizard, Maximum Security and Mucho Gusto.
Magic Wand was invited, but is now expected to enter the $1 million Pegasus Turf. Arklow will also be in the Pegasus Turf while being aimed for the Dubai Sheema Classic on Dubai World Cup Day, March 28.
*****
…and, speaking of The Saudi Cup, the first running of the world's richest race will feature a $20 million purse, $10 million to the winner and the remaining $10 million to be distributed among the next nine horses in a field of 14. Despite political tension in the region, it is difficult to see owners and trainers of leading horses walking away from that kind of payday.
Included among invitees will be the first three finishers in the Pegasus World Cup if not already entered. Saudi horses can secure a starting gate in a race to be run Feb. 7.
Oh, the race, right! It will be run Feb. 29 over nine furlongs (1,800 meters), just over a mile of dirt, at Riyadh's King Abdulaziz Racetrack.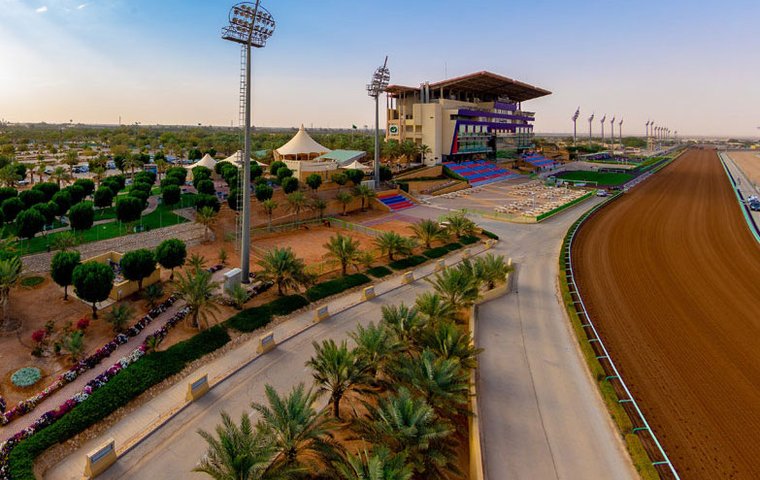 The undercard will feature six Thoroughbred races of varying distances, three each on dirt and turf. The first race, as is the custom in Dubai on World Cup day, will feature Purebred Arabians on dirt.
The Saudi Cup now supplants the Dubai World Cup as the world's richest race…
*****
…but $12 million still buys a lot of hay and grain, so The Dubai World Cup can expect its usual assortment of world class horses for the 25th Dubai World Cup on March 28. The undercard brings the purse total to a staggering $35 million, still the world's richest single raceday. With the Saudi Cup fully a month before, several of the horses in that race can be expected to hang around and try to pad their earnings.
The $12.74 million Dubai World Cup Carnival is underway, having begun Jan. 2. The 10-meet Carnival is used by the world's leading owners and trainers to sort out starting gates for gates in the Dubai World Cup and its undercards races. It will culminate March 7, Super Saturday, considered the "dress rehearsal" for the Dubai World Cup.
What makes this year's 10-meet Carnival particularly interesting is 17 U.S.-based Thoroughbreds from the 85-horse barn of California trainer Doug O'Neill will "invade" the Carnival proceedings following their expected arrival in Dubai Jan. 15. O'Neill cited "uncertain conditions" in Southern California racing as prompting his decision. The string will be underseen by assistant Leandro Mora.
Leading the invaders will be Pavel. No stranger to Dubai, the six-year-old handsome gray son of Creative Cause has twice finished fourth in the previous two Dubai World Cups.
Expect more on Dubai as the season progresses.
*****
A new year means a new season of Kentucky Derby hopefuls.  Notwithstanding last year's controversy, the Run for the Roses remains America's premier race, the trophy every owner, trainer, jockey—and probably horse—wants to add to their mantle (or stall).
It's obviously too early to know how the early prep races will sort out the wannabes from the willabes, but there are some early indicators, horses to keep an eye on in the months leading up to the First Saturday in May, Kentucky Derby 146, with the companion Oaks race, Lillies For The Fillies the day before, May 1.
On the Derby side, the two garnering the most attention are Storm The Court and Independence Hall, both nominated for the Eclipse Award as Champion Two-Year-Old Male.
The ladies are led by British Idiom and Bast, also Eclipse Award candidates in the Two-Year-Old Female category.
As is usually the case, this is likely to change come May.
*****
As we noted at the outset, 2020 hasn't been all roses and lilies, even at this early date. So, a moment of reverence, another of transition and a final one of blossoming.
Champion sprinter XY Jet passed away suddenly from an apparent heart attack Jan.8 following an ordinary morning gallop. The swift gray eight-year-old gelded son of Kantharos, whose grandsire was the popular Lion Heart, scored his signature win in last year's G1 Dubai Golden Shaheen dirt sprint on World Cup day.
He won four other graded races in the U.S., entered the starting gate 26 times and garnered lifetime earnings of $3,096,513.
Trainer Jorge Navarro issued a statement which read in part:
"X Y Jet was more than a horse on my trained list. (He) was the one that took us through a wonderful and exciting roller coaster of emotions. He always fought against adversity and despite the injuries that affected him during his career, he always brought out that kind of champion he was."
Rest in peace, Champion XY Jet.
*****
Ok, "Chromies," this one's for you.
Speaking of controversy, horseracing boards across the nation lit up bright red with the news that beloved Kentucky Derby, Preakness, Dubai World Cup winner and two-time Horse of the Year California Chrome was headed off to Arrow Stud in Hokkaido, Japan, sold exclusively for stallion duty by Taylor Made Farm.
Calm yourselves, he couldn't find a better home. He joins Japanese Champion Transcend, shuttler Shanghai Bobby, quirky fan-favorite Lani (by Tapit, of course) and other notables as Japan extends its reach to the highest levels of the Thoroughbred racing world.
The agreement includes right of first refusal of sale by Taylor Made and return to Taylor Made Farm for retirement on conclusion of his stud duties.
As the richest Kentucky Derby winner in history with $14,752,650 in his saddle bag, he can afford a plane ticket home anyway.
*****
Let's close on a couple of positive notes.
It was noted earlier that Enable failed in her attempt at a third consecutive Arc victory. Well, owner Khalid Abdullah, jockey Frankie Dettori and herself apparently have no intention of going out a length-and-a-quarter loser. The world's best race mare will remain in training and seek that historic Third Arc Oct. 4 at Longchamp, Paris. Mark your calendar.
*****
Finally, Triple Crown Champion Justify entered stud duty at Coolmore shortly after the conclusion of his brief six-race career.
Justify's first foal has arrived and dad couldn't be more proud. It's a girl! And, judging by that blaze, there's no mistaking who's her sire.
*****
Some late-breaking good news: both Stormy Liberal and fan-favorite Patch, the one-eyed son of Union Rags, will join a bevy of fan favorites at everyone's fan-favorite retirement home, Old Friends, in Georgetown, KY.
All's well that starts well.
Here's hoping for a safely exciting year of racing, placing and showing in 2020. Cheers!