Veteran show jumper Hugh Graham (CAN) has competed at every major championship in equestrian sport—the Olympics, World Championships, World Cup Finals, Pan American Games—and won numerous grand prix over the course of his 69 years.
Judging by his most recent victory, winning never gets old for the Jump Canada Hall of Fame inductee.
On Saturday, Graham captured the $50,000 Brookstreet Grand Prix at the Ottawa National Horse Show, held at Wesley Clover Parks in Ottawa, ON aboard the homebred gelding Knock Out 3E and proceeded to take a presentation photo best described as Classic Hugh Graham.
That is face splitting smile. Trophy thrust overhead in celebratory gusto. Infectious joie de vivre emanating from his person. He's a force of elation, certified by the giant red ribbon pinned squarely on his chest and the secondary glow awash his unwitting audience. (See Brookstreet rep on the right who is every person who has ever experienced firsthand the unabashed enthusiasm for life that is Hugh Graham).
It's positively contagious. The photo alone is probably making you smile RN.
One of three riders to successfully navigate the track set by Canadian course designer Michel Vaillancourt, Graham faced off against Keean White and Leilani, the winners of Thursday's Open Welcome, and ten-time Olympian Ian Millar aboard Truman in the jump off.
White and the eight-year-old grey Oldenburg mare led off, but caught a rail on course leaving the door open for Graham.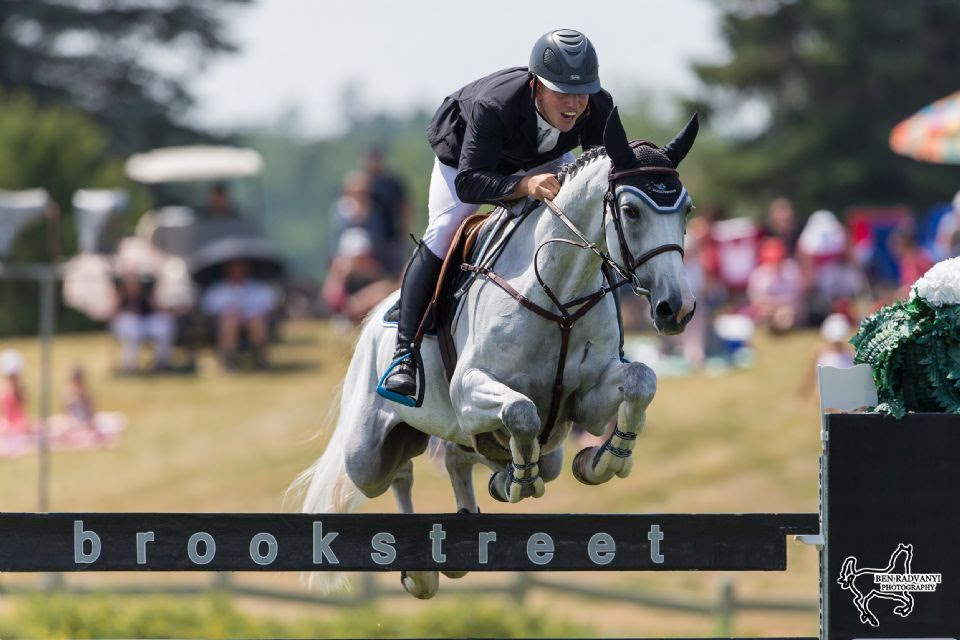 Next in the ring, Graham and Knock Out 3E posted a clear in a time of 41.86 seconds to move into the lead.
His victory was assured when Millar and the nine-year-old Selle Francais gelding Truman rolled a rail at the liverpool. White took second on four faults in 40.28 seconds. Millar settled for third with four faults in a time of 44.89 seconds.
Sired by Jamestown, one of Graham's former grand prix mounts, Knock Out 3E is a 12-year-old Canadian Sport Horse gelding that was bred and developed by KingRidge Stables.
"We bred him, and we brought him along," said Graham. "He's been winning since he was a six-year-old. He's 12 now, and I feel he's getting better. That's the best part; I feel like he's getting better as we go.
"He's a little sensitive," continued Graham. "In the warm-up ring, if a horse is coming at him, he'll jump out of the way and sometimes spook on me. I fall off of him sometimes. When we broke him, he was hard to break because he didn't want anyone on his back. He was tough! He's become a really sweet horse, he just has his little idiosyncrasies. I'm excited about him."
A sentiment clearly evidenced in the photo above.