This story begins in a stall. It was deep into the Texas night in April of 2009 where on a ranch outside of Austin, new life was on its way. Out came a plucky dapple grey colt, who perhaps one day would grow into a champion racehorse like his daddy, Cozzene. Whatever his destiny, what happened in the first few precious moments of his life would leave a lasting imprint.
The foal had been laying on a nerve through the pregnancy, and the damage to the mare was substantial. She never got up. The newborn colt was now an orphan.
With a nurse's milk and some TLC, by the following year the foal was rounding into a nice looking yearling with an appetite to run. He was shipped up to Kentucky to begin an education in how to become a well-mannered athlete. That task belonged to horseman Joe McSorley, who at the time could never have predicted what a ride they would take together.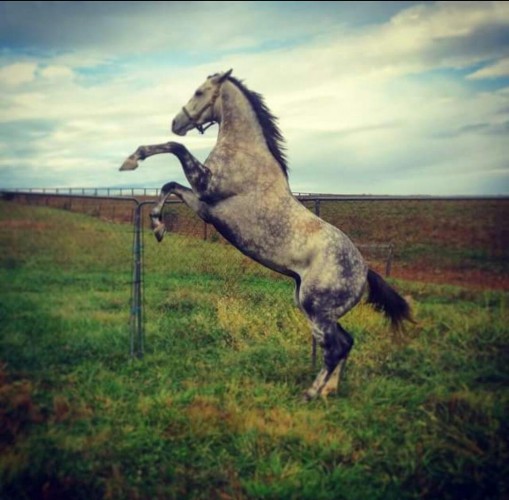 Like most of Central Kentucky's Irish transplants, McSorley was practically born on a horse. "As soon as you can hold the reins they put you on and off you go." McSorley has broken hundreds if not thousands of young thoroughbreds and knows quality when he sees it, and he liked what he saw from this Texas bred grey son of turf champion Cozzene.
"We got him going and really, really liked him," he recalls. "He really stood out, the way he looked."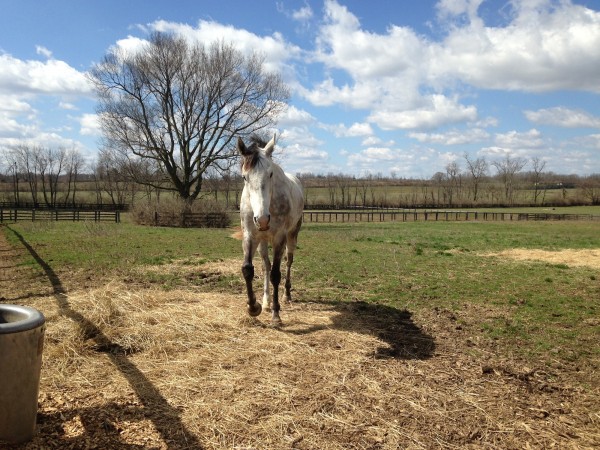 By the following year the colt had blossomed into a promising racehorse with a name, Lune De Caro, and a new home, California.
"His trainer sent me the video of his first workouts when he was off and breezing for the first time," McSorley said. "He looked happy as can be. But he was still figuring it all out. They would say 'he can keep up with anybody but he doesn't use any energy'. That's just how he is."
Lune De Caro would make his debut in late February 2012, in a maiden race at Santa Anita going 1-1/8 miles on the turf. It was over as soon as it began, as he hesitated when the gate opened and would only pass a single horse before hitting the wire.
Hesitated, off slowly, read the official race chart.
After getting some more gate schooling he shipped up to the Bay Area for another maiden try at Golden Gate Fields. Going a mile on a synthetic track Lune made a much better account of himself with a mild rally, finishing third in a field of six.
2-wide 2nd turn, came on.
He was given a couple of months off before his next start at Hollywood Park where his connections hoped to see him take a step forward from his last effort and, just maybe, graduate to the allowance ranks. Back on the turf, this time going 1-1/4, the added distance would surely suit his pedigree.
It was not to be. He showed little, finishing ahead of just two horses.
4-wide into the stretch, no bid.
Maybe he just needed that race off his layoff, so he was entered back at Hollywood Park two weeks later going long on the turf, but again, further regression as he lugged home last.
Came out stretch, no rally.
"He just didn't try very hard," McSorley says about his first few races. "He loved to run and he loved being around other horses but he hated being at the racetrack. He hated being in the stall, he hated being in the paddock. It all made him really nervous. He ran a couple of good races and showed his ability but then he broke his foot. And…"
And that would be that. A broken coffin bone. Even great horses can have trouble coming back from that. No hoof, no horse. Best case, he would need about a year off but would make a full recovery. At worst, his racing career was over. Lune was sent back to his home in Texas. Veterinarians had concluded he would most likely never race again as his owner pondered what to do with her now 4-year-old thoroughbred with a bum wheel.
After a year of slow rehabilitation, Lune had made a remarkable recovery, as his frequent gallops in the paddock and the veterinarian reaffirmed.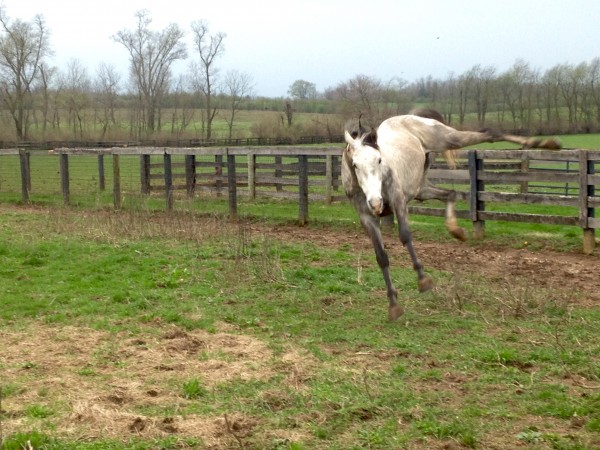 "The owner called me and said, 'Joe, what are we going to do with him? I need to find him something to do. I'm not sure he can go back to racing, do you want him?' She knew I wouldn't be able to say no."
So back to Kentucky Lune de Caro went to take up residence at McSorley's farm. For what purpose was yet to be determined.
"He became my pleasure pony for a while. He's such an easy going horse. My kids would ride him, no problem. We had ladies come out and ride sidesaddle on him, no problem. Then I'd watch him run around his field and he could still keep up with the other horses. He still loved to run and he had plenty of ability."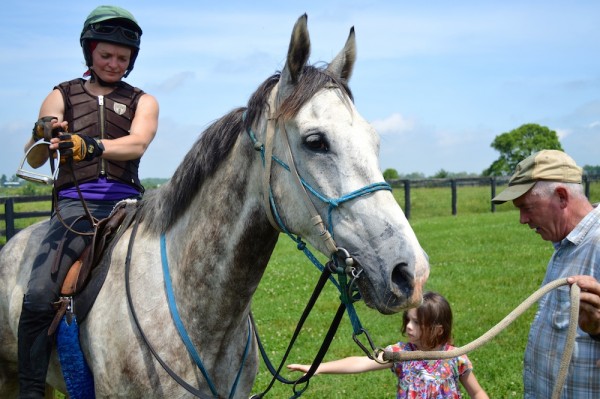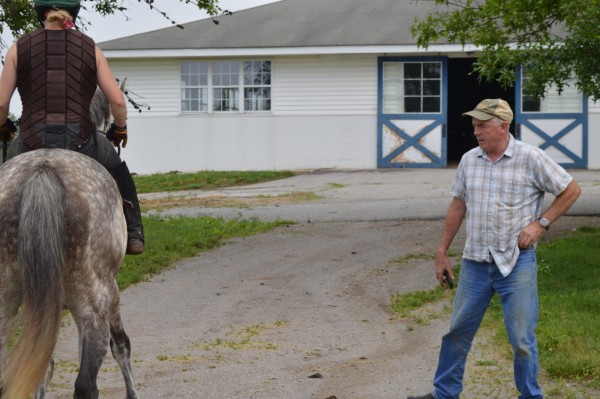 So McSorley decided to give Lune another shot at racing. Now a mature 5-year-old gelding, and still a maiden, perhaps the time off and "equipment change" was just what he needed.
That September of 2014, he entered Lune in a maiden special at Kentucky Downs going 1 and 1/2 miles on turf. In good company, Lune kept his composure and ran a respectable race considering the nearly two year layoff, finishing 8th out of 13.
Saved ground, no avail.
It was an honest enough effort that McSorley pointed him next to nearby Keeneland Racecourse in October.  Another tough assignment against some quality horses, but he wanted to see what he had.
What he had, was a headcase.
"At Keeneland, he really acted up in the paddock," he remembers. "He threw my groom down, reared, bucked, really caused a scene. By the time he got to the starting gate he was washed out entirely. The jockey, Jon Court, came back and said 'this horse was done before it got started.'" Indeed it was, as Lune inched past the finish line in dead last.
Through after half.
"After all that, we decided he may not be cut out for racing."
McSorley brought him back to his farm to reassess the gelding's future.
"He loves it out there and he still looked good and happy. He'd gallop around at feed time and never hit a weed. He'd just jump over all of them. So one day we decided to put a plank fence over a muck bucket, to see how he'd react. And that was the start of it."
Enter Lyndsay Deaver, McSorley's assistant and exercise rider. She hopped on and took Lune to a local Hunter Pace to see how he would do in the laid-back cross-country environment.
"He went about four miles over jumps, banks, water, and he was really happy doing it," Deaver remembers. "You could tell he was having a lot of fun."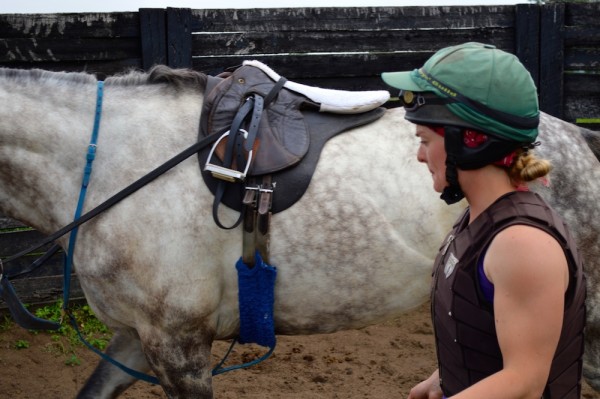 That's when the trainer called an audible, and decided to see what the horse could do over the hurdles. "I put the plan in place in February and decided to get him ready for the High Hope."
The High Hope Steeplechase is a local institution. A day of hurdle races at the Lexington Horse Park on the third weekend each May, featuring everything from maiden claimers to stakes runners. Perhaps not the most conventional of plans for a 6-year-old racehorse that had never before worked over hurdles, but the Horse Park was close and and the open atmosphere would certainly suit him.
McSorley moved Lune to the Victory Haven Training Center, a small thoroughbred training and boarding facility with a short dirt oval and plenty of paddock space. Here, Lune could continue living outside while getting some much needed on-track training.
To get him physically fit enough for the 2 and 1/8 mile hurdle, Deaver put together a daily routine of jogging him around the training track for 2 miles.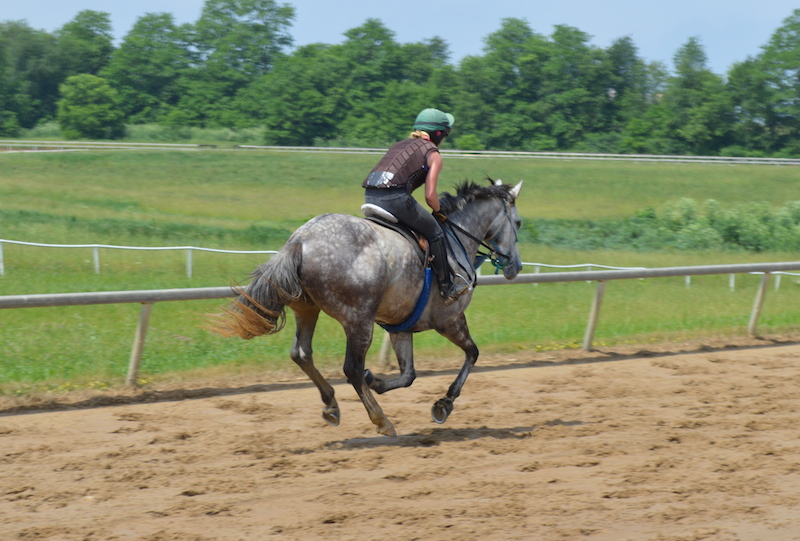 Having not raced in over 6 months, McSorley knew the gelding would need another race under his belt before tackling the hurdles. With very few available options, he entered Lune in a maiden claiming race at Belterra Park, an hour and a half up the interstate in Cincinnati. This race would pit him against a much more manageable, albeit younger, group of horses than what he had previously faced. The race was a mile on the dirt, not ideal conditions for the horse, but it would provide a much needed tune-up nevertheless. But the race brought on a new kind of trepidation.
"If the people who had been watching him workout knew he was running for a [claiming] tag, they would have claimed him, no question," he admits. "So I didn't tell a soul. I was scared to death I would lose him."
Although his previous trips to the racetrack had been anything but fruitful, McSorley thought he'd finally figured out the riddle—keep him out of the stall. So they loaded him onto the van and hit the road just a couple of hours before the race, getting to the backside as late as officials would allow, considerably cutting down on the time he needed to be in the stall.
This time, Lune managed to get to the starting gate without melting down.
And they're off…
Once again, Lune broke from the gate with little energy and bumped into the horse next to him for good measure. Still loping along and trailing the field 3/4 into the mile long race, it looked as if the change in preparation would make little difference. This guy was simply not cut out to be a racehorse.
Then, something happened. Something wild, something fierce. Lune began to run. Uncoiling an effortless stride and bounding with energy, he gobbled up rivals like they were standing still.
By the time the horses reached the homestretch, Lune had rallied all the way into second and was taking aim on the leader. When the field came to the finish line, it was all Lune, pulling away to win by 2 lengths. The 6-year-old maiden was now a winner.
Bumped start, driving.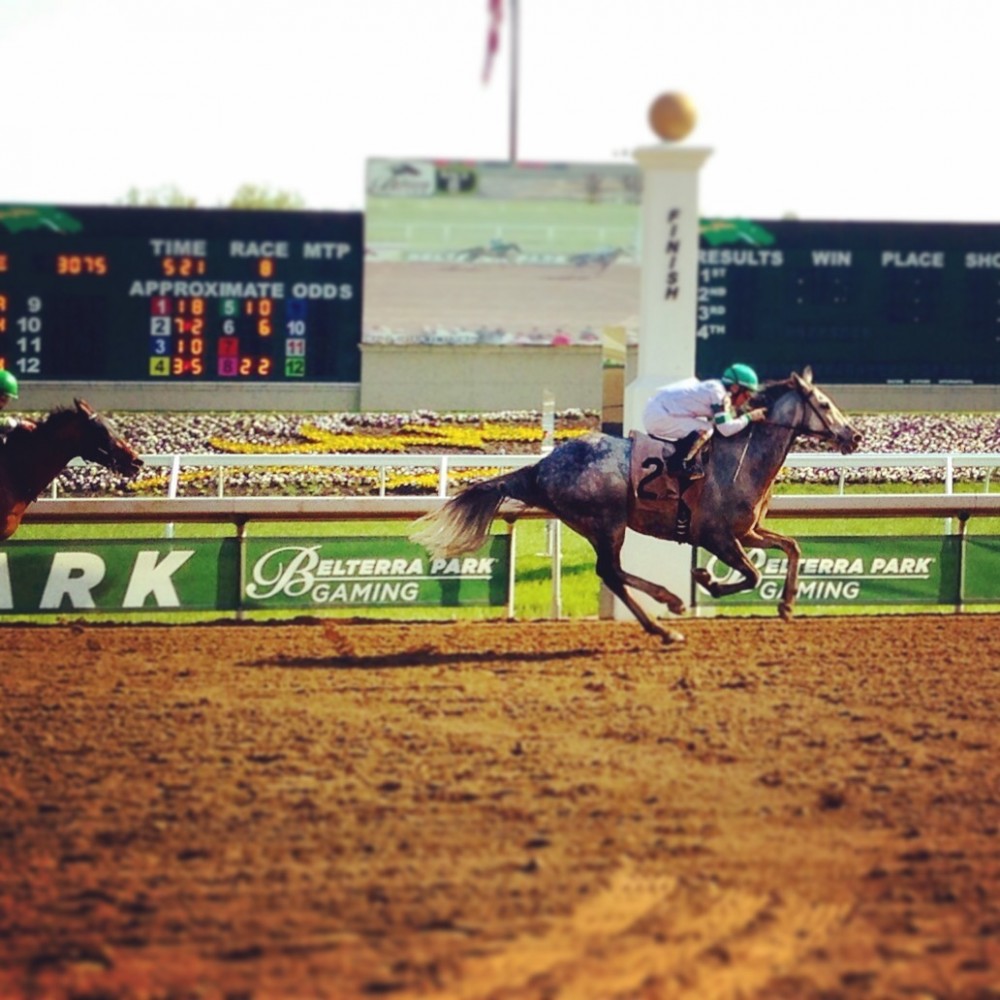 "It was incredible," McSorley said. "I knew that horse was in there all along. We just needed to find out how to let him out."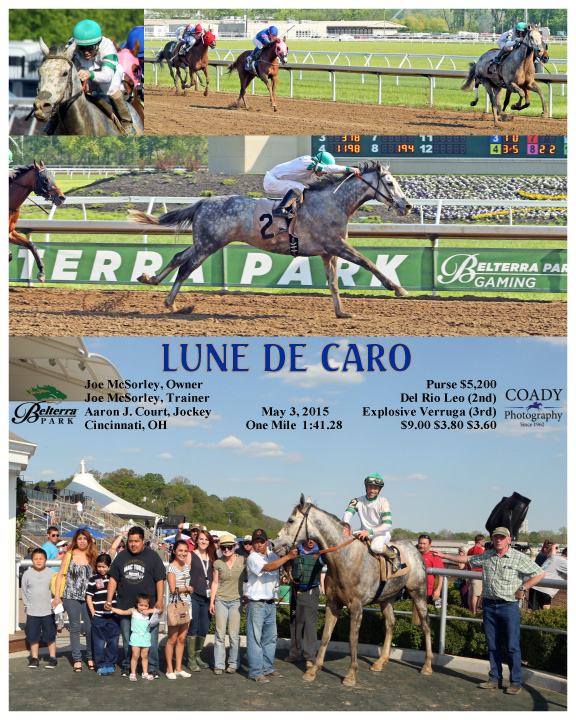 Lune was fit, happy and now a winner. But how would he handle his first attempt over jumps, going 2 and 1/8 miles? The answer would come two weeks later, at the High Hope.
"I put Lyndsay on him she jumped him over his first steeplechase jump, 10 days before the race. He popped right over it without a bit of hesitation. Like he'd been doing it forever."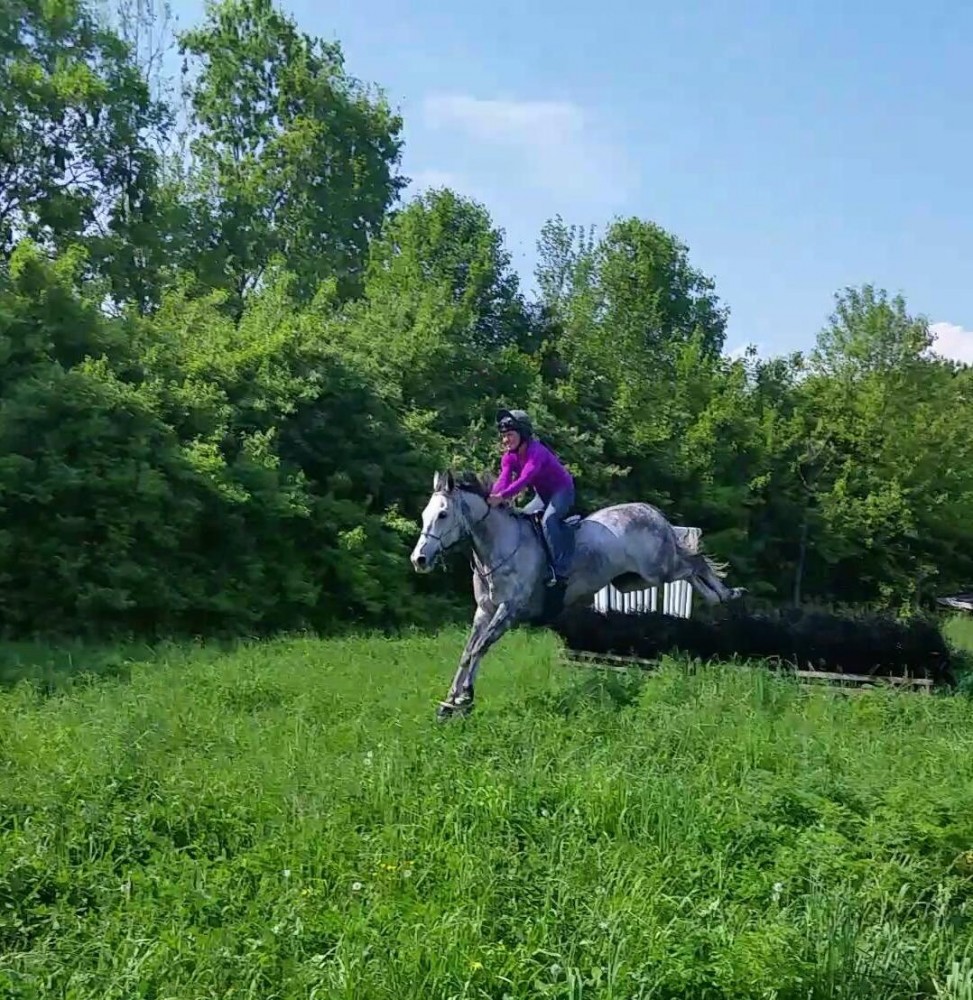 McSorley also enlisted the help of friend and fellow-Irishman Desmond Fogarty, a local steeplechase trainer based at Victory Haven. In order to convince a jockey to ride the unproven mount, he knew he'd need a respected insider to vouch for him.
"Desy told me, 'I need to see what he's got first. I've gotta jump him…I can't ask a jockey to ride him if he can't jump.' He came back after the ride and said, 'you got a deal.'"
Now the picture of fitness with a jolt of confidence to boot, McSorley was feeling optimistic when race day rolled around.
"I told the rider, just hang towards the back and if he doesn't want to jump just pull him up. I knew there was a chance he wouldn't take to it, and that would be ok, but I just had a feeling he wasn't going to embarrass us. I invited everyone, my family, neighbors, everyone."
Sure enough, Lune started from the back and looked a little rank and uncertain about everything at the beginning. Then came the first hurdle, the moment of truth. Perhaps not the prettiest form, but he zoomed over it with ease. With each subsequent jump, you could almost see the ears go up, the confidence growing. Then…well, just watch the race for yourself:
Chased 4-path, edged clear.
The horse who had lost his mother, who had lost every race he'd ever run, who for a time, lost his purpose, was now on an improbable win streak. One week, a mile on the flat dirt. The next, 2 and 1/8 miles over the hurdles on grass.
It's hard to figure, he admits, but what is not so unclear is why this horse turned it around.
"Lyndsay really deserves the credit for getting him fit. She did a remarkable job and really got to know him."
The other piece of the puzzle, McSorley says, was realizing his aversion to confinement was not going to change and would instead require a work around.
"I don't know if it's because his mother dying in the stall…but he just gets really nervous in there," McSorley said, adding with a laugh, "He's probably the only racehorse in training that lives in a field."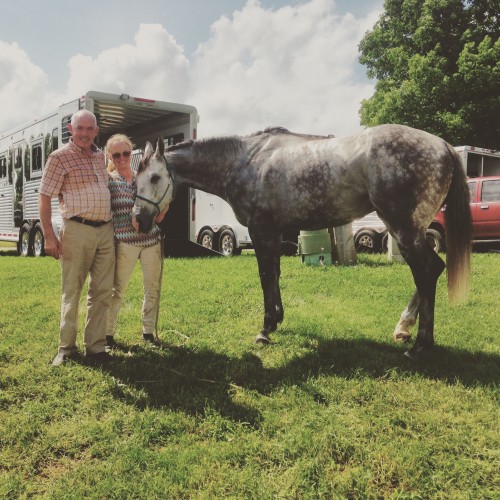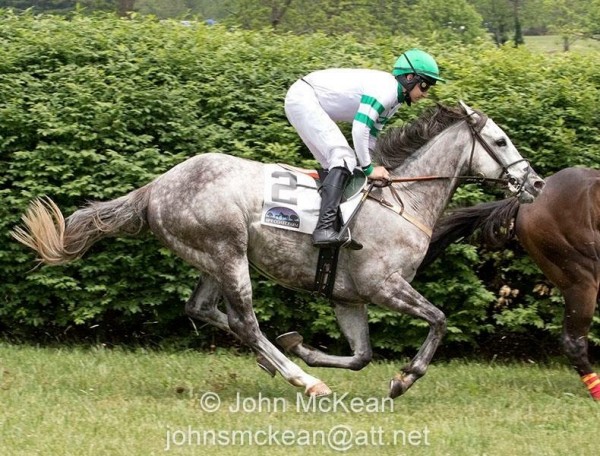 Just a few months ago McSorley was contemplating what to do with this gelding to keep him occupied and happy. Now, he has a different dilemma on his hands. Run him on the flat or make him a full-time steeplechaser?
"I honestly don't know," he admitted. "But it's not a bad problem to have."
Lune's next test comes in earnest, this Saturday at famed Churchill Downs. It will be his first race against winners going 1-1/8 on the turf. McSorley will stick to his plan of arriving late to keep his gelding calm and collected. Assuming he comes out in good order, he has another steeplechase planned for later this month in New York.
A pair of stern tests for the 6-year-old, but as Lune has proven so far in his life, you can never count out the heart of a thoroughbred.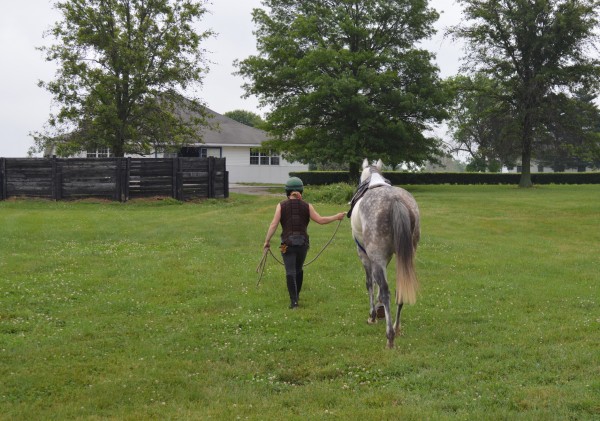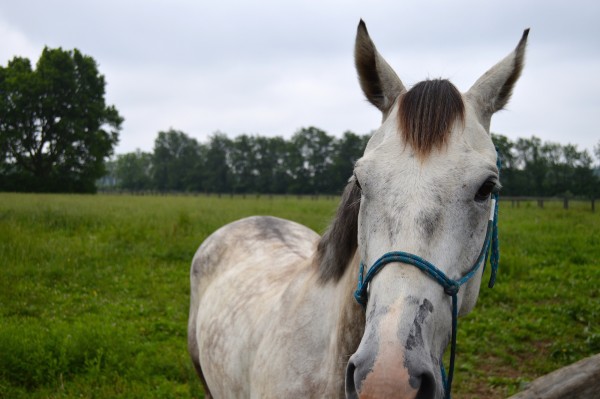 **UPDATE: 7/14/15**
Lune was at it again in his second career hurdle race, this time against winners in a $35,000 Handicap at Parx Racing going 2-1/16 miles. Watch as he once again starts slow and trails the field for the majority of the race, then…
Not sure why the video cuts off right before the finish line, but trust us, he pulled away to win by 2 1/2 lengths. Make that 2 wins in 2 career steeplechase starts for the gelding. Next stop, Grand National?
**UPDATE: 8/19/15**
Lune was back in action today at Saratoga in a $65,000 Allowance steeplechase going 2-3/8 miles, attempting to push his career hurdle record to a tidy 3 for 3. He didn't disappoint.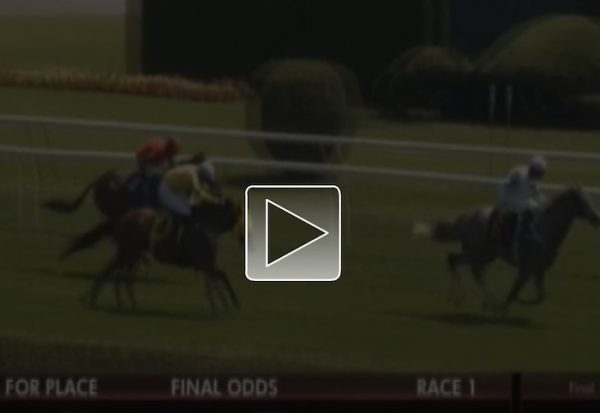 The competition keeps getting tougher and he just keeps on rollin'.