"We just had to get on the same page, but we've grown to be a great team," said United States rider Marie Meyers of her 10-year-old gelding Double Dream Plus.
Partnered for two years now, the pair's journey reached a crescendo on Friday at Desert International Horse Park (DIHP) with the Desert Dressage V Grand Prix. Making a striking impression the moment they went down the centerline, the judges let 7.5s fly off their pens for their passage, piaffe and pirouette to the right as they topped a competitive class on a score of 68.804%.
An international dressage veteran, Meyers knows that the sport isn't for the impatient. Carving the angle from the marble and developing upper level movements takes the better part of a decade. The professional rider simply appreciates having a horse with Grand Prix talent, because those horses are rare. What Meyers has in Double Dream is even more out of the ordinary.
"He's a very, very talented horse at the most difficult movements, which is the piaffe, the passage and pirouette. He's been a confirmed Grand Prix horse for a while, so it's a great feeling to have a Grand Prix horse to go into the arena with," said Meyers.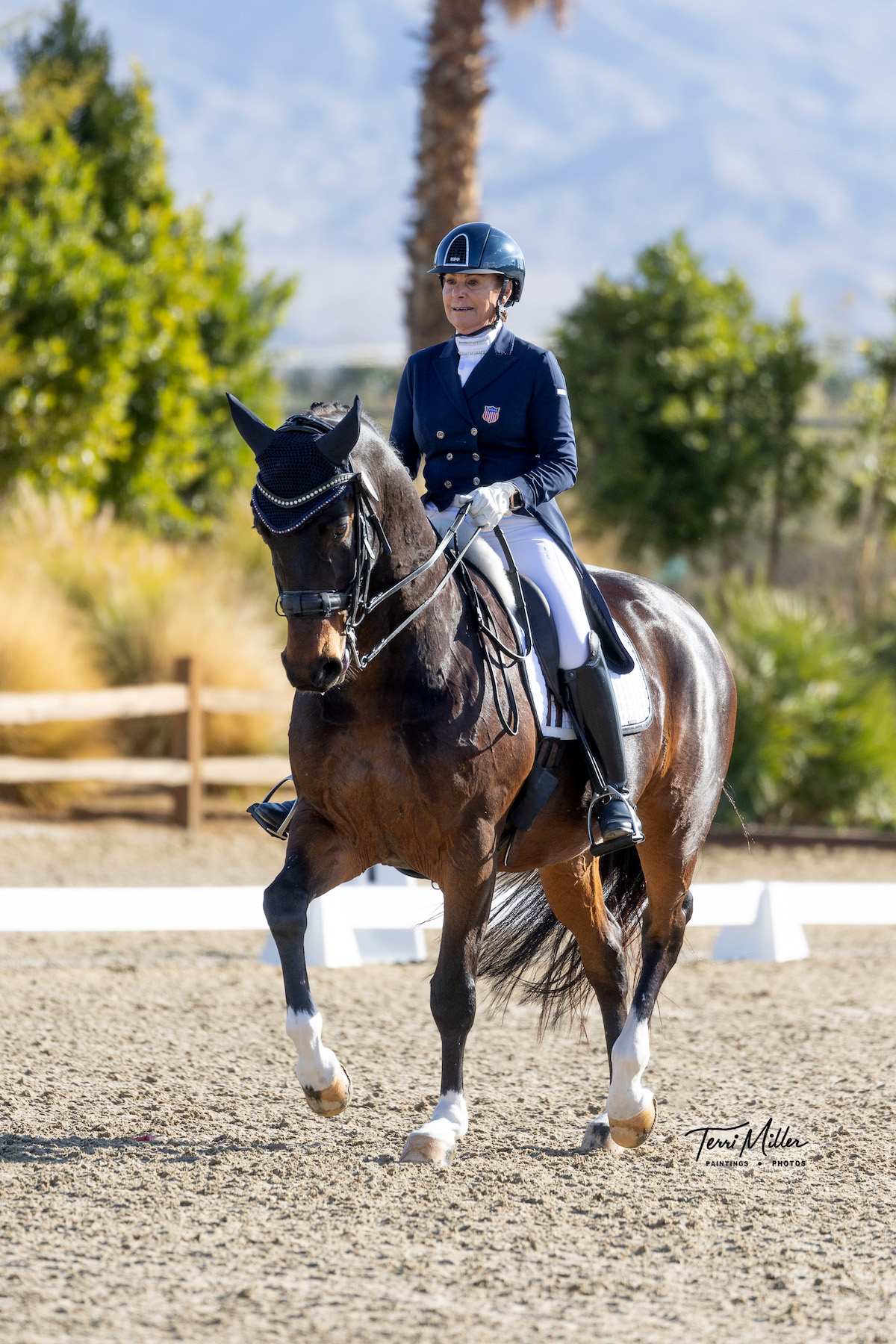 Double Dream had only shown a handful of times before he found his way into Meyers barn through one of her clients.
"The lady that owned him, my client, was an amateur client, and so becoming a professional's horses is a more demanding job. But he has risen to the challenge, he loves it. He's a big ham and he's just grown both muscle wise and in his attitude," said Meyers.
"When my client wanted to sell him, she sent him to me because she said, 'I don't want anybody else to have him, so take them and see what you want to do.' So that was it and I bought him."
Meyers has a flourishing business with Marisa Festerling—their current stable consists of 23 horses with a full sales program. Double Dream, however, is Meyers own horse.
"He's not for sale," laughed Meyers, "We've really bonded, which is nice."
That goes for in and out of the saddle. She describes Double Dream is an even-keeled gelding who forms strong attachments to both horses and people.
"Sometimes you get horses that are very quiet at home and then they get more up at the show. He's pretty steady when it comes to that. I think he really, really enjoys showing. But for his being as talented as he is, he's kind of an insecure soul. He likes his friends to be with him at the barn for sure," said Meyers.
"We've grown to be a great team and we're really fond of each other. I think it's always great when you can look at your horse and you can tell that he looks for you."
Together, they're looking forward, ready to perfect their movements and hopefully sweep some more competition along the west coast. For that, they have a whole team's support.
"It's important when you're doing this to have a team behind you that keeps the barn running. My assistant, Marisa Festerling is invaluable. She's with me all the time on the ground and helping me. You can't do any of this alone," said Meyers.
"It's a hard game for sure, so you've just got to keep going. On any given day you can have a bad day or you can have the best day. Once you get to a horse show, I always figure you've done all the homework. Just go in there and give it your all."
Feature image: ©Terri Miller