Katie Laurie has an escape artist on her hands.
The 13-year-old Casall gelding Cera Caruso is known to make hasty, Houdini-style exits from his stable. But she isn't complaining, especially when they're on the same team. Turns out he applies his flighty talents in the ring, because nobody could catch them in today's $36,000 Interactive Mortgage CSI5* 1.45m Speed at Major League Show Jumping (MLSJ) Thermal in California. The speedy pair stopped the clock at 63.79 seconds, almost seven-seconds faster than the runner up, Misti Cassar with the 12-year-old gelding Viking de Laume.
"Yeah he's super fast, he loves going against the clock. Sometimes I have to be a little bit careful because he's naturally quick across the ground, and if I think to go fast, we end up going too fast," said Laurie.
Going too fast isn't the worst problem to have in the speed divisions, and for Laurie it's paid off both in the prize money payouts and Longines world ranking points. The Australian Olympian is currently sitting in the 134th spot.
"He's been an unbelievable horse for me, he's probably been the one I've collected he most ranking points on."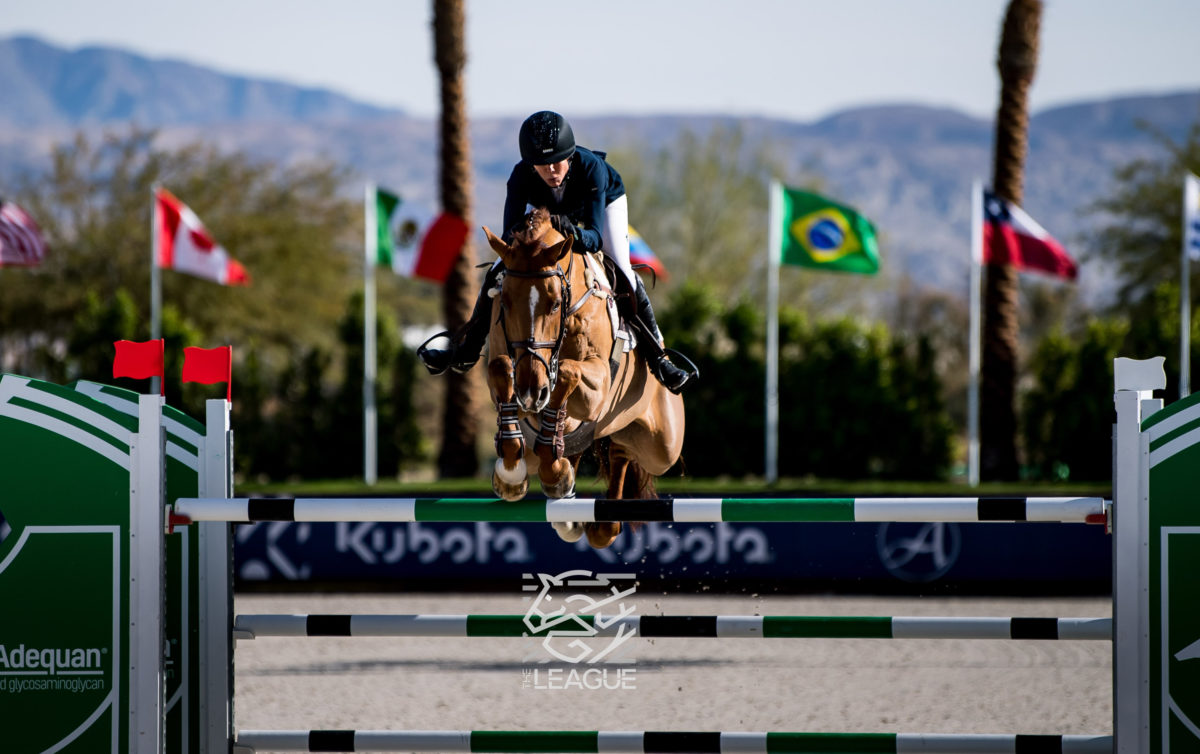 If something is worth doing, it won't be easy, and that goes for riding. Caruso, barn name Elvis, requires a lot of focus with or without a saddle.
"He is an escapee. Like if you walk in the stable and leave the door a little bit open, he'll be out and gone. In Michigan [at Traverse City Horse Shows], he won the $36,000 class every week, but before the second week he escaped out of his stable at night check.
"So he's a character, but he's just the nicest horse. He's lovely and the kids can play with him. He's just an escape artist."
At the show, fellow riders tend to keep a lookout for them too, especially in the warm-up ring.
"Working at home he's so quiet, but he gets in the warm up at the show and he's leaping, bounding, spinning running…I have to avoid causing drama for other people," laughed Laurie.
"But I know him so well now, he's just excited to do his job. He walks into the warm up and his ears perk. When he walks down the chute to the ring he's ready to go."
Katie Laurie and Cera Caruso are ones to watch in the ring, but be careful—if you blink, you'll miss them.
Catch all the 5* action at MLSJ Thermal this week on majorleagueshowjumping.com
Feature image: ©MLSJ / Atalya Boytner