"I've always found this a trying time of the year. Give me blizzards and frozen pipes, but not this nothing time, not this waiting room of the world."

—C.S. Lewis
If the renowned writer of the The Chronicles of Narnia had been a fan, he might just as well have been referring to this time in North American Thoroughbred racing. The Breeders' Cup is past, Eclipse Awards and the new Triple Crown season yet to come.
A waiting time.
There remain significant races through year's end but, for most Thoroughbred professionals and fans, this is a time of reflection and anticipation: reflection on achievements of their favorites during the past year and anticipation of the recognition of those achievements when winners of the Eclipse Awards are announced Feb. 10, 2022 at Santa Anita Park.
What we know
Five horses entered their gates Nov. 6 on Breeders' Cup Championship Saturday, each with a legitimate chance at becoming Eclipse Award Horse of the Year with a victory: Letruska in the G1 Distaff and Essential Quality, Hot Rod Charlie, Knicks Go and Medina Spirit in the G1 Classic.
With his scintillating winning performance in the Classic, just .44 off the 1:59.11 track record for the classic 1 1/4-mile distance, Knicks Go nailed down both the titles of Horse of the Year and Champion Older Male. The only remaining question is will those votes be unanimous.
Opponents found the way to defeat five-year-old phenom Letruska in the Distaff was to "cook" her with early speed.
With blinding fractions: 21.84 seconds for the first quarter, 44.97 seconds for the half-mile, her opponents sapped her strength—and ultimately their own as well. Though she finished a disappointing tenth in an 11-horse field, she faces no serious opposition for Champion Older Female honors.
So perhaps the most interesting question becomes…
…Who's The Best Three-Year-Old Male Of All?
It has been a competitive year for three-year-old males. Essential Quality, Hot Rod Charlie, Life Is Good and the three M's: Mandaloun, Medina Spirit and Midnight Bourbon all provided wonderful individual performances as well as year-long divisional competition, jabbing and juking in several memorable contests.
But only one can win Eclipse Award honors in this most competitive division.
So, here is one thoroughly biased vote for the great gray Godolphin, Essential Quality. Let's review the competitors and the reasoning.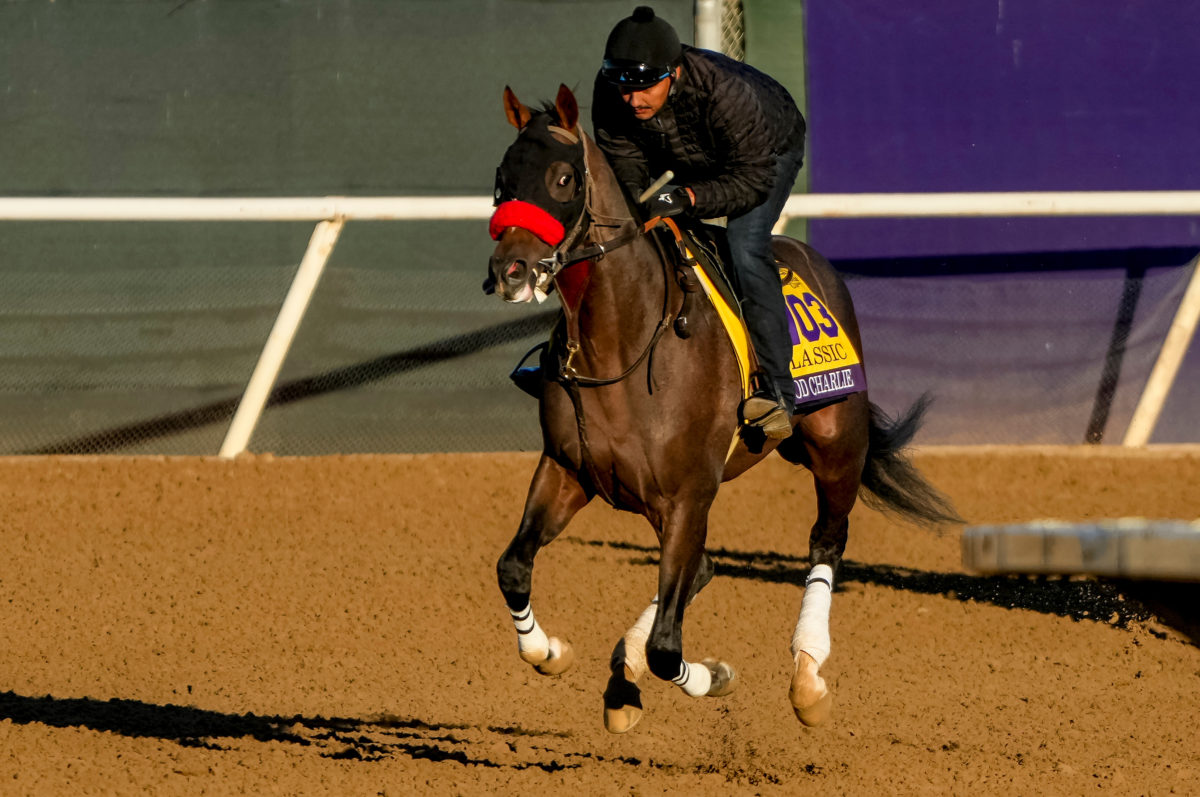 In this corner: Hot Rod Charlie
As the horses warmed up on the track before the Breeders' Cup Classic, a large, joyful—perhaps slightly inebriated—group of Charlie fans gathered near the track shouting in unison: "Let's go, Chuck! Let's go, Chuck! Let's go, Chuck!"
It was hard not to be caught up in their enthusiasm. It was just the kind of fan celebration of their champion the sport so desperately needs from fans actually attending races and cheering on their favorites.
A son of 2013 Preakness winner Oxbow out of Indian Miss, famous as the dam of Champion sprinter Mitole, Charlie's granddad was the popular speedster, Indian Charlie.
With speed on both his sire and dam's side, Charlie was a competitive threat each time he entered the gate. That's reflected in his 3-2-3 record over 12 starts.
Saddled by Doug O'Neill, Charlie dodged no competitors and took his fans on a fun ride throughout the year.
His signature win was the Pennsylvania Derby (G1) at 9 furlongs. He earlier won the Louisiana Derby (G2) at 9 1/2 furlongs and earned an eventual third-place finish in the Kentucky Derby (G1) at 10 furlongs, finishing barely in front of Essential Quality.
But for many, his best race will be remembered as the 12-furlong Belmont Stakes, the "Test of Champions." In that race, he dueled Essential Quality in a stretch effort that displayed more heart and grit than raw talent.
With his speed pedigree and at that distance, he should not have been where he was in that stirring stretch run. He would lose the race, but earn the love of Thoroughbred racing fans for his exceptional effort.
The strength of his record cannot justify his winning Champion Three-Year-Old Eclipse honors. But Charlie just might wind up as the choice for the "Vox Populi" Award. That award was initiated by Secretariat owner, Penny Chenery, in 2010 to acknowledge:
"…achievement can be measured in many ways, and fans occasionally feel a disconnect when the horses who most impacted the public are not recognized through the traditional equine awards. The industry is long overdue in annually acknowledging the star horse who brings the most excitement and attention to the sport. It is my hope that the Secretariat "Vox Populi" Award will be an honor that reflects the heart and soul of racing and will help build upon the devotion the public has for a horse they love."
Charlie and—though she is not considered here—Letruska, are worthy competitors for the "Vox Populi" award, as are the others among the six nominees. You can read about their racing accomplishments this year and cast your vote here before Nov. 28:
Charlie will not earn an Eclipse Award, but he has earned the love of racing fans worldwide delighted to learn he will remain in training and return to the track for a four-year-old campaign.
Let's go Chuck!
In the opposing corner: Medina Spirit
Say what you will about Bob Baffert—and people have said a lot this year—he knows how to get the most from his horses.
The silver-haired Hall of Fame trainer took a son of Protonico (out of Mongolian Changa by Brilliant Speed) and guided a horse with a questionable pedigree to four wins at distances from 8 to 10 furlongs.
That last one? That's his still-disputed Kentucky Derby win.
You've probably read about that already, so let's not go too deeply into the weeds other than to repeat his win over Mandaloun, Hot Rod Charlie and Essential Quality remains questionable following a positive post-race test for the corticosteroid—not to be confused with anabolic steroids—betamethasone.
So, 23 trillionths of a gram of a raceday-banned substance in what the Baffert camp claims was an ingredient in a topical cream used to treat a right hind-quarter skin rash may eventually unseat the current Kentucky Derby winner and deny him a chance at Champion Three-Year-Old Male.
We probably will not know that outcome by Eclipse Award voting time as the case slowly wends its way through the Kentucky courts.
So let's put that aside. Kind of.
Medina Spirit's three-year-old campaign is a checkerboard of accomplishment and disappointment as Baffert tried, as he so often does, to find the best distance and races for his horse.
Derby aside, Medina Spirit was thrashed by seven lengths by Life Is Good—we'll get to him—in the 8 1/2-furlong San Felipe (G2) Stakes and lost again to Life Is Good in the 8-furlong G3 Sham, though by less than a length. Perhaps Baffert was thinking that, like his female sprint star Gamine, Medina Spirit would be better at shorter distances.
Not.
Thinking he needed time off, perhaps a bit of memory loss, Medina Spirit was rested in the fall. He returned for the Breeders' Cup Classic.
Little reported, all Baffert horses racing in the Breeders' Cup were allowed to be entered on condition they undergo "enhanced testing," this to calm wagerers and fans while his Derby win remains in dispute.
So, what does he do in the Classic? He breaks slowly from the outside gate and isn't in position to challenge Knicks Go early. But he rallies late to earn a second-place finish—albeit by 2 3/4 lengths—behind winner Knicks Go, a quarter-length in front of third-place finisher, Essential Quality. Hot Rod Charlie finished fourth.
The four top finishers all earned Beyer speed figures in excess of 105, a speed that will win most races for most horses on most days.
Supporters of Medina Spirit will argue he "beat" Essential Quality twice in head-to-head competition. Well, once in a disputed outcome that may be overturned and the second time by a quarter-length in what was Essential Quality's dimmest career effort.
We'll get to that.
What is to like about Medina Spirit is that he likely beat expectations based on his pedigree and that voters should not penalize the horse for the possible misdeeds of his trainer.
That writ, some will. His horses' on-track performances notwithstanding, there are those who view Baffert as a black-eye on the sport and will cast their vote accordingly.
But even that aside, and even if the Derby win stands, it would be hard to award the Champion Three-Year-Old crown to a horse that finished well behind Knicks Go in the Classic and was twice beaten at shorter distances by…
Life Is Good
Life's been great this year for the son of sire-of-the-moment Into Mischief (out of Beach Walk by Distorted Humor).
In the wake of the Derby kerfuffle with Medina Spirit, owners Gary and Mary West would move the colt from the Baffert barn to Todd Pletcher's.
But not before Baffert would saddle the colt to sunny California wins in the San Felipe (G2) and Sham (G3) Stakes over then-stablemate Medina Spirit.
Moving East, Life Is Good missed only a single beat, a runner-up finish to highly-regarded Jackie's Warrior in the H. Allen Jerkens Stakes (G1) at Saratoga saddled by Steve Asmussen.
Moved to the Pletcher barn, he went on to win The Kelso (G2) in a teensy four-horse field at Belmont.
His claim-to-Champion-fame would be the Breeders' Cup Dirt Mile (G1), which Pletcher chose instead of a gate in the Classic.
Good choice when your horse wins, which he did. Not so good choice when all your Three-Year-Old Champion competitors are in that other race.
Regular rider and reigning three-time consecutive Eclipse Award Champion Jockey Irad Ortiz, Jr. says Life Is Good is "an incredible colt."
Perhaps. We'll see when he runs as a four-year-old.
For this year, he comes up short in the Champion Three-Year-Old honors contest—both in terms of distance, never winning at more than 8 1/2 furlongs; and competition, missing a chance to snare glory, or be exposed as a miler, in the Classic.
Still, it is likely he will gain votes as Champion Three-Year-Old from those who want racing to distance itself from Baffert, despite the fact that two of his three-year-old wins come from Baffert's tutelage.
He won't win Three-Year-Old Champion honors, but votes he gains as spoiler could wrest the hardware from…
…the winner on points: Essential Quality
It's coming on Christmas and, though he may be Muslim, all Godolphin owner Sheikh Mohammed bin Rashid Al Maktoum could have wanted this year was that elusive victory for Godolphin in the Kentucky Derby.
Instead, he got one-length of coal in his stocking in a race that, with a clean break, could have ended his decades'-long quest.
To understand the importance of the Kentucky Derby to the proverbial "man who has everything" living on the other side of the world as Ruler of Dubai, one must consider the importance of America to Sheikh Mohammed and of the race itself.
We know it now as one of the hottest tourist destinations in the world, the first 21st-century city. But at its founding in 1971 as one of the seven independent emirates that now comprise the United Arab Emirates, Dubai was one of thousands of dots of irrelevant seacoast places on the world map.
Its leadership saw more. They saw a seaport that could rival Singapore as a bridge between the West and the East. They saw a whimsical cityscape designed by the world's foremost architects. They saw a vibrant cultural hotspot, even for the world's jetsetters. And more.
But how to get the world to see what they saw?
Perhaps a racetrack. And a horse race.
Dubai, remember, along with its other sibling Emirates, was a former British colony. Even today, 90 percent of its residents are expats, nearly half from the UK, where Thoroughbred racing is hugely popular.
But America had the ka-ching in 1996. And it also had the world's greatest racehorse, Cigar.
So, build it and he will come.
Sheikh Mohammed built Nad Al Sheeba racecourse, an odd triangular course, in the literal desert of then-Dubai and offered an unheard-of purse of $4 million to the winner of the inaugural Dubai World Cup.
It's a great story about the American horse that would go to Dubai and thrillingly capture that first Dubai World Cup.
Why not the reverse? Why not go and capture America's greatest race?
This is what America and the Kentucky Derby came to mean to Sheikh Mohammed.
Several Dubai-trained horses tried and failed. Frosted, a Tapit, would come closest, finishing fourth in 2015. He finished runner-up to Triple Crown winner American Pharaoh in the Belmont Stakes.
Essential Quality, another son of Tapit, was the horse that would end the Derby quest. He was dominant as a two-year-old, winning the Breeders' Cup Juvenile, the race that anoints the early Derby favorite.
Moved to be trained by Eclipse Award-winning Brad Cox, specifically for a Derby win, he earned the Eclipse Award as Two-Year-Old Male Champion.
But that's just a piece of hardware; the real test would come May 1, 2021.
Essential Quality drew the 14 gate in a full 20-horse Kentucky Derby field. That was actually an advantage for a horse that usually starts slow, tracks from the outside and closes in the final furlongs of a clear path. His gift is stamina.
There was a new gate to accommodate the full field and remove the disadvantage it was believed horses suffered in the auxiliary six-horse gate. The weather was fine, absent the rain that had fallen four previous years before the race.
For Essential Quality, the race ended at its start when Rock Your World rocked his while coming out of the gate. He slammed and slowed Essential Quality from getting into his favored three wide, three-back tracking position. Running wide and back throughout, Essential Quality managed to finish fourth, a scant length off current winner, Medina Spirit. Trakus estimates he ran 6-7 lengths further than Medina Spirit.
So, let's toss the Derby as a consideration, both because of its possible reversed outcome and a trip jockey Luis Saez could not control from a mishapened start.
EQ skipped the Preakness, opting instead for the Belmont (G1), the "Test of Champions."
It's not often one uses the word "eloquent," but it's appropriate here, as both Essential Quality and Hot Rod Charlie gave us a glimpse back to the memorable stretch contest between Affirmed and Alydar. Check that off for EQ, credit Charlie.
Essential Quality was always being aimed at the Travers (G1), the "Midsummer Derby," and he performed with his usual no-nonsense win, this time by a neck over Midnight Bourbon.
He then took the measure of Keepmeinmind, a horse not unlike Hot Rod Charlie this year, by a half-length in the Jim Dandy (G2) carrying high weight.
Trainer Cox elected not to give EQ another race before the Nov. 6 Classic, a decision some would later question.
In the Classic, EQ drew the four post, just inside stablemate Knicks Go. That sounds favorable in what became an eight-horse field after Express Train was scratched. But as a slow starter inside with no horses challenging Knicks Go early, it was a defeat sentence.
Early on, Essential Quality became trapped on the rail behind a small pack choosing not to challenge the leader, but instead to run for second or third-place money in the $6 million race. He would be running seventh at one point. Saez would eventually move him outside in the stretch where he belonged all along. EQ would rally to finish third, a quarter-length behind Medina Spirit.
That outcome, and his enthusiastic reaction to stablemate Knicks Go victory, would make it surprising for Godolphin to give Cox training reins of a Derby-worthy horse in the future.
Why Essential Quality deserves the Three-Year-Old Crown
In Sociology, especially as it relates to polling, the phenomenon is called "recency."
That's a fancy way of saying people remember most what happens nearest in time. It accounts for why Breeders' Cup victories often overwhelm voter references.
But let's look back a bit.
Let's toss the Derby—as well may happen—for Medina Spirit. Then, too, for Essential Quality.
Absent a chance at the Triple Crown, Essential Quality would skip the Preakness to run in and win the Belmont Stakes at 12 furlongs.
Aimed at the Travers Stakes through the first part of the year, he won the race over Midnight Bourbon in heart-pounding fashion similar to his Belmont win.
He also won the 9-furlong, G2 Blue Grass Stakes at Keeneland and the 8 1/2-furlong G3 Southwest Stakes at Oaklawn Park.
Still, it is the triptych of the Belmont at 12 furlongs, the Travers Stakes at Saratoga at 10 furlongs and the Jim Dandy Stakes at 9 furlongs that truly separates this colt from his three-year-old competitors.
Essential Quality's overall record this year demonstrates versatility from different post positions in different weather conditions at different racecourses, as well as his willingness to take on all comers under those different circumstances and at different distances.
Too, Essential Quality's three-year-old record is 1 1/4-lengths from a perfect nine-for-nine career, though his two-year-old achievements are discounted for this year's award.
The one irksome point in all of this for Godolphin and Sheikh Mohammed is that Essential Quality did not win the Kentucky Derby.
The irksome point for fans is his retirement to stud at Darley America's Jonabell Farm, announced even before the Breeders' Cup Classic, will not allow fans to see what he may have become as a four-year-old and older on the racecourse.
But that may be a secondary consideration for Sheikh Mohammed in his continuing quest for Kentucky Derby roses.
There is a famous story, perhaps folklore, about a potential candidate who interviewed for the head football coaching position at the U.S. Naval Academy at Annapolis, Navy, many years ago. When asked if he would rather win all his team's contests and lose to the U.S. Military Academy at West Point, Army, or lose all his other contests and beat Army, he logically responded he'd rather beat all his opponents and lose only to Army.
He didn't get the job.
Feature image: ©Eclipse Sportswire/Breeders Cup