A runway and a barn aisle might seem worlds apart, but you can find Janelle Kenney strutting down both.
Just not in the same pair of shoes.
Kenney is a 27-year-old model and dressage rider. She rides an Andalusian-cross named Reggie (also a natural in front of the camera!) and has a leg-up on the subject of style given her involvement in the fashion industry. She's the perfect barn friend to ask for riding outfit advice.
But there's more to a great #ROOTD than meets the eye. Fashion is one of the most direct forms of self expression, and so behind every outfit is a story—this is especially true for Kenney.
In 2014, the Boston-based rider was struck by an SUV going over 30 mph while riding her motorcycle through an intersection. Laid out in the road, Kenney suffered two broken hips, two broken femurs, a broken pelvis, foot, jaw and nose, and nearly lost her leg at the knee.
Despite withstanding staggering physical trauma and needing to relearn how to walk, she strutted the catwalk in the charity fashion show Finding Hope with Fashion just short of six months later.
"I did it to kind of prove to myself, especially to my mom. She had said that would be the day she knew I healed, was when I got back on the runway," said Kenney.
"It was physical of course, but more importantly it was about mentally overcoming the accident."
It was about two years before Kenney was physically strong enough to withstand another fall, a prerequisite for climbing back in the saddle. Happy to be back doing what she loves, she credits riding for also helping her rebuild muscle, especially in her legs.
"It's really the [physical therapy] they can't give you anywhere else," Kenney laughed.
Whether it be in horses or fashion, the most important thing for Kenney is the connections she makes along the way—a supportive "fashion family," a good horse, trainers that shaped her riding, and family.
We caught up with the rider-model to unpack her go-to riding uniform.
Has COVID-19 quarantine impacted your style?
"I've definitely been busy online shopping. I think I'm better dressed now!"
That's a silver lining! What do you wear when you swap out the heels for riding boots?
"I wanted tall boots my whole life, and I never had them as a kid. I went to Equine Affair last year and tried the Donatello III Dress Tall Boot in Black ($299.99), which I really loved, so I finally bought them. They were awesome. They took all my measurements so that they fit me like a glove…They were really easy to break in as well! A bit tight the first few times but then they fit really nicely."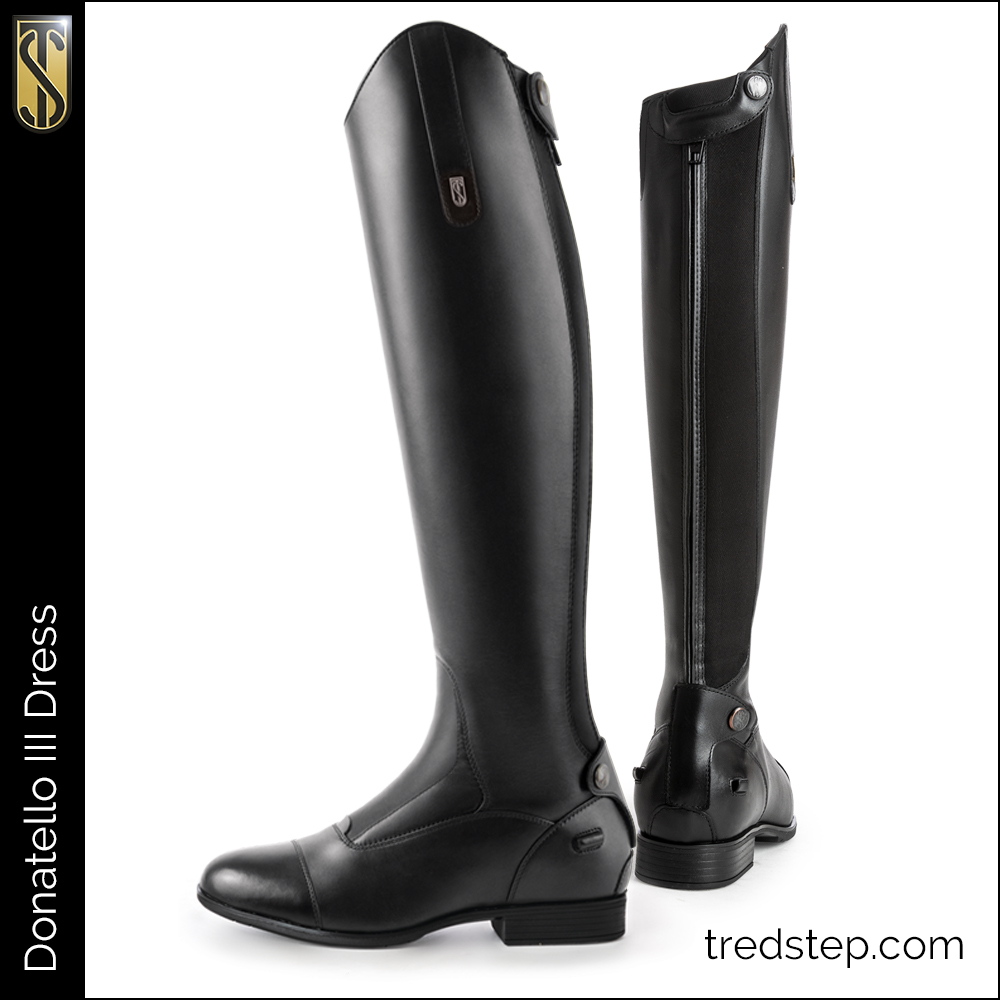 And you have a matching black belt—classic. What's your ideal riding pant?
"Beige is my favorite breech color to wear. I like TuffRider Ladies Perfect Knee Patch Breeches because they're also high waisted, which is one, more flattering and two, more comfortable. Another reason that I probably gravitate towards high waisted is it's also all I own for jeans."
Do you gravitate toward light colors in general?
"I went with the coral polo today, which I like for the summer because it's cooler. Though I don't always wear light colors because with Reggie always being all over me."
#PocketGeldingProblems. Some dressage riders eschew helmets. Presumably, you do not.
"My motorcycle helmet saved my life! For riding, I wear the Tipperary Sportage in Coral Brown ($89.00). It's practical, safe and stylish. And always a pair of earrings."
Thanks for sharing your barn style, Janelle!