It's here again. Fly mask season.
Just as soon as we've all escaped from another muddy spring and right as our thoughts turn to sunny afternoon gallops, the first flies of summer begin to make their appearance. This year though, you've got a friend in Equishopper, which offers a wide variety of fly mask options (and $20 off your first order over $50!).
For those of you with a more discerning sense of fashion, we present fly masks that are sure to make a statement (good or bad) in your barn.
Weatherbeeta Fly Mask
Classic. Timeless. Elegant. Or as Weatherbeeta describes it, "practical." Much like the little black dress of the fly mask world, the Weatherbeeta Fly Mask with Ears ($24.99) is a great choice for those who want standard features like Lycra ears and durable mesh, but without the extravagant extras (or the extravagant price). Unlike the LBD however, you'll probably want to avoid the kitten heels with this one. Maybe something in aluminum, perhaps?
Brow Life Fly Mask
If your horse is fancy and he knows it, this affordable Brow Life Fly Mask from Kelley and Company ($19.99) will not only protect him from flies, but also give him that new-age-horse-astronaut look you've been searching for. Made with a specialized inner fleece browband design and two touch tape closures under the chin, this white mesh mask will do a great job keeping both the flies out, and the haters quiet.
Weatherbeeta's Bug Eye Saver
Good news for all you racing fans out there. If you've been anxiously searching for a way to channel your horse's inner Seabiscuit, look no further than Weatherbeeta's Bug Eye Saver ($17.95). Not only does it offer 65% UV sun protection and raised eye inserts, but the flexible stretch nylon will keep him comfortable on those long gallops—even if it's just on his way into the barn for dinner.
Bucas Buzz-Off Long Nose Fly Mask
Have you ever found yourself really wanting a zebra, but not wanting all the hassle that comes with an actual zebra? With this Zebra print Bucas Buzz-Off Long Nose Fly Mask ($39.95), you can turn any of your equine friends into exotic wildlife with one pull of the mask's hook-and-loop jaw closure and chin strap. With sunlight and UV protection and highly breathable material for hot climates, this mask is perfect for your horse, whether he's snoozing in a stall or trotting across the African grasslands.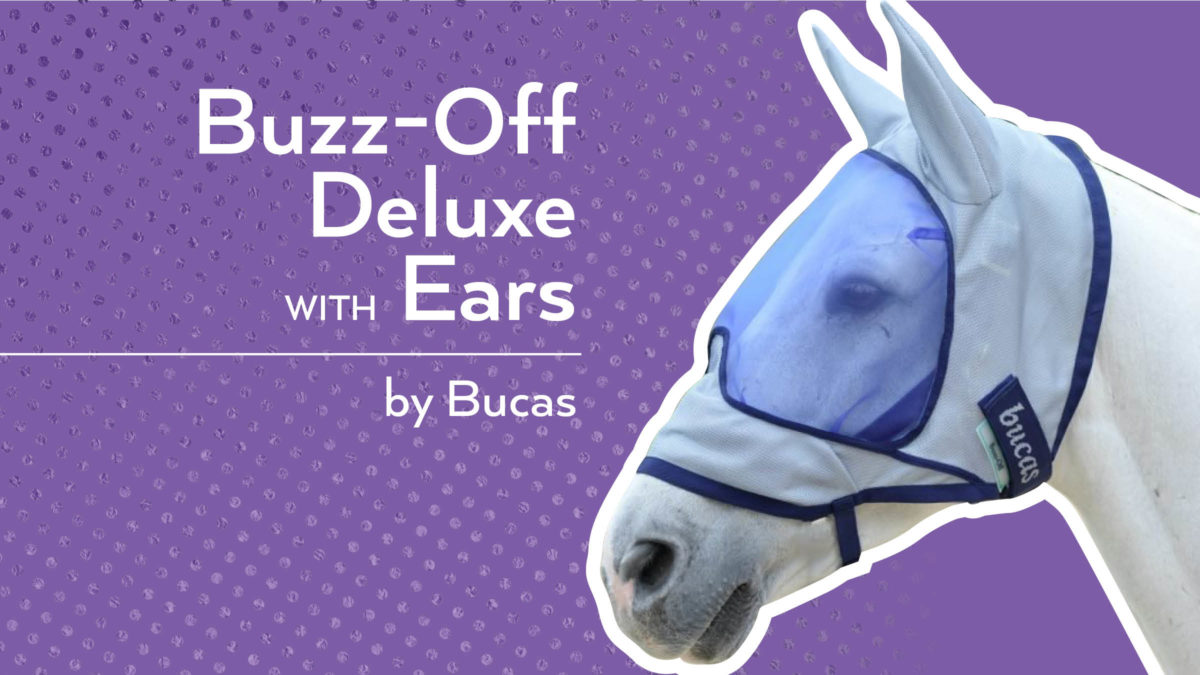 Bucas Buzz-Off Deluxe
If you've ever been worried that your horse's true calling was to be an Olympic fencer, I have great news for you! The Bucas Buzz-Off Deluxe ($49.95) mask means he can lunge and parry every fly or gnat and look like a true champion while doing it. Created with extra fine, lightweight mesh and with specialty features like an adjustable neck strap and additional magnetic chin strap, your horse can look the part without ever having to pick up a foil (a plus when all you have are hooves). En garde!
Rambo Fly Mask Plus
This fly mask may not be as visually exciting as some of the other options on our list, but what it lacks in originality, it makes up for in sheer grit. Made with extremely durable textilene and fleece edging, the Rambo Fly Mask Plus ($44.95) will survive just about any encounter with fenceposts, gates, or the sharp teeth of your horse's pasture mate, all without sacrificing comfort. Rambo: For when you want your horse's style to say "I'm really tired of finding mask shreds in my pasture."
Shop more fly protection products for horses at Equishopper.com.