There is a saying among those in the American Saddlebred world that "once you rack you never go back."
Though no one knows the exact origins of this old adage, it is clear why it has stood the test of time—the rack is a very special gait.
With their natural animation, Saddlebred horses are incredibly fun to ride no matter the discipline or division, but if you're going to spend your life aboard a breed of horse that is known for its unique gaits (the slow-gait and its faster version, the rack), you should take advantage of it any chance you get.
There are countless reasons to learn to rack, but here are eight of the best ones!
1. You don't have to post!
Sure, posting becomes second nature after you've been riding for a while, but keeping your seat in the saddle still has its advantages. When you're riding a strong horse or one that has a tendency to shy at things, sometimes there's an extra level of comfort in sticking in one place. At the rack, as at the canter, you can do that.
2. It increases your saddle time.
Most saddle seat horse show classes run for less than ten minutes. But when you're riding a horse that performs five gaits instead of three, you might get a little extra show time out of the deal. And after all the energy and money you put into getting there, who doesn't want a little more time in the spotlight?
3. It teaches you about timing.
You may think you know about timing, but it can be argued that, until you ride a gaited horse, you know less than you think. Though timing is vital in all aspects of good riding, it has a way of becoming even more important when you're trying to balance a horse that is slow-gaiting or racking.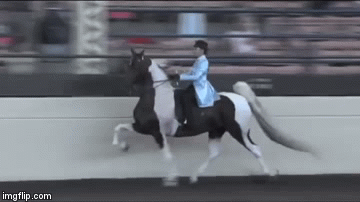 4. The crowd gets really into it.
Saddle seat classes are different than those of many other disciplines because the audience is encouraged to get involved, yelling and screaming and cheering for their favorite horses and riders. But after 15 classes of the same sort of thing, it can be hard to keep the energy up. When the announcer calls "rack on!" however, you can bet that the audience will be cheering.
5. You can really "showboat."
Always dreamt of raising your hands up like Don Harris on CH Imperator? When you're on a five-gaited horse, you can live out this dream. (And if you really want to, you can even take off your hat when you win!)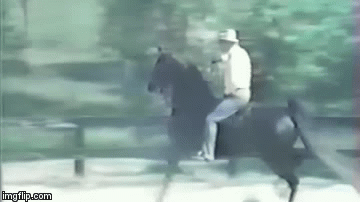 6. It makes you a more sought-after catch-rider.
Being asked to show someone else's horse is always an honor, but if you've never racked a horse before, there is a whole subset of the Saddlebred population you probably wouldn't be asked to show. The more versatile you become as a rider, the more horses you'll be able to catch-ride.
7. You can show in the Five-Gaited World's Grand Championship some day.
The Five-Gaited World's Grand Championship is the pinnacle of Saddlebred saddle seat competition. Sure, it's mostly professionals that enter, but Michele Macfarlane entered, and won! You can set your sights this high if you master the rack.
8. It's just plain thrilling.
There's no doubt about it, racking is fun. You never want to sacrifice form for speed, but as long as you can keep your horse collected, the more speed the better! Riding a true racking horse is a feeling like nothing else.
---
About the Author
Allie Layos is a lifelong equestrian with a passion for the written word, and she likes nothing better than to combine these two interests. While she has ridden multiple disciplines, her first love is saddle seat, and she serves as editor-at-large for the international show horse magazine, Saddle & Bridle. Her work has also been featured in a variety of equine-related books, websites and other publications.