Two days, 13 races, hundreds of the world's top thoroughbreds, jockeys and trainers all competing on one track with $26 million up for grabs. It's thoroughbred racing's grandest stage. It's champagne and bourbon, work boots and pumps, the cake and the fork, California and the Chrome. It's a battle of bloodlines. American stars versus international imports…and it all goes down this Friday and Saturday from Santa Anita Park.
Last year's Breeders' Cup delivered the sport's first Grand Slam when American Pharoah capped his Triple Crown career with a $5,000,000 cherry in the Classic. While the Pharoah has moved on to a life of lust and luxury, this year's card is absolutely loaded with star power, none brighter, of course, than California Chrome.
The world's top ranked horse nearly became just the third horse in history to win the Kentucky Derby and Breeders' Cup Classic in the same year, but came up just a stride short in 2013. Back and better than ever, the chestnut is the overwhelming favorite for Classic supremacy.
Just a horse being a horse. #CaliforniaChrome #BC16 pic.twitter.com/jHQTc4UmE5

— Breeders' Cup (@BreedersCup) November 2, 2016
And with that, let's dig on in to Breeders Cup 2016.
Breeders' Cup by the Numbers
1984: The Breeders' Cup debuts at the bygone Hollywood Park in Los Angeles. The purpose of the event is to promote the industry worldwide while providing an end of the year championship for horse racing's various divisions.
13: Number of races comprising the Breeders' Cup, each representing a particular division (based on age, gender, surface, distance, etc.).
16: Countries (from 6 continents) that have produced a Breeders' Cup starter.
8: Countries that have produced a Breeders' Cup champion (US=232, IRE=26, GB=15). There is a bit of home field advantage here of course, but bottom line: American horses own the dirt. European horses excel over the lawn.
20: States that have produced a Breeders' Cup starter.
10: States that have produced a Breeders' Cup champion (KY=187, FL=26, CA=6).
$6,000,000: Purse for the Breeders' Cup Classic.
12: Racetracks that have hosted the Breeders' Cup. They are: Santa Anita Park (CA), Churchill Downs (KY), Aqueduct (NY), Belmont Park (NY), Arlington Park (Il), Lone Star Park (TX), Woodbine (ON), Gulfstream Park (FL), Monmouth Park (NJ), Hollywood Park (CA), and this year for the first time ever, Keeneland Racecourse (KY).
5: Horses that have won both the Kentucky Derby and Breeders' Cup Classic—Ferdinand, Alysheba, Sunday Silence, Unbridled, American Pharoah
3: Horses that won both the Derby and Classic in the same year—American Pharoah (2015), Unbridled (1990), Sunday Silence (1989)
22: Career Breeders' Cup wins for jockey Mike Smith. More than any other rider.
53: Age of jockey Gary Stevens, who had knee replacement surgery in 2014 but has not slowed down a bit. Among his many weekend rides is the superstar mare Beholder in the Distaff.
$8,866,300: Total Breeders' Cup earnings of Storm Cat progeny; most of any stallion in history.
0: Career Breeders' Cup wins for Storm Cat. (2nd in 1986 BC Juvenile)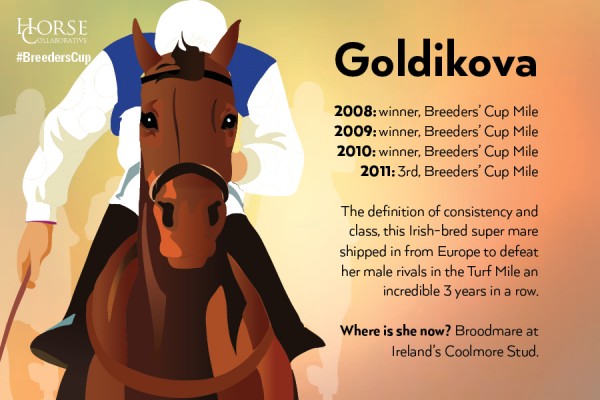 The 2016 Breeders' Cup All Name Squad
Because racehorses have the best names.
Texas Chrome (Dirt Mile): Like California Chrome, only bigger.
New Money Honey (Juvenile Fillies Turf): New, old, it all spends the same.
Oscar Performance (Juvenile Turf): You like me! You really like me!
Noted and Quoted (Juvenile Fillies): Duly.
Daddys Lil Darling (Juvenile Fillies): Wrapped around the finger.
Pretty Perfect (Filly/Mare Turf): Pretty much sums it up.
Mind Your Biscuits (Sprint): Delicious advice.
Limousine Liberal (Sprint): Rollin' up in my stretch Prius.
Ambitious Brew (Turf Sprint): Like ambition. Love beer.
Ashleyluvssugar (Turf): @aol.com
Cougar Mountain (Mile): 2 for 1 margaritas every night up on Cougar Mountain.
Melatonin (Classic): Hoping to put the Chromester to sleep.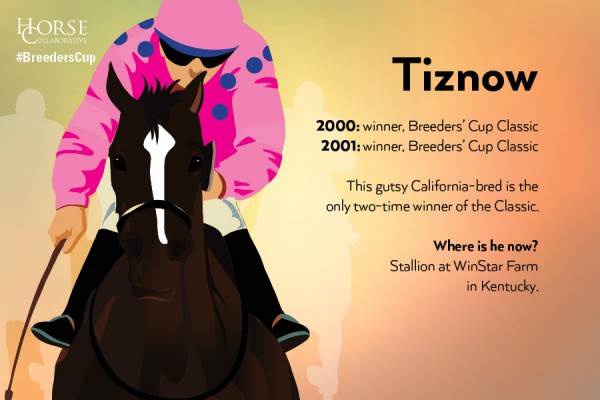 Horses to watch
Songbird (Distaff): The Foxhill Farms filly will attempt to notch her career record to a ridiculous 12 for 12 when she tussles against older fillies and mares for the first time in Friday's Distaff. Her fellow 3-year-olds have simply been no match for this marvel of consistency and power. She's earning her spot in the same breath as Ruffian and Rachel Alexandra and reminds me of American Pharoah in the way she strides so effortlessly and professionally, never wasting a step. She'll definitely have to earn it against what is arguably the deepest field of the entire Breeders' Cup.
Beholder (Distaff): Waiting to pounce on the speedy Songbird is the two-time Breeders' Cup Champion Beholder, whose last two defeats at the hooves of Stellar Wind have some questioning whether the 6-year-old mare has lost a step. I say she'll be ready to fire on Friday, and will give Songbird plenty to deal with in her final bow before retirement.
Lady Eli (Filly/Mare Turf): Last summer, this filly was at the top of the sport. She was a perfect 6-for-6 and clearly the class of the American turf. Then, she reportedly stepped on nail after a workout at Belmont Park and in a matter of days, the unbeatable filly was fighting laminitis. Her connections weren't sure she would survive the ordeal, but as she's always done, she fought valiantly and got the upper hand. Any doubts the ordeal took something out of her were squashed last month with her GI Flower Bowl win. The 2013 Juvenile Fillies Turf champion is a good bet to add another crown on Saturday.
A beautiful photo of Lady Eli at Santa Anita. This @BreedersCup champion sells at #KeeNov with @HillnDaleFarm. https://t.co/smtbtArvCw pic.twitter.com/SkU7hNo1hN

— Keeneland Sales (@keenelandsales) November 4, 2016

Runhappy (Dirt Mile): Last year's Sprint champion is a bona fide freak of nature. As the human soap opera played out around him, Runhappy spent most of 2016 on the shelf with a foot injury, but the bullet is back and his connections have opted to try him in the Dirt Mile. It's a gamble, especially considering his only two career losses have been at a mile or more, but when this colt is right, there is no doubting his devastating speed. Will it be enough to hold off the likes of Dortmund?
Haveyougoneaway (Filly/Mare Sprint): Love a good underdog? How about this 5-year-old mare who was purchased for a mere $1,200 at auction as a 2-year-old. She's earned just under a million so far in the hands of Tom Morley, including GI Ballerina her last time out at Saratoga.
Found (Turf): The defending Turf champ and Arc winner is back for more after what's been a sensational, if not grueling 2016 campaign. She's clearly as classy as they come, beating the males at the highest level, but does she have enough in the tank for one more heavyweight bout?
Tepin (Mile): Announced herself to the world last year in this race, dismantling a stellar field of males and never looked back. Her 2016 campaign is one of the best you'll ever see, which included an historic win in the Diamonds Jubilee at Royal Ascot. Her 6 race win streak was halted last month in the First Lady, but you better believe she'll be ready to go on Saturday.
California Chrome (Classic): The highest earning horse in history is gunning for his first Breeders' Cup crown in the $6m Classic in the familiar confines of Santa Anita. He's the top-ranked horse in the world for a reason and what a story it would be for this Kentucky Derby hero with the humble beginnings to go out with a bang.
For more on all the horses and humans of the 2016 Breeders' Cup, check out Breederscup.com.