Each week on #HallOfFameThursday, Horse Network recognizes members of the Show Jumping Hall of Fame with an inductee's plaque, historical photos and, on the first Thursday of every month, an article written by a Show Jumping Hall of Famer. This week, we recognize Beezie Madden's spectacular mount Authentic, Show Jumping Hall of Fame class of 2017.
Authentic, a bay Dutch Warmblood gelding, teamed with Beezie Madden for one of the most successful careers in U.S. show jumping history.
Their long list of accomplishments includes three Olympic medals—team Gold at both the 2004 Games in Athens and 2008 Games in Hong Kong where they also claimed the individual Bronze—plus double Silver medals at the 2006 FEI World Equestrian Games™ in Aachen. Authentic was purchased by John and Beezie Madden together with Elizabeth Busch Burke as a six-year-old in 2000 (it was because of the connection with Budweiser that he got his nickname
"Bud"). To help keep him as Beezie's ride for Athens, shares were later sold to Mr. and Mrs. Joseph Patton, Mr. and Mrs. Steffen Wolff, Mr. and Mrs. Jeremy Jacobs, and Chandi Duke Heffner. After Athens, Abigail Wexner purchased him, ensuring that one of the world's top combinations would stay together.
His many Grand Prix wins with Madden included the Mercedes German Masters and Audi Grand Prix of Maastricht (2003), Grand Prix of the United States (2004), New Albany Classic (2005), Budweiser American Invitational (2005 and 2007), Queen Elizabeth II Cup (2006), Rolex Grand Prix of Aachen (2007) and CN Worldwide Grand Prix in Wellington (2008).
Other highlights included second place in the $200,000 Queen Elizabeth II Cup at Spruce Meadows (2009), second place at the Budweiser American Invitational (2004) and third place in the Hachenburg Grand Prix in Germany (2004). In 2004, Authentic and Madden helped the U.S. to second place finishes in the Nations Cups at Aachen, Germany, and Spruce Meadows, Canada and in 2005, they helped the U.S. win the Nations Cup at Aachen and its first-ever Super League Nations Cup competition.
Authentic was named the USEF Show Jumping Horse of the Year in 2005 and again in 2006 when he was also the overall USEF Horse of the Year and Madden was honored as the USEF Equestrian of the Year.
Above all, it was Authentic's stellar performances in show jumping's most important events that etched his name indelibly in the sport's record books. At the 2006 World Equestrian Games, Authentic was perfect, winning the opening speed class, turning in the U.S.'s only double clear in the Nations Cup and then going clean with all four riders in the individual final. Authentic then carried Madden to their second team Gold together at the 2008 Olympics and won an exciting seven-horse jump-off for the individual Bronze medal.
Authentic was formally retired from competition in 2009 in a ceremony at the New Albany Classic following which he began a happy retirement at the Maddens' farm in Cazenovia, NY.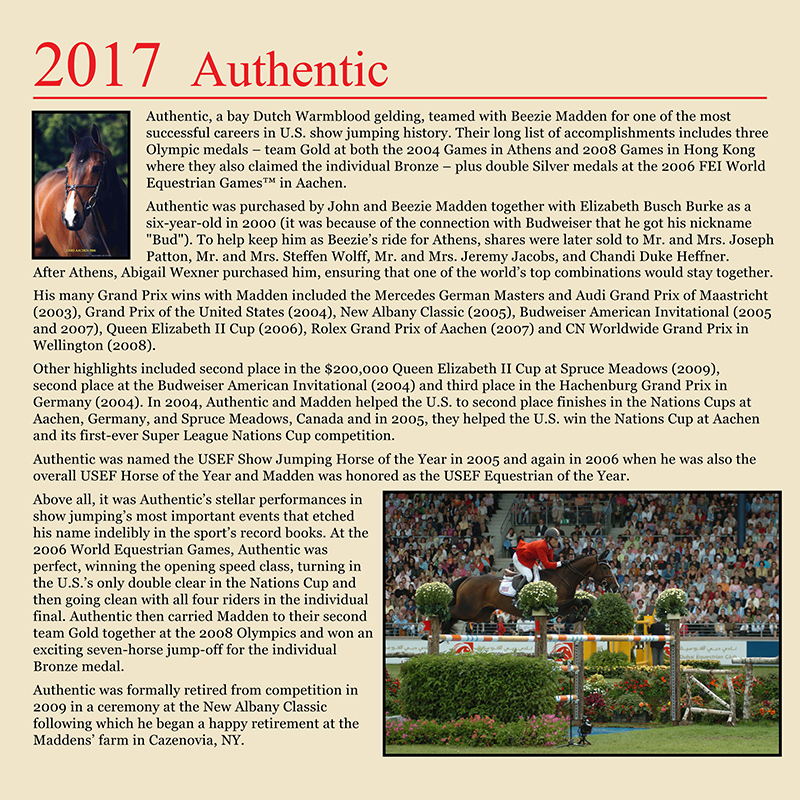 The Show Jumping Hall of Fame is a 501(c)3 not-for-profit charity that relies solely on contributions to operate. If you liked this story, please consider supporting its efforts to preserve our sport's history. Donations can be made online at www.ShowJumpingHallofFame.net.