It's commonly known that amateurs and professionals desire different qualities in their performance horses.
Amateurs tend to look for steady and reliable. Professionals want quick and careful. Irish team rider Daniel Coyle, known for his thirst for speed, has met his match in Oak Grove's Carlyle, who prefers to smell the roses (or take a bite of grass at the prize giving).
"He's every amateur's dream," laughed an exasperated Coyle after winning Saturday's CSIO5* tbird Cup.
"He doesn't like to go fast. He's a strange horse that way."
It's not for lack of trying, or training, on Coyle's part either. Oak Grove's Carlyle was purchased for Coyle from Dutch Olympic champion Jeroen Dubbeldam last year. The Irish rider invested hours this past winter trying to put a fifth gear on the 14-year-old gelding with gallops up his favorite training strip in Florida.
"He just doesn't want to go," continued Coyle.
"I tried to train him to be faster. He just doesn't like it. He loves treats. He loves going easy and being played with."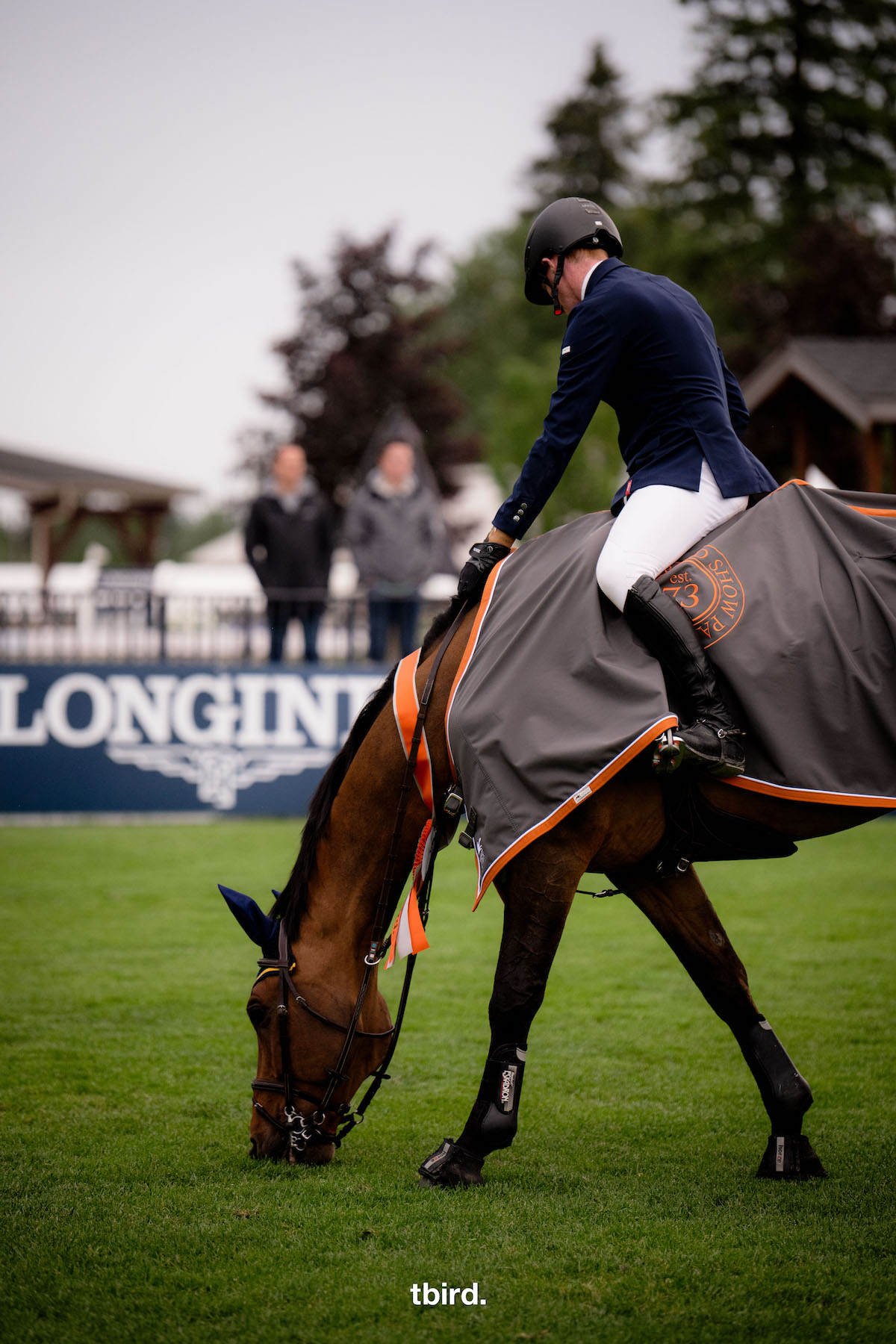 Oak Grove's Carlyle's JUMPR App statistics tell another story. The gelding sports a 55% clear round and 41% top ten finish rate at 1.50m. Perhaps being in the saddle of a Coyle has rubbed off on him a little, because it appears he can be persuaded to win.
"He's been incredibly consistent for me," said Coyle. "In one year, I've probably had more ranking classes placed on him than any horse I've had."
On Saturday, the pair added a 5* win in the tbird Cup, galloping through the timers in a blistering 37.16 seconds to shave 0.13 seconds off of Tanner Korotkin (USA) and 10-year-old gelding Ideal's time of 37.29. Mario Deslauriers (CAN) and 10-year-old gelding Emerson, finished in third on 37.98.
"In the first round, it was hard for me and him to jump because in the ground and trying to get the time allowed, it wasn't so easy," said Coyle. "I'm extremely proud of him."
Coyle has learned to meet his horses in the middle, or has been taught rather, by Olympic champion Jeroen Dubbeldam (NED), his coach of the past five years.
"I needed someone [to help guide me]. I was young, probably a little foolish, a little too greedy trying to win everything when I didn't need to," said the 27-year old. Under Dubbeldam, he's learned to slow his roll.
Like a slingshot, sometimes when you pull back it ultimately only projects you further. Coyle's 5* success is evidence of that.
"Jeroen is very calm person," said Coyle. "Last year we weren't winning classes every week, but he assured me and I felt like we were going to have a good shot at the European [Championships]."
Riding Legacy in that championship, Coyle's first, he went on to place fifth with the Irish team and 10th individually.
"That experience taught me to trust the horse and trust not just one day, every day is important. So [Dubbeldam has] really made me slow down and take a deep breath. And with horses, I think it's a big help"
Maybe Coyle will take a breath, but he doesn't appear to be slowing down anytime time soon.
Feature Image: ©tbird/Quinn Saunders