Israeli show jumper Ashlee Bond has a secret edge when it comes to winning jump-offs—something she does quite a lot.
Bond, who is both manager and member of the Major League Show Jumping's Helios team, is known for her bold, blistering turns. She helped Helios to the win last month in the MLSJ Vancouver CSI5* Team Competition at Thunderbird Show Park (tbird) aboard her Olympic mount Donatello 141.
The following week at tbird brought more success with her 10-year-old homebred mare Contefina Lvf when the pair won the CSI2* 1.45m—by over three seconds, besting runner up world No. 5 Conor Swail (IRL).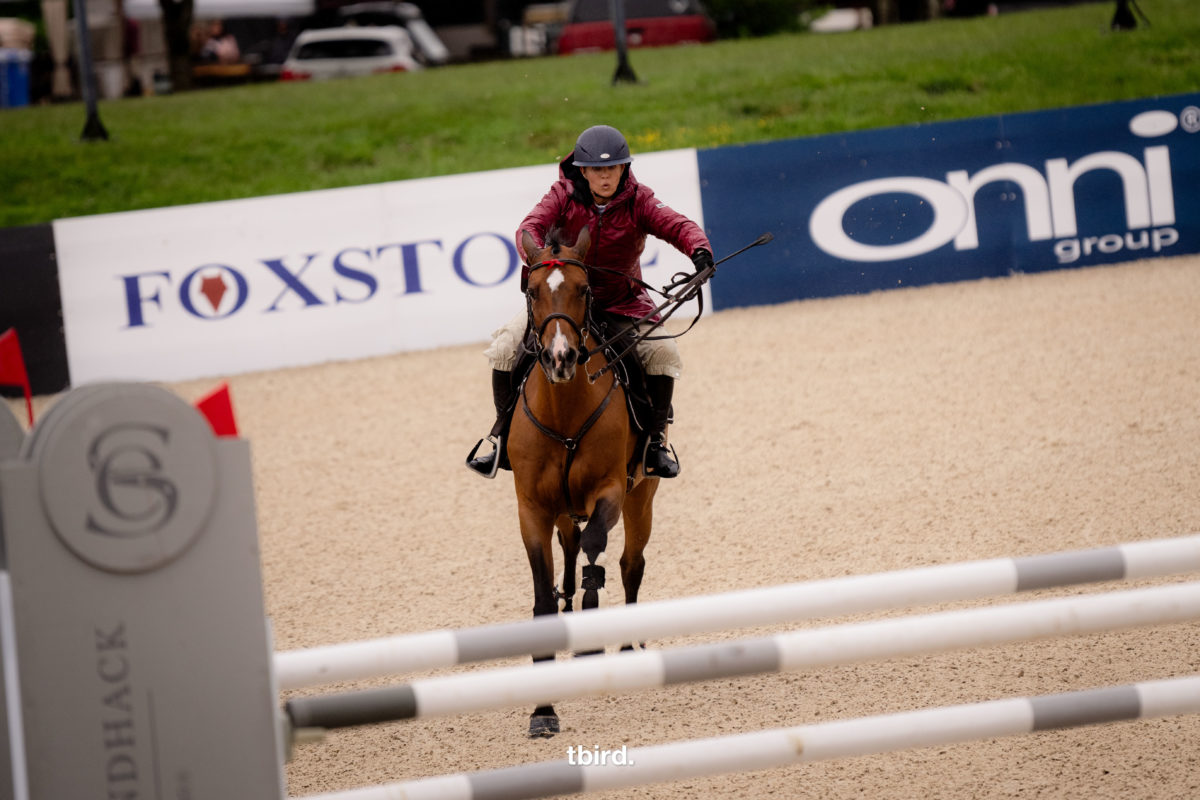 Contefina is especially known for her seamless execution of Bond's turn-and-burn technique. So, how does she cut so much time off the clock?
"My dad [Steve Bond] came from the Western world and did cutting. He trained with a world champion cutting horse trainer named Bob Nelson, who's still an instrumental part of our program," shared Ashlee.
The Bond's have a known history of sourcing training and tack inspiration from the western world. And, it works. Contefina, who Bond's father broke and has been in their program ever since, is trotting proof.
"Dad gets them really responsive to the body and the leg. I don't really know how he does it. I watch him and have an idea, but I think just from his cutting horse days he knows how to get a horse to move laterally really, really fast," said the Israeli Olympian.
"Obviously, he doesn't do it to the [same] extreme because our horses aren't built the same way as cutting horses. But he does it enough to where it helps me in the ring.
"He gets them to where the horse is thinking with you."
Contefina's coached intuitiveness is a double-edged sword. Cutting horses are always thinking, trained to anticipate a cow's next moves. So, Ashlee has to be balanced and deliberate so they don't land and spin too quickly.
"You don't pull with her. You don't even turn, you literally land and think ['turn']…and she is suddenly turning underneath you. You have to be a little careful so it doesn't happen too fast," said Ashlee.
The dad and daughter duo have refined their system and respective saddle time so that the horses are primed for competition. It doesn't take much, a little refresher goes a long way.
"He doesn't [sit on them] very often, especially with [Contefina], because we bred her, so he broke her and she knows everything so well," said Bond.
"The key for him is riding the day before the show…or just riding them to the ring for five-minutes just to be sure they're listening off the the body before I get on for the class. So it's very minor tune ups, because of course I know the program too."
The show jumping-western fusion makes her program unique, and she's likely safe from copycats. No one else has a Steve Bond on retainer.
Feature Image: tbird // Quinn Saunders