Falling in love with Canada is easy.
If the breathtaking views and Tim Hortons coffee doesn't sweep you off your feet, the world class equestrian sport certainly will.
Falling in love with Canadians, though, is even easier.
And the Canuck show jumping team knows this. You might even say it's a tactical method used to recruit new members.
Take, for example, Jay Hayes, who hailed from Connecticut until he married Canadian horsewoman Shawn Carpenter and promptly moved to Kettleby, Ontario, became a citizen and joined the Canadian Team.
Sure, it worked out well for him—the couple is still going strong three daughters, two grandchildren and several decades later. But, you could say the team got their happily ever after, too. Hayes competed for the Maple Leaf in two Olympic Games, over 30 Nations Cups and was a two-time Canadian national champion.
Okay, so one person doesn't make a pattern.
Once upon a time, Mac Cone of Memphis, Tennessee was a member of the United States Equestrian Team. So how did he become one of Canada's most accomplished riders?
*Canadian Brenley Carpenter joined the chat*
He and Carpenter married, and Cone moved to Canada in 1979. Under the Canadian flag he earned Team Silver medals at the 2007 Pan American Games and at the Beijing 2008 Olympic Games, among other accolades.
But we're not done.
It's not just the neighbours to the south that team Canada is pillaging for talent either.
France's Yann Candele originally came to The North for a job with Eric Lamaze at Torrey Pines Stables in Schomberg, ON. But he stayed for love after marry Canadian horsewoman Jennifer Wallace.
Gaining citizenship in 2009, Candele earned a team gold at the Pan American Games and was part of the fourth place finishing Rio Olympic team. He's been Canadian champion four times, winning the title every year between 2010–2013.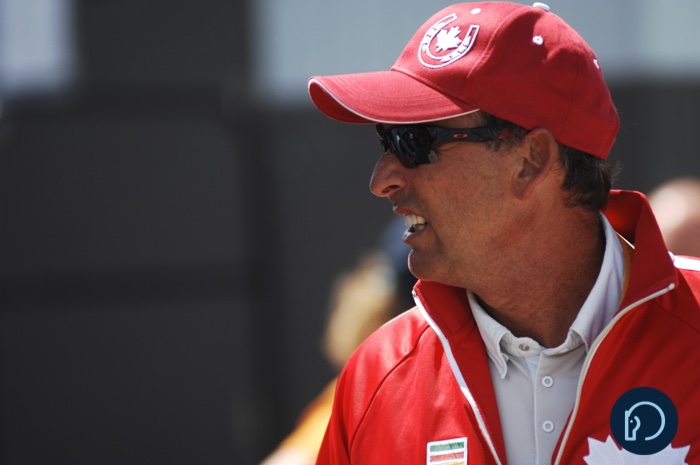 Is history shaping up to repeat itself?
Now there's a new potential Canadian Team marry-in on the horizon: Californian Kyle King.
The west-coast American married Victoria-native Emily Watson in 2017 and relocated to Langley, BC. He's already on the path to citizenship, having secured permanent resident status, and has been chatting with Canadian chef d'equipe Mark Laskin.
"I've been coming [to Langley] my whole life. I got married to my wife Emily, she's from Vancouver Island, three years ago…about a year ago I got my permanent resident status. Officially, my address is just across the street [from Thunderbird Show Park]," said King.
When asked about his future team prospects, King was unequivocal.
"I would definitely love to be on the Canadian team at some point and go for my citizenship," he said.
"I have a horse that I think is capable of jumping those [championship and Nations Cup] competitions. He's a little bit green right now. It's definitely on the radar. I don't know exactly the steps I need to take. I think it has to be three years, I'm on year one," said King.
So, we'll ask again in two years. Until then, America can rest easy that this top show jumper is still all stars and stripes.