As new year's go, 2018 did not start out well for Calgarian Justin Prather.
At a time when many riders are solidifying priorities and setting goals for the year ahead, the U25 rider found his plans come crashing down—along with the roof in his arena.
Prather was competing on the HITS Thermal circuit in California when he received the news that would shape the next two years of his life.
"I jumped the Friday Grand Prix and then got a panicked phone call from one of our staff at home saying that the roof has fallen in," recalled Justin. "I thought maybe a sheet of siding fell off."
The photos sent to his phone told a different story.
"Sure enough, the whole east half of our indoor collapsed."
Snow weight was thought to be the cause—a catastrophic combination of warm days, heavy snowfall and freezing nights melted the snow just enough to create a snow pack. The mounting weight proved too much for Prather's arena roof.
"It was a really bad winter. That same day two community hockey rinks collapsed," he said. "It was nasty. Thankfully, no one was injured"
Stranded in California with a stable full of horses—all but three were slated to return to Calgary that week—Prather spent the winter working out of other people's barns, while his boarders at home made alternative arrangements.
Returning to Calgary in the spring, he set up shop in one corner of the L-shaped barn and started the arduous process of rebuilding.
"We kept the horses in the far end of the barn away from the arena until all the inspections and demolition could be done on the arena; it was safe, we were not in danger, but it was an active construction site."
Around the same time, several horses previously out on lease or in training unexpectedly came back into Prather's string; some injured and off work, others young and in development. EZAce, a promising "late bloomer" sired by Richard Spooner's famed mount Ace, was among them.
But if training in a construction zone felt like unfavorable conditions that summer, fall weather in Calgary proved even less so. Prather made plans to relocate his stable to Florida for winter, but was home bound until the end of October.
"I was riding in blizzards for a while," he laughed. "When the footing wasn't good, I'd go and walk up and down the road for an hour. I had to buy face masks because it was so cold in the morning. I had layers and layers and my ski mask and gloves. After every horse, I'd strip a layer off."
When he finally shipped to Wellington on November 1st to contest the Florida circuit for the first time, Prather had high hopes for his 2019 winter season. Despite a full stable, he was still short on horse power, though.
"Several of the horses were still coming back from injury, so I just had the one really, EZ, [to show in the high amateur classes]," he said.
But WEF didn't yield the results they were looking for, however.
"I had a really discouraging winter," continued Prather. "It felt like no matter how well you did, there are always 50 people that were better."
Prather spent the winter patiently working on EZ's sticky left turn and developing his young horses while demolition and construction continued at home. Once the arena was rebuilt, renovations on the stable started next.
Effectively barnless, he stayed in Florida until the end of April, then bounced between shows—spending two weeks at Tryon and a three day layover in Calgary before heading to Langley for the Odlum Brown BC Open at Thunderbird Show Park in May. Then it was juggling stalls between a small quarantine barn on his property in Calgary and the Spruce Meadows Summer Series for the month of June, before coming back to tbird for the July show.
But while Prather was a rolling stone between barns, he was picking up a roll in the ring. By spring, the horses in training started moving up to jump bigger classes, lightening the load for EZ and giving Prather unprecedented options in the show ring.
"All of a sudden, I had seven horses to ride every day. I could point one at the U25 and still do FEI—it's a dream," he said.
And the results followed. At tbird's May show, Prather won the first U25 of the season aboard the EZ Ace, clinching the victory with a perfectly executed left turn.
In July, he captured his second win of the series with Bolero, a "giant lap dog" of a horse that's been Prather's veteran Grand Prix partner since 2016.
"We pick and choose what Bolero does and protect him a little. He stepped up again for that U25 class and really pulled it out of the hat. I think we were five seconds faster in that one!" said Prather, crediting tbird's big field for his winning strategy. "We won in the gallop, doing three less steps than anybody. At Thunderbird, there's this big field to work with. You can just use the space and get rolling."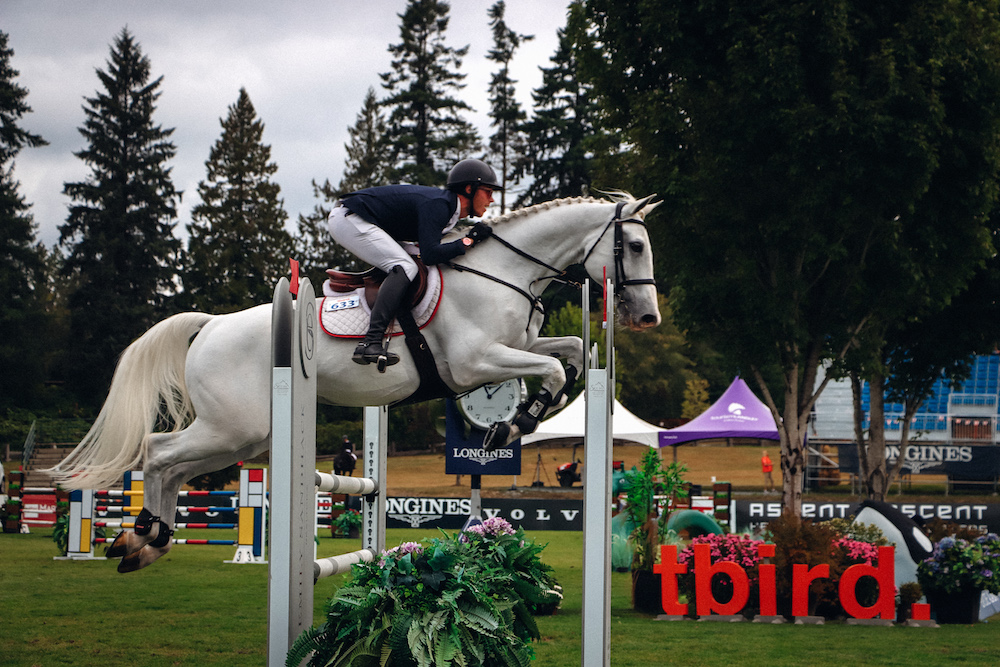 On the home front though, he hit another roadblock. After a week of torrential rain in July, Prather's temporary barn was underwater, leaving him and his string stranded.
"We ended up staying at tbird for another two weeks because there was so much rain in Calgary I couldn't get into my quarantine barn at home," he said. "They were really nice to let me stay!"
Prather returned to tbird for the August Summer Series. Riding Bolero, his summer long domination in the U25 division was sealed with a second place finish just a hundredth of a second off the winner and the Series Championship.
"It would have been nice to win all three, but it was for sure cool to win back to back U25 classes," said Prather. "tbird is really good at making things feel special. They make that U25 a big deal, even though it's not FEI."
For Prather, who aged out of the U25 division as of 2020, that summer in Langley was both a bright spot on a difficult few years and a long chased goal finally achieved.
"I always kept trying to jump the U25 classes and never had great success, then last year seemed to be my time. No minute like the last minute," he smiled.
The Calgary rider finally moved into his new barn last October, nearly two years after that fateful winter when the arena caved in.
"We built everything back almost identical, but everything is better! All the things you learn over 10 years—you wish there was a light switch here, had done the washer/dryer like this—we were able to make a lot of really great changes," he said.
"That one bad thing sparked off a lot of good changes."
Catch wall-to-wall coverage from the Fort Grand Prix ring this week at Thunderbird Show Park on tbird TV and HN LIVE!