Are you hiding in the bathroom because you haven't had any alone time since before the pandemic?
Are you waiting for everyone else to show up for yet another remote meeting for work? Do you miss the barn? Your barn buddies? Traveling?
If you have a couple of minutes or just need a couple of minutes, here are 16 short films that are perfect for a socially distant mini escape—in six minutes or fewer.
6:18 minutes/ Directed by Takeshi Taniyama
Draft horses rule the racetracks of Obihiro, Hokkaido, where Banei racing rules supreme. These two-ton athletes pull weighed down sleds over a track that has a big hill in the middle, and just like regular racing, whoever gets to the finish line first wins. This fantastic film is one of a kind.
2:00 Minutes / Directed by Drew Doggett
In the Realms of Legends, Drew Doggett once again proves he is a master of equine and landscape photography as Icelandic horses waltz among glaciers, surf, and stone. It is just under two minutes of pure Icelandic glory.
6:00 minutes / Directed by Tom Lloyd
Using a hybrid of his own footage plus some the Romany people gave him from the 1960s, Tom Lloyd created a short film that follows the summer life of the United Kingdoms' Romany and other traveling people. Bow-top wagons, feathered horses, and wild-eyed young people bring this film to life as the narrator asks us to ponder what it means to be alive.
3:46 minutes / Directed by Tim Hahne and Nick Hahne
Follow one of Germany's most successful jockeys, Andrasch Starke, through his life at the races. Both introspective and heart-pounding, The Jockey will make audiences nostalgic for the days they can smell the scent of the turf and hear the ring of the starting bell once more.
4:00 minutes / Directed by Rebecca Denman
Helen Neylon had a stroke in her 30s that left her life in tatters. Now, she has found a new purpose on the back of a horse. This sweet, vulnerable short will make you want to put down your phone and head straight for the barn.
5:20 minutes / Directed by Richard Millane
After watching this short French film, your next goal might be to master liberty like Jean-Francois Pignon. Filmed on the beaches of France, Pignon discusses how one horse led him to become the master equestrian he is today.
4:00 minutes / Directed by Dorothy Chiotti
Based on a series of photographs called "Barn Mavens" that appeared in Toronto's Urban Gallery in May 2018, The Unsung Heroines of the Horse Industry features captivating stills of women doing barn chores. It is a lovely surprise to see so much beauty and grace in picking stalls, bathing horses, playing with kittens, and many of the other things we do throughout the day.
5:00 minutes / Madison Shambaugh
"Mustang Maddie" and her wild horses are one photogenic bunch. With aspens and mountain meadows as the backdrop, Maddie shows off her skill as a horsewoman with a wide array of impressive liberty maneuvers and a band of "Wild Ones."
3:00 minutes / Joanna Mendl Shaw
Earth Poems is a black and white short that combines horses, poetry, film, and modern dance. As the poem reflects on the connection between nature, horses, and the human experience, a master modern dancer performs for a horse standing next to him in a field. This avant-garde creation is a three-minute delight.
4:00 minutes / Directed by Patrice Bériault
In The Dance, the audience witnesses the subtle art of connection between horseman and Canadian army veteran Paul Nichols who has PTSD and a troubled horse named Amigo. The film may not have any dialogue but the subtle cues from man and horse as they figure each other out speak a language of their own.
3:00 minutes / Directed by Paul Coudenys
The wishful voyeurism of travel films is its own unique pleasure, and Paul Coudeny's Entre Orejas is just that. This fast-paced trek goes across Latin America at breakneck speed and features rides with Chilean cowboys, Panoramas of breathtaking landscapes, and much more.
5:40 minutes / Directed by Scott Trees
Owner Shirley Watts narrates her experience with Arabian horses, as viewers tour the lavish facilities and fairytale-like pastures of Devon England in Halsdon Arabians. Beautifully photographed horses gallop and frolic across the screen for the perfect five-minute vacation.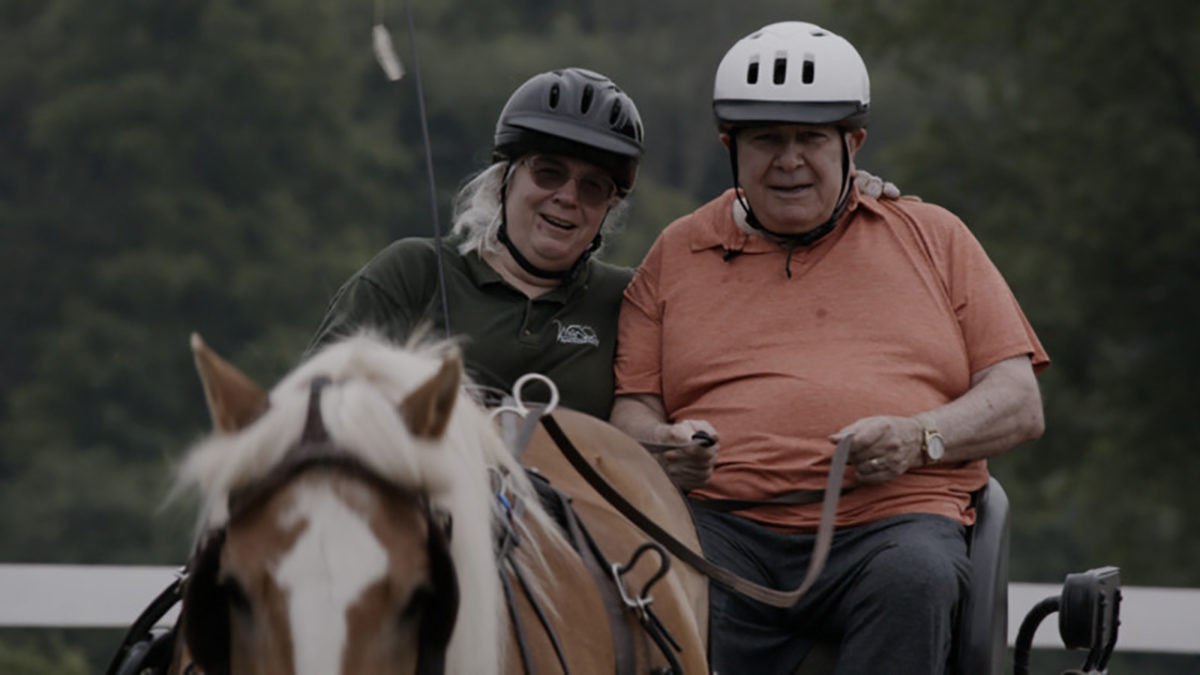 6:00 minutes / Directed by Thomas Balsamo
Break out the tissues for this one. Walking on Ten Years of Miracles chronicles what it is like for the patients, practitioners, and horses at a therapeutic riding center in Illinois. It features success stories of all ages and needs and is sure to lift the spirit.
6:26 minutes / Directed by Frank M Calo
Set in the green Appalachian Mountains, Awesome Gal parallels the issues of domestic violence and the controversial practice of soring, where burning chemicals are applied to a horse's feet so the action on their front end is higher. Lovingly shot, Awesome Gal is a redemption story that will leave you shaken.
4:28 minutes / Directed by M. Aku Rodriguez
Singer and flutist Gareth Laffely draws attention to the issue of horse slaughter through this distinct music video. It is filmed in several locations around West Texas, including along the Thundering Hooves Memorial Fence where weather-beaten halters sway in the wind.
3:00 minutes / Directed by Jen Noble
The Diamond D Cowgirls put the capital D in drill team. The documentary features footage of the Cowgirls as they canter around in intricate patterns in their sparkly outfits and massive belt buckles. Do not let the bling fool you; it is the teamwork that is impressive.
Watch these films and more on EQUUS Film Channel, your All Access Pass to the best horse films on the Web!