"I'm walkin' away with all that they own
Then you're lyin', hurtin' hearin' someone saying
Give him a hand that's all that cowboy is taking home."
—Merle Haggard, "Life of a Rodeo Cowboy"
The bull was thrashing forward and back and side to side as Tevin Cameron of Ocala, Fla., hung from a strap. The 1,700-pound bovine some 10 times the rodeo cowboy's size was wrapped in one strap near the heart, another near his genitalia. He heaved the 27-year-old from his back as he attempted to free himself of the restraints.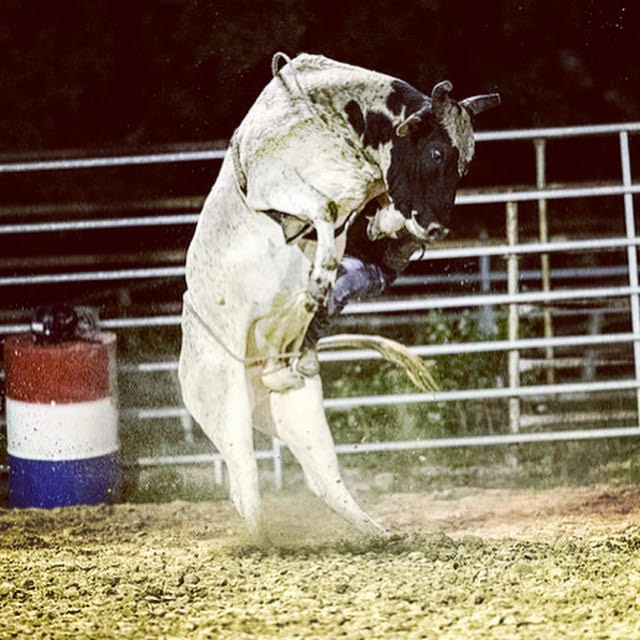 A few of the most dangerous eight seconds in sports left Cameron with a separated shoulder, broken ribs and punctured lungs, he said. A few months and a lot of physical therapy later, the cowboy said he was back in a rodeo arena attempting to near or break his personal best 91 of 100 points.
The "win-win" that spectators experience either way is for Cameron a money-making opportunity with an animal he enjoys, he said. Rodeos for saddle bronc rider Treyson Antonick, 26, of Overton Tex., afford merit-based athletic competitions and an "addictive adrenaline rush." From Jan. 24 to 26, both men join some of the country's best rodeo cowboys in the 71st Annual Homestead Rodeo in Florida. The event is one of the first in what could be a lucrative 2020 rodeo season, earning top competitors nearly $.5 million.
Since joining the Pro Rodeo Cowboys Association (PRCA) at age 18, Cameron said he has earned around $700,000. The PRCA sanctions rodeos in which contestants pay to play. More experienced participants such as bull rider Sage Kimzey of Strong City, Ok., earned more than $400,000 in 2018 alone while world circuit competitors Trevor Brazile and Tuf Cooper of Decatur, Tex., and bareback rider Tim O'Connell of Zwingle, Ia., claimed more than $300,000.
The money is earned by participating in what Homestead Rodeo production company manager Dustin Murray said are as many as 100 of some 700 PRCA rodeos that occur during the January to Oct. 1 season and then some. The PRCA in all boasts 13 circuits including, for a first time this year, a Canadian Maple Leaf circuit. Homestead, with a total $53,358 payout in 2019, is considered one of the larger in the organization's Southeastern circuit.
Each PRCA contestant at the beginning of the rodeo season selects a circuit in which he or she accumulates standings. Contestants can earn points in other circuits to help them make season championships in Kissimmee, Fla., the following spring. The top 15 cowboys in each PRCA rodeo event at the regular season's end qualify for a Wrangler National Finals Rodeo in Las Vegas in December, PRCA Media Coordinator Matt Nabor said.
"If you don't want to be the best, you're in the wrong sport," Cameron said, noting that he last year participated in 70 PRCA rodeos.
Striving to be the best rodeo competitor isn't easy: "It takes a tremendous toughness and mental aptitude…" Murray noted. "It's a physically demanding and exhausting profession."
Rodeo cowboys travel frequently and often work jobs outside of the arena. They maintain fitness regimens to keep their bodies in shape and practice techniques associated with their respective sports.
Cameron, a cow-calf rancher who raises bulls, began riding them at age five and followed his father's footsteps into rodeo. He practices yoga, stretches and lifts weights, he said. To practice bull riding, he uses what's known as a drop barrrel, he said.
Cameron tries to be limber and flexible and to "match pound-for-pound strength" with the animal "rather than bulk" that he cannot, he said.
Antonick, a custom furniture maker who paid for part of his bachelor and masters degrees with rodeo scholarships, lifts weights, rides a treadmill and practices saddle bronc riding with a spur board.
He likened rodeo work to scholarships, describing it as "merit-based."
"There's a fearlessness and commitment to chasing your dreams where you don't know if it'll work out," Antonick said.
Rodeo contestants typically participate in one competition in either of two genres. Those genres include rough stock such as bull, saddle bronc and bareback riding whereby the animal's goal over the course of eight seconds is to throw the rider off, and timed events such as team roping, barrel racing and steer wrestling whereby the contestants must accomplish their goals within a specific amount of time.
Murray, as general manager for Homestead-contracted Hi-Lo ProRodeo in Emerson, Ark., said that he selects animals who, based on intensity, can help produce what he said are 80-plus points. Competitions include 100-point scores shared 50-50 between the animals and contestants who are judged for balance and style.
Murray's role, he said, is to provide the best animals and entertainment for people's viewing pleasure.
"Part of watching the rodeo is the danger aspect," he said.
Bull riding the most dangerous of rodeo competitions and bareback riding the most physically demanding, Murry contends. Tie-down roping, he said, requires agility and versatility and so those who participate in the competition tend to be the best athletes, he said.
Contestants are injured far more often than the animals are, Murray clarified. Injuries occur with saddle broncs as they do bucking bulls, but not as frequently, Antonick said.
"You see broken legs, backs and ankles, but. . . if you jump off. . . a horse walks away," he said. "A bull will hunt you."
The flank straps, used on horses as they are bulls, "don't hurt" the animals and are placed just in front of the hind legs at different pressure settings, Matt Crumpler, a Seguin, Tex., stock man in his mid-30s who chooses to ride bareback broncs, said.
The straps according to Crumpler put "enough pressure on them to make them want to jump." As Murray tells it, they "enhance bucking performance."
Antonick could this year in Homestead be up against a "really wild" equine, an "incredibly hard" bucker known as Toma Jo. He rode the national finals horse at Homestead last year and didn't garner enough points to place, he said.
Cameron could face Big Jake or 20 to Life, both three-time national finals entries.
He prepares himself mentally by blocking out the thoughts that run through his head, he said.
"It's all about the. . . work you've put in beforehand," Cameron said. "They buck so fast, there's no time to think about it."
Cameron's girlfriend, Katelyn Gude, knows he loves the rodeo cowboy life, he said. She takes their sons, Eli, 6, and Easton Carter, 1, to watch him compete.
"They go to all the [rodeos] they can—in Florida mostly," Cameron said. "But she's concerned about the safety.
"Any time I'm ready to give it up, she'll be happy, I'm sure."