"I got a mad flyer to the last, which I think really helped me win in the end."
That was Ireland's Conor Swail after winning the $35,500 CSIO5* North West Rubber Cup at Thunderbird Show Park in Langley, BC on Thursday.
The 46-year-old "magician" made a dash to the final fence with Domino van de Valhoeve and didn't let up.
"It was one of those ones where I was like, 'Please pick up, please pick up!' because we're going to have a serious crash if we don't!" laughed Swail.
His bold ride paid off. Swail and the 10-year-old KWPN gelding stopped the clock at 35.77 seconds to top an international field of 37 in the 1.50m class. Of the 13 combinations to jump clear in the Peter Holmes (CAN) designed track, ten returned to contest the jump off.
"The horse is very fast and extremely careful, so I felt I could make the time up," said Swail, who co-owns the horse with Vanessa Mannix (CAN). "[From fences] one to two, I was a little slower than I'd like, but I got a good rollback to the next jump. I probably had one to two seconds on everyone to the last, because I galloped forward, and I didn't stop."
Swail has been partnered with the bay since November after scouting him at a horse show in Europe. On Friday, they'll contest their biggest challenge yet—they're first five star Grand Prix with the $235,000 Longines Grand Prix.
"He's been exceptional since I've had him," he continued. "He's so careful. He's a little bit tricky to ride, but he's unbelievably careful. He will not touch a jump."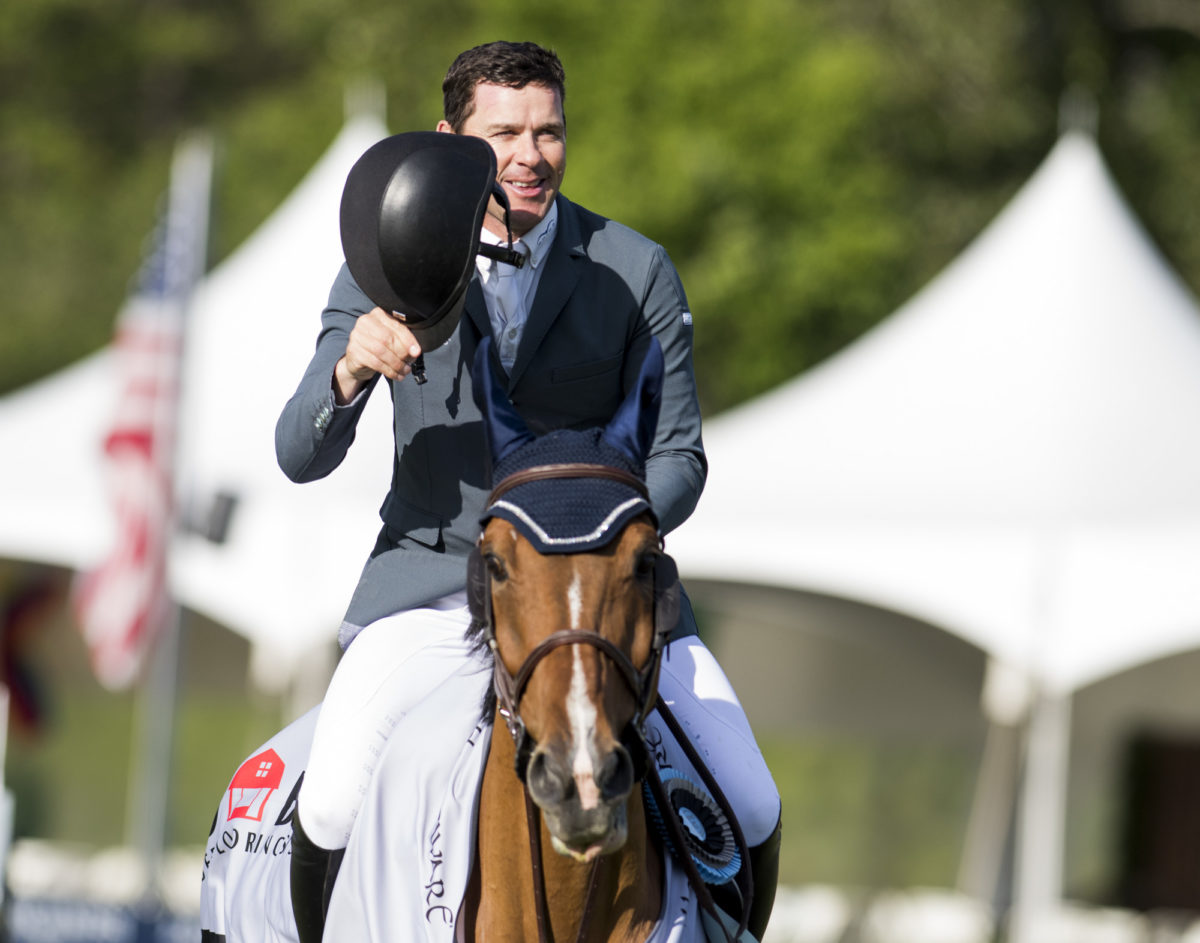 Swail's currently working on the horse's rideability, a goal he put to use today with a long canter round the far corner of the ring in the first round before finishing exiting the field.
"He's quite spooky," explained Swail. "When he looks at things, he really shifts in all directions. Then, the canter gets a little difficult. That obviously snowballs into us getting into places we shouldn't be in. So, it's all about trying to keep him as calm as we can and putting him in the right places that he doesn't get too careful. It's about him getting confidence and him doing enough rounds that are comfortable for him, so when we go to that higher level, he's as comfortable as he can be.
"I feel he has enough scope as well that we can, in time, jump championships or whatever's in front of him. It's super exciting to have him. With the right management, we can have a great partnership."
Eve Jobs (USA) finished second with Venue d'Fees de Hazalles in 37.36 seconds. Karrie Rufer (USA) rounded out the podium with Georgie d'Auvray EC, posting a clean round in 39 seconds flat.