William Fox-Pitt (GBR) has been cleared to return to competion!
British eventing's leading man was sidelined by a serious head injury last October when his horse fell on the CCI** cross country course at Mondial du Lion, France.Fox-Pitt was hospitalized for three weeks, spending several nights in the ICU.  (Reinstated, his seven-year-old Irish Sport Horse gelding, was uninjured.)
By December, the three-time Olympic medalist was back in the tack. Today, Fox-Pitt's Facebook page announced he's been cleared to compete. Fox-Pitt hopes to make the first stop on what is presumably his #RoadtoRio at Burnham Market International Horse Trials in Norfolk, England next month.
From his page: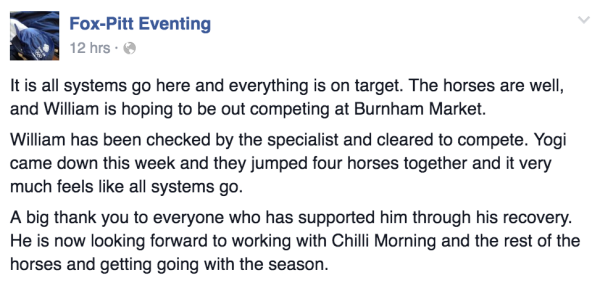 Held April 1 – 3, Burnham Market is host to two international classes, a CIC** and a CIC***. Fox-Pitt's name has yet to be added to the received entries list.