Although exact figures are hard to come by, the sheer magnitude of horses lost in the First World War can be difficult to process.
Some estimates put the number as high as 8 million in four years. Though mounted cavalry charges soon proved fruitless in an evolving era of trench warfare, horses were still the premier means of delivering supplies to the front, transporting troops, and towing weaponry and ambulances. The United States joined British and French colonies around the world in delivering up hundreds of thousands of homebred animals to the Allied war effort, including the famous Indian warhorse mare, the Sikh. Few ever returned home. Here is a look at the contributions of just a handful of our brave fellow warriors from around the globe.
1.
British Cavalry arrives in France, 1914.
2.
Horses of the 9th Battalion Australian Imperial Force (AIF) swim the canal at Mena Camp in Egypt. March 10, 1915.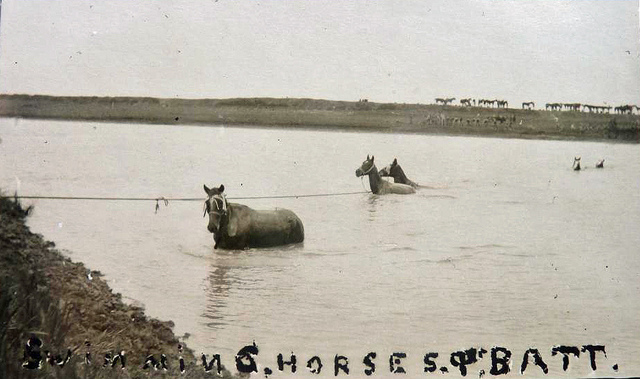 3.
A soldier and his horse at the Canadian Army Veterinary Corps.
4.
A horse-drawn Australian Red Cross ambulance in the Sinai Desert.
5.
A driver from the British Royal Regiment of Artillery reads next to his horse.
6.
Australian soldiers and their horses under cover at Gallipoli, in modern Turkey, 1915.
7.
French officers water their mounts (1914-1915).
8.
Members of the Serbian Cavalry survey their lines.
9.
In Camp Cody, New Mexico, in 1917, 650 officers and enlisted men of the Auxiliary Remount Depot No 326, a Cavalry unit, created this human horse head in tribute to the horses lost in WWI.