We all know that documenting life's major events—getting engaged, getting married, having a baby—is almost as important as living them.
Naturally, these moments are meant to be shared with our nearest and dearest, and for many of us, that's our horses. But there's a right and a wrong way to include your Trakehner in your engagement shoot, and (we're going to take a stand here) probably no reason to include him in your pregnancy session.
Assuming you choose to do so anyway, here are a few guidelines. Get ready, it's about to get awkward.
1.
Every stable photo runs the risk of being ruined by a bored palomino.
The yawners are gonna yawn. And maybe crib.
2.
Your horse is already coming between you and your fiancé.
There's no need to document it.
3.
Bring snacks for the shoot. Otherwise he'll find his own.
His choice runs at $125 a pop.
4.
Size matters.
Find a matched pair of ponies for the shoot.
5.
It's not a wedding without at least one photobomb.
That's why it's called horsin' around.
6.
Did the sonogram say you're having a peppermint?
This horse seems to think so.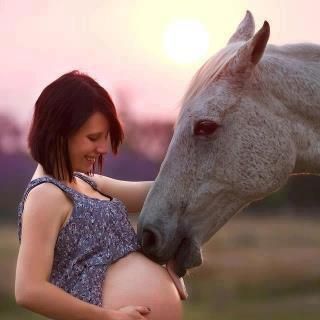 7.
Your horse has a sense of dignity all his own.
Let him keep it.
8.
When you ride in a dress, you ride at your own risk.
And some ponies just don't do chiffon.
Watch the entire bride get bucked video here.