At 17 years old, most high school kids are thinking about homework, dating, and driver's licenses. American show jumper Caroline Mawhinney? She's got bigger fish to fry.
"She can't drink champagne yet," jokes Jessica Mendoza of Great Britain, Mawhinney's coach of five years and fellow new recruit on the Major League Show Jumping (MLSJ) Eye Candy team. While champagne toasts may be out, champagne showers are in.
Last week, Team Eye Candy, helmed by Mendoza, Mawhinney and Amy Millar, rode away with the win at MLSJ Vancouver at Thunderbird Show Park, the first phase of the 2023 Major League season. What's more: Mawhinney, along with her coach, operate the training and sales business Triple M Farms at their home bases in Lexington, Kentucky and Wellington, Florida. 
You know, like most 17-year-olds.
"We've kind of made a program [and] I think we've really built a partnership together," Mawhinney says. "I've always really looked up to [Jessica] as a rider and a person."
"It's lucky she rides well too," jokes Mendoza. "That helps."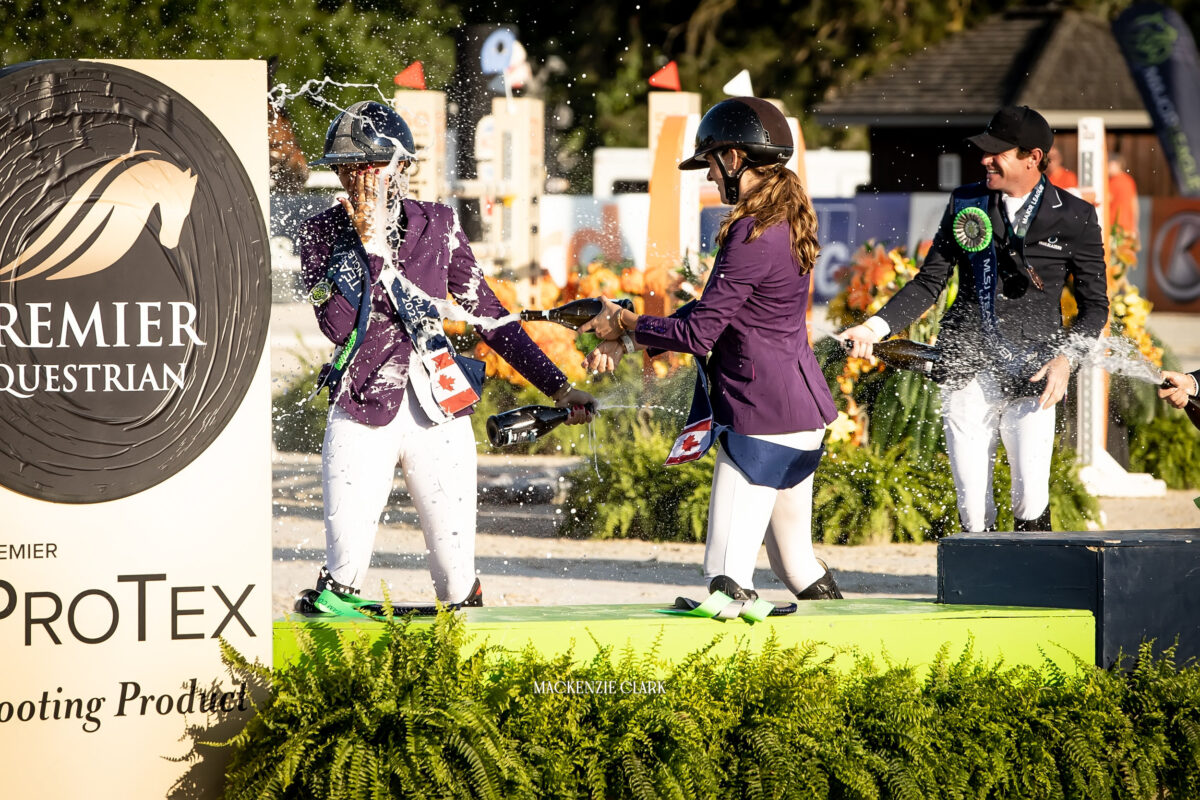 Five years ago, the U.S.-based British rider couldn't have guessed where the relationship would eventually lead when Caroline's mother approached her to try horses at Mendoza's farm.
"[Caroline] came to try her first horse with me, and by day two, [during] the second trial, her mum was like, 'By the way, we're going to get the horse, and we're going to train with you,'" says Jessica, who took on the Mawhinneys despite not having other students at the time.
"It was a bit funny. My mom just walked up to her, and goes, 'My daughter's training with you.' It wasn't really an ask, it just was a tell," recalls Mawhinney, laughing. "I think my mom really wanted me to train with a girl, and someone that was young, and that I could look up to."
Despite her own young age, however, coping with pressure on the competition field is something Mawhinney comes by honestly. She's also been doing for years. "Both my parents were pretty good athletes, and it does kind of run in my family. I think [we all perform] well [under] pressure," says the America rider.
That may be an understatement. Mawhinney grew up playing baseball, basketball, lacrosse, soccer, and volleyball; she was also a member of the track and swimming teams. "I think growing up, and always having to deliver performances at playoffs and things, not just with riding, has really helped [me] adapt, [and] tune out the pressure."
At MLSJ Vancouver, the junior rider did just that for Eye Candy, jumping double clear aboard her 16-year-old SBS mare, Bacara D'Archonfosse. (Mendoza was also double clear with OO Seven De L'equipe). Not bad for a 17-year-old MLSJ rookie at her first five-star team event. Ever. 
"You're going to be nervous no matter what if you're stepping up to a new level," Mawhinney reflects, adding that the confidence she feels in her system, her horses, and her coach makes all the difference.
"[When you have that] reassurance behind you, [you] know that you just have to ride the same way that you always do [in order to] deliver good performances."