Days End Farm Horse Rescue (DEFHR) in Woodbine, Maryland, shelters approximately 150 horses every year that have come from grave situations involving neglect and abuse.
In addition to dedicated staff, the organization's important work is also made possible by numerous volunteers who are committed to changing the lives of horses who need it most. For Korra, a 23-year-old mare who was one of 19 horses rescued from St. Mary's County, Maryland, in 2021, the care given by one special volunteer named Al Ramer played a substantial role in her story.
Ramer has volunteered with the organization for more than a decade but his experience with horses began at a young age. Originally from Pennsylvania, Ramer began riding when he was nine. He participated in 4-H western pleasure, trained dressage, and brought his own horse to college. After he graduated, he put down roots in Maryland and eventually maintained a small personal farm.
Despite having a horse of his own, Ramer's decision to volunteer at DEFHR came from his desire to become more involved in hands-on equine care and learn from professionals in the industry. DEFHR volunteers can sign up to assist with multiple facets of the rescue process, from being hands on at the farm and in the barn, to administrative support, or assisting in community outreach programs.
"The greatest thing about DEFHR is that you see the full experience with horses," Ramer shared. "Various medical and training issues [that you may not otherwise witness outside of an equine rescue] have been dealt with at one point or another by DEFHR's expert veterinarians, farriers, and staff. The more you're there, the more you see and learn."
Making a match
In 2021, Ramer adopted DEFHR rescue mare Ziporah as a companion for his current horse, Annie, an equine partner he considered his heart horse. When Annie passed away, there was a hole in both Ziporah and Ramer's lives, so he turned to DEFHR head trainer Sara Strauss with the hope of finding a new equine friend to bring home. However, Ramer knew that the matchmaking wouldn't proceed like a typical adoption. He was in the process of selling his farm, so Ziporah's need for a companion would only last until she moved to a boarding facility.
Though most of DEFHR's horses are adopted for the remainder of their lifetime, there are also situations where a foster home is beneficial to all parties, horse and human. This was the case for Ramer and Korra. Strauss knew the short-term agreement would be a fit for Ramer, Ziporah, and the older mare.
"Sara [Strauss] was very understanding of my situation [and was thoughtful about the type of horse best suited for it]," explained Ramer. "She knew I could handle a horse that was a bit spicier, but she offered me Korra first, and it was an easy choice. Korra is very sweet, and emotionally, that was exactly what I needed."
Even though Ramer knew Korra through his volunteer work, he went through the official adoption process to ensure the match would be a good fit. Though she faced years of neglect—Korra arrived at DEFHR emaciated and with significantly sharp dental points and severely overgrown hooves—her kind nature epitomized how forgiving and loving rescue horses can be.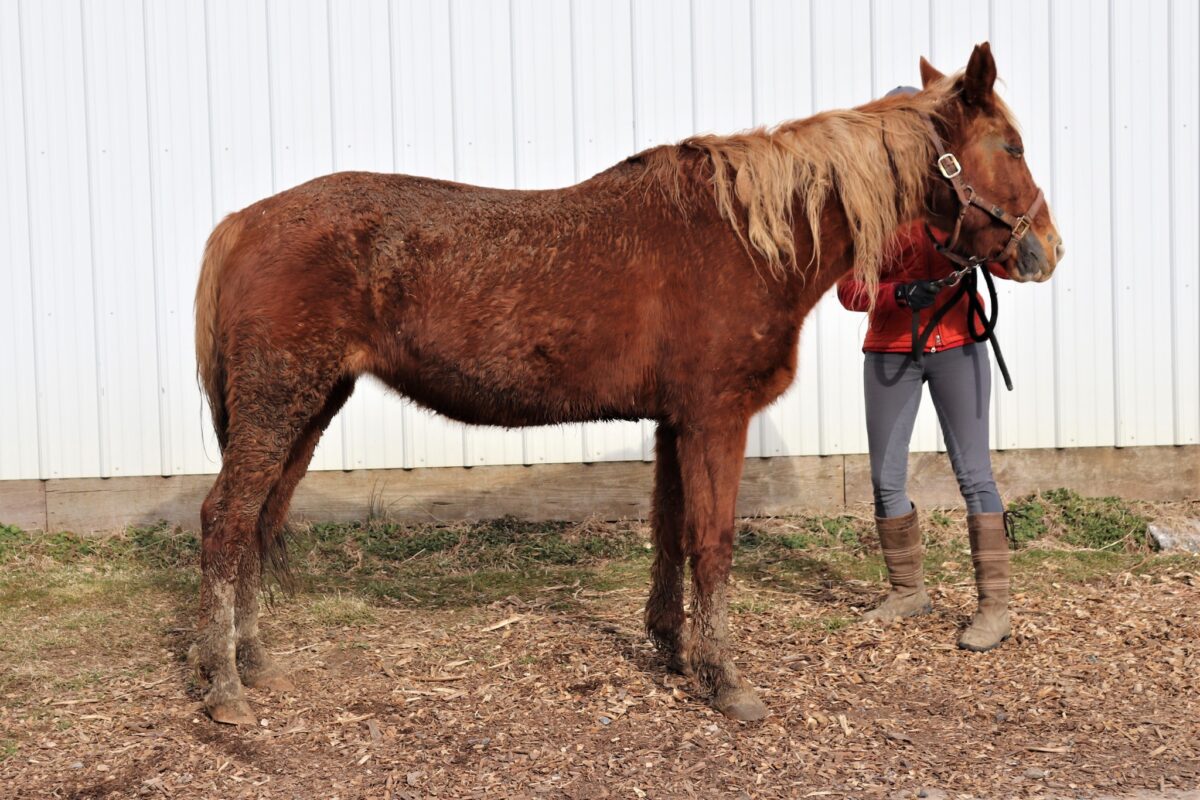 As Strauss had expected, Ramer and Korra connected as soon as they spent one-on-one time together during their adoption consultation.
"I was grooming Korra during our appointment and she stood so quietly," remembered Ramer. "I had lost a friend in my heart horse and she [seemed to understand that]. She offered her trust so quickly."
When Ramer's farm sold Korra returned to DEFHR, and she is now prepared to find a forever home. Ramer knows that whoever is lucky enough to welcome this little lady into their family is in for a treat.
"She's a charmer," expressed Ramer. "She's smart, and it doesn't take long for her to learn the routine. I really appreciate her kindness."
Spreading the mission
For Ramer personally, his volunteer experience came full circle through his adoption of Ziporah and fostering of Korra. His time supporting DEFHR's community engagement efforts, however, is also a prime example of DEFHR's mission coming to life.
"Some of my best memories with DEFHR have been my involvement in the community outreach programs—talking to the public at a booth, leading pony rides, and helping with drill teams," Ramer said. "It's truly amazing when the public can see the transformation of these horses."
Because DEFHR welcomes people of all experience levels to the farm, he hopes that more individuals who are interested in horses will give volunteering a chance.
"DEFHR works very hard to keep people safe," explained Ramer. "Most people who join the volunteer program have either no experience, or only experience with gentle lesson horses. Working with uneducated horses can be rewarding, but it requires skill and experience. DEFHR always makes sure that volunteers are set up so they can succeed."
By sharing knowledge and expertise in rehabilitating, training, and finding forever homes with others, the DEFHR team works tirelessly to give horses the best second chance possible. Sometimes, it takes a little creativity, like a foster home or short-term partnership, but the dedication of DEFHR never wavers. With the support of volunteers, horses like Korra get the chance to live the rest of their lives in loving homes.
If you're interested in adopting or participating in one of DEFHR's volunteer or educational programs, visit DEFHR.org for more information.
For more than three decades, Days End Farm Horse Rescue has been renowned for working to not only prevent equine abuse and neglect, but also to educate the public about equine welfare and help their staff, volunteers, and members of the public become better horsemen and women. Learn more about DEFHR's adoptable horses at www.defhr.org or follow them on Facebook and Instagram.
Feature image: Korra's easygoing nature made her the ideal companion for Ramer's mare, and DEFHR alum, Ziporah. Credit: Days End Farm Horse Rescue