There were tears. There were goosebumps. There were fist pumps aplenty as Tamie Smith (USA) and Mai Baum delivered an absolutely foot perfect show jumping round to win the 2023 edition of the Land Rover Kentucky Three Day Event.
The 20,000 spectator-packed stadium in Lexington was dead silent as rider after rider in the top six went clear, erupting into cheers only after they crossed the finish flags. Pressure mounted on Tamie Smith, the overnight leader, as the time allowed proved achievable and the poles were left in the cups.
Third last to return, Liz Halliday-Sharp (USA) and Miks Master C entered the ring with plenty of time faults in hand. Their speedy round had some rubs, but ultimately the pair held their third place position with a double clear round.
"It's hard to believe it's less than a year ago," she said of taking over the ride on the 11-year-old bay gelding. Breeder Laurie Cameron offered the U.S. team veteran the ride for sale purposes. But Halliday-Sharp felt there was an opportunity for the horse to shine on bigger stages.
"I think he's a Burghley, Badminton horse as well, and I hope he will be my Olympic horse, I very much hope."
No one who saw Tom McEwen (GBR) and JL Dublin enter the ring thought he would leave any faults on the table. Riding with confidence and style, the pair proceeded to lay down a show jumping round that looked effortless, save for a hairy moment at the penultimate fence, the U.S. Equestrian liverpool. "Dubs" tapped the rail hard and while it wobbled, luck kept the rail in the cups.
When Smith (USA) and Mai Baum took to the ring, they had three time faults in hand. A single rail would derail their five star bid. The silence was deafening as she came to the first. Flashbacks of their uncharacteristic rails at the World Championships in Pratoni last year no doubt dancing in the crowds' heads as they rode fence by fence with her.
Mai Baum gave every fence an easy berth, jumping beautifully rounded. You'd never know he'd run a 6,520 meter cross country course only the day before. Cheers exploded from the stands as they crossed the finish line, Smith pumping her fist into a victory gallop.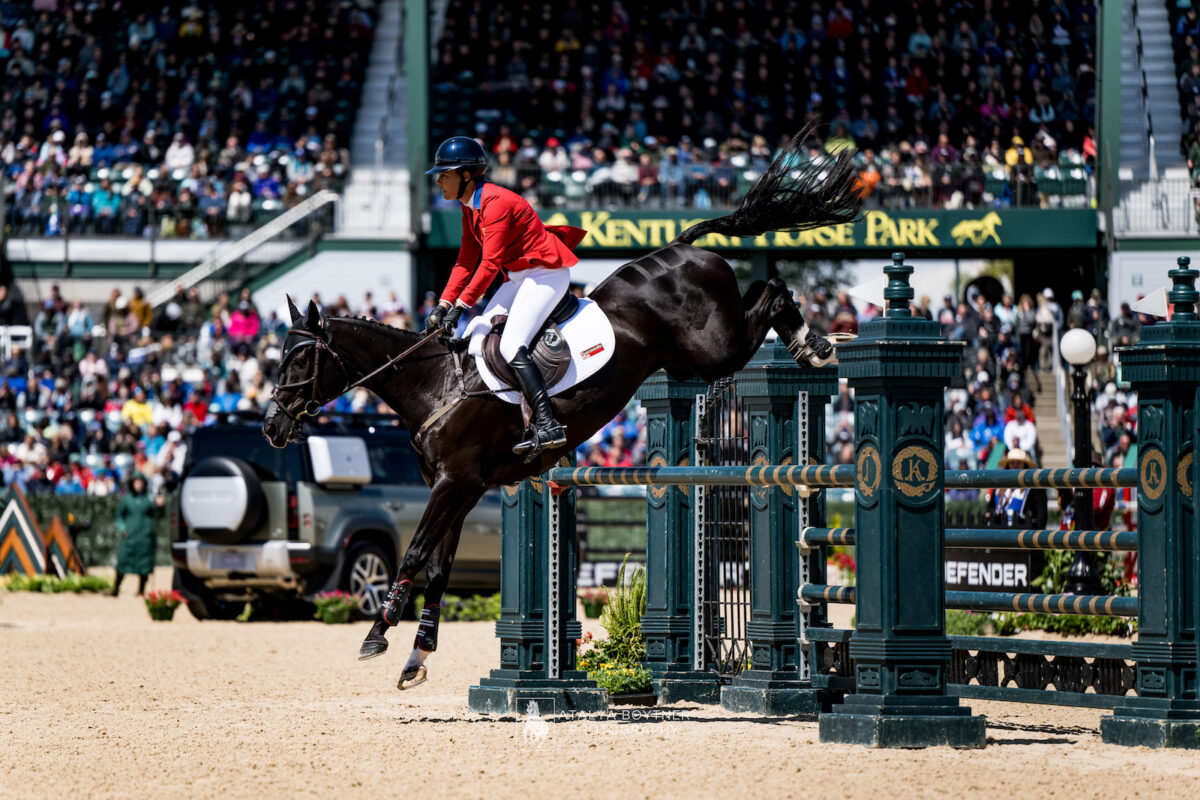 "When you're on a horse that jumps as well as he does, and then you have two down, you just know sometimes the odds are just a little bit against you," Smith remarked, referencing that fateful day in Pratoni.
"I think [Scott Keach] helped me learn it was my job to ride him the right way and it was [Mai Baum]'s job to jump the jumps, and I'm just glad he did. I'm glad he felt really healthy and strong and full of it, and I think he knew the crowd was there. I feel like everybody carried me over that whole show jump course."
She and Liz Halliday-Sharp also credited Erik Duvander, former coach to the U.S. Eventing team, with helping bring her riding forward. "Honestly, that man, for what he has done for our country, we really have a lot to thank him for."
It's a full circle moment for Smith, who didn't always believe that Mai Baum would be a five-star horse. When her college-bound working student Alex Ahearn offered her the ride in 2015, Smith tried to talk her out of it.
"I was like 'No, why don't you pump the brakes. You don't know what you are saying to me right now.'"
But once Smith did a couple CCI4*s, she began to see the horse's five-star potential. "I knew he was a winning four-star horse. But after I'd gone to Fair Hill, I knew [he was five-star material]."
Smith has now added her name to the LRK3DE trophy, but her win cements her place in the history books in so many other ways. Sunday's victory is one of firsts.
First American woman to win since Kim Severson (USA) and Winsome Adante in 2005. First American to win since Phillip Dutton (USA) and Connaught in 2008. First woman to win since Mary King (GBR) and King's Temptress in 2011. First West Coast winner since Derek Di Grazia and Sasquatch in 1985. First five star win for Smith.
"I really feel like you can train from anywhere if you have the right team behind you. It has taken me quite a bit of time to figure that out but I'm glad I stayed true to my roots. This is a win for the West Coast as well," said Smith, who is based in California.
It's been said that the U.S. Eventing is on the rise. After Sunday, the rest of the world may think twice about taking on Americans on home soil.
Feature image: Tamie Smith and Mai Baum. ©Atalya Boytner