The FEI Dressage World Cup™ Final will see 17 qualified pairs from 11 nations across the four leagues worldwide compete in Omaha, Nebraska, April 4–8.
Among them Olympic and World Championship gold medalists, past winners of the FEI Dressage World Cup™ Final, and pairs both new and well established. They have each polished their Grand Prix Freestyle performance, hoping their best version will emerge as they take to the stage in Omaha.
Here are our top four and wildcard picks to take the title.
Jessica von Bredow-Werndl / Dalera TSF
Making her return to the sport in October post-maternity leave, 2022 FEI Dressage World Cup™ Final champion Jessica von Bredow-Werndl defend her title aboard Dalera TSF. As the reigning Olympic, World Championship, and European Championship gold medalists and current world no. 1, they're easily the favorite. And the time off hasn't appeared to affect their edge. Their first event back, at Lyon in October, they won convincingly with a score of 90.140%, just to top that score in January in Basel with a 90.795%.
Isabell Werth / DSP Quantaz
Six-time Olympian and world champion Isabell Werth (GER) topped the Western European League (WEL) standings with DSP Quantaz. With second-place finishes in Lyon, Stuttgart, Basel, Amsterdam, and Gothenburg, she and the 13-year-old gelding proved consistency is key to success, accumulating 74 points towards her qualification. Werth took three consecutive FEI Dressage World Cup™ Final victories in 2017, 2018, and 2019, and her wins stem back to 1992 in Gothenburg. She looks to add a sixth victory to her resume, plus a repeat win in Omaha.
Ingrid Klimke / Franziskus FRH
Ingrid Klimke (GER) and Franziskus FRH finished second in the WEL following victories in Stuttgart and Zakrzow. At Stuttgart and then once again at Amsterdam, the pair recorded new personal bests. Her experience carries her though, so a stage like the FEI World Cup Final will not intimidate the five-time Olympian, who helped her home nation win the gold medal at the 2008 and 2012 Olympics. Now with her 2022 FEI World Championship partner, the 15-year-old stallion, she seeks her first victory at the FEI World Cup Final.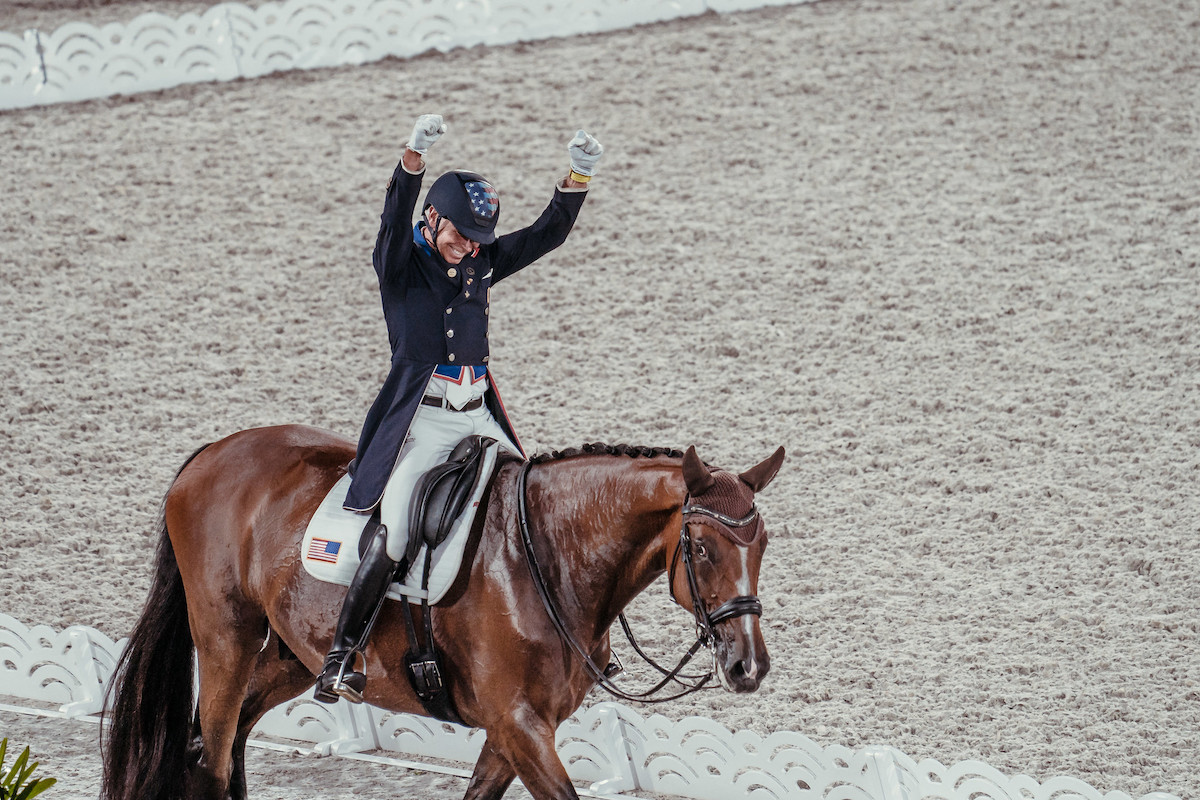 Steffen Peters / Suppenkasper
Steffen Peters (USA) and Suppenkasper broke the internet during the Tokyo Olympics, and his "rave horse" brought him to three North American League (NAL) victories in Thermal, CA. After a home-soil win at the World Cup Final in Las Vegas in 2009 with Ravel, Peters is chasing the dream of a repeat victory with the 14-year-old Suppenkasper in front of his favorite American crowd. With 60 points, Peters led the NAL, putting him in prime position with his longtime partner.
Wildcard: Anna Buffini / FRH Davinia La Douce
Anna Buffini (USA) and FRH Davinia La Douce clinched their ticket to the FEI Dressage World Cup™ Final at the last minute, but put in consistently strong performances all throughout the 2022/2023 season in the NAL. Returning for only her second appearance at the event and first on home soil, she has a secret weapon at her disposal in her voice. She sings the very music she rides to in her Grand Prix Freestyle, a Top Gun Maverick-themed adventure. With her passions combined, she aims to make this FEI Dressage World Cup™ Final one to remember.
See the full qualifying list here.
The FEI Jumping World Cup Final will stream live, April 4–8 on FEI TV.
Feature image: Steffen Peters (USA) and Suppenkasper at the 2020 Tokyo Games. ©FEI/Christophe Taniere