Each week on #HallOfFameThursday, Horse Network recognizes members of the Show Jumping Hall of Fame, and on the first Thursday of every month, an historic article. This week's features the 2002 Oaks Blenheim International CSI-A program, highlighting top competitors of the time, some of whom are still competing today.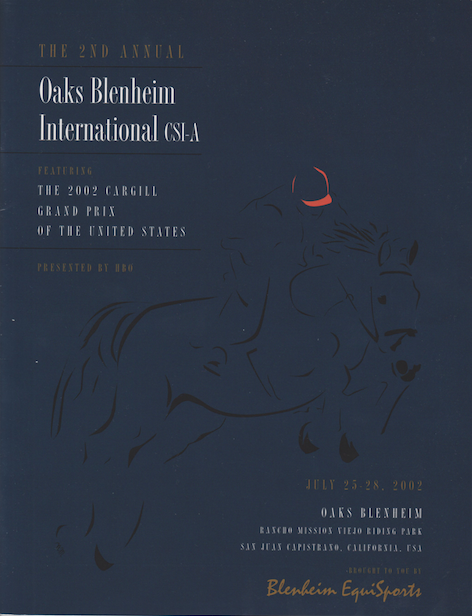 High Stakes Horse Sport
By Kim F. Millar
Don't let the lazily elegant setting fool you. Don't let it lull you into thinking you're about to see some sedate "equestrian" endeavor. Instead, the stage is set for intense competition and extreme athleticism. And there's a great deal at stake. This second running of the Oaks Blenheim International CSI-A brings Olympic level show jumping back to San Juan Capistrano.
The International's biggest class, the $175,000 Cargill Grand Prix of the United States, presented by HBO, carries double whammy weight this year. The Sunday event's two rounds will serve as the final phases of trials to select the United States team for the World Equestrian Games. The quadrennial "WEG," to be held in Spain this September, is as important as the Olympics to most competitors. American riders vying to become part of the four-member WEG squad represent the cream of America's crop.
Cargill defending champion, Todd Minikus and his flashy chestnut partner, Oh Star, return from their Florida homebase to defend their prestigious title. In addition to fending off America's best, they face a tough international contingent. Show jumping's reigning World Champion, Rodrigo Pessoa of Brazil (winner of the 1998 WEG), leads that list. He's followed by 2000 Olympic gold medalist Jeroen Dubbeldam of the Netherlands and British multi-Olympian Michael Whitaker.
"We've got our sights set on winning again," says Minikus. Oh Star's affection for the Oaks Blenheim Exhibitions venue may be an edge. "Some say horses like certain places better than others," notes Minikus. "He was the only horse to jump clear at the Olympic trial phases there (in 2000) and he won the two big International classes last year, so I think he thinks that's his place. Certainly, he's a show horse that senses the importance of an event, and he likes the atmosphere there."
Because there are so many variables in show jumping, it's hard to lay odds on the outcome. One thing is for sure, the competition at the Oaks Blenheim International is simply as good as it gets.
What is Show Jumping
Show jumping is easy to understand. "Jump high and run fast" just about sums up the sport's objective. Over a course of between 12 and 15 obstacles, horse and rider attempt to compete the route without knocking anything down. Typically, a time allotment in the first round requires riders to carefully gauge their pace and follow a time efficient track from one fence to the next. Those who jump "clean" in that round go on to the jump-off. Here's where the fur starts to fly. The course is shortened, fences are bumped up a notch, and the clock ticks to determine the winner as the pair with the fastest round and the fewest faults.
From the horse and rider's vantage point, the task is not so simple. Each fence they'll tackle together on the big grass field would hit the average standing adult somewhere between the chin and the forehead. At an average of five feet in height, the jumps are often wider than that by a foot. The obstacles' dimensions test the horse's athletic ability and heart, but that's only a small part of the challenge in show jumping.
The courses themselves are built to test various aspects of the horse's training, most notably its responsiveness and ability to compress and expand its stride. A popular challenge at this venue is any line that involves a shallow, 13-foot wide ditch filled with water. Like track and field's long jump, "the water" requires a burst of energy and speed to clear it successfully. The course designer will often juxtapose this with a jump, or combination of jumps, that requires the horse to leap from a collected, balanced stride.
Speedy gear shifting also comes into play in another common course challenge, a deliberately awkward distance between two jumps. An easy distance is one that's based on the average horse's normal 12-foot stride. An awkward distance is set between normal stride markers, forcing the rider to shorten or lengthen the horse's stride to assure the right spot for take off.
At the International's level of ompetition, the course designer will ask the utmost. The awkward distance, for example, may well fall in an "in and out," where there is just one stride between two huge jumps. Or, he may demand a stride stretching and collection i the same short line of several awkwardly spaced fences.
Come to the competition early to see riders "walk the course" before their class. They'll pace off the distances, study approaches to offset jumps, and walk the tracks of the turns they plan to take. the horse/human partnership makes show jumping a sport of incredible variables.
During the course walk, riders put themselves into their horse's minds, identifying things that may distract their mount's focus. There are some basics, like any horse's tendency to speed up when they're headed toward the out-gate. And then there are the idiosyncrasies, like the horse that hates yellow umbrellas. In any case, the rider wants to anticipate how their horse will react to any element in or around the field in order to prevent a problem.
At this level of the game, the slightest misstep can mean the difference between earning a piece of the International's $265,000 in prize money, going home with little to show for one's efforts and considerable expenses, or, much worse, an injury.
"If we lose focus for even two seconds, we'll make a mistake that can't be reversed," says Robert Ridland, president of the International's management team Blenheim EquiSports and 1976 Olympian. "Very few sports put that kind of pressure on their athletes."
A Long Road to the International Ranks
Most riders will take roughly 90 seconds to navigate their first jumping round at the International. But the course they've traveled to get here is much longer. Horses with Olympic-level show jumping potential are as rare as Triple crown racehorses.
Even when that potential is identified through bloodlines or early indicators of talent and heart, many years of training and competing are required before the owner really knows the extent to which that potential will materialize. Riders require an equally unusual mix of intellect, instinct and athleticism. And then there is the long road to finding the right match of horse and rider.
The path to international show jumping is longer for Americans than it is for their European counterparts. Rooted in mounted military maneuvers, English-style riding is as much a part of European heritage and culture as Western styles of riding, like cattle work and rodeo sports, are a part of America's History.
Throughout Western Europe, international show jumping events are geographically accessible to all riders and fans. The sport there is almost as big a spectator event as football and baseball are in the States. With that fan base come corporate sponsorship that makes prize pots big and competition expenses minimal for the best horses and riders.
By contrast, the Oaks Blenheim International is America's first outdoor jumping event to be recognized as an international competition by the International Equestrian Federation, the worldwide governing body for equestrian sports. All of the approximately 2,800 competitions sanctioned by USA Equestrian are oriented toward amateur competitors.
America's top grand prix riders often spend more time preparing clients to jump three-foot-high courses than they do preparing themselves and their horses for the five-foot-plus obstacles they'll encounter on the grand prix field. American horse show economics dictate that most top riders get spread quite thin, which limits our country's collective ability to focus on topping international winners podiums.
The management team, Blenheim EquiSports, behind the Oaks Blenheim International doesn't expect to change all that single-handedly, but they have certainly helped buildup the sport's domestic foundation. Their success in showcasing the sport at its very best and making it feasible for Americans to gain true international experience without leaving the country has earned Blenheim EquiSports the appreciation of riders, industry leaders and fans.
In addition to great sport, the International offers the simple pleasure of a wonderful day in a relaxed, family-oriented, country setting. As the centerpiece of the Capistrano Summer Festival this year, the International offers spectators even more bang for their buck. Music, food, kids activities galore and elite youth soccer are just a few of the attractions surrounding the show jumping action. This puts the sport right where it should be; smack dab in the middle of mainstream America.