The grey texts that bubbled up on my phone were from my French rider friend, so I took the comment in good faith.
Actually, I was flattered to be compared to the ever so graceful Lily Collins who portrays Emily Cooper in the Netflix comedy drama Emily in Paris.
Three years ago, I spent some time working in France for an equestrian press relations agency. Naturally I was excited to indulge my nostalgia and relive the experience through Emily's eyes. So I threw together a haphazard charcuterie board and poured a glass of wine, then snuggled up on my couch with a naive smile and flicked on Netflix.
My jaw slowly fell to the floor in the first moments of the episode. The thing is, being compared to Lily Collins and Emily Cooper are two completely different things. It didn't take long to realize I had been dished a classic ambiguous French compliment. Gotta love their cheeky honesty, though.
If you haven't seen Emily in Paris, give it a watch and meet me back here tomorrow when you're done binging. If you have seen it, you know it's about an American girl whose job relocates her to a marketing agency in Paris where she is comically out of her depth. Warning: spoilers ahead.
Since it premiered, the show has faced some backlash, being accused of feeding into French culture stereotypes and promoting unrealistic escapism. "That would never really happen," critics said.
While those critiques certainly have merit, I'm here to confirm it can happen. Because it happened to me. And with eerie similarities, but with horses added to make the experience even weirder.
Like Emily, I ended up in France by happenstance.
Once upon a time in 2019, I was due to be in the Long Island area around the time of the Longines Masters New York. I cold-emailed my resume to EEM, the organization that put on the show, explaining that I was looking for experience in a press room.
My resume got bounced around until eventually I got an email that more or less read, "An American would be interesting! How long do you want to live in France?"
"I don't know, like, forever?" I thought.
You can imagine how my surprise swelled after finding out that the press office was housed in the Grandes Ecuries de Chantilly (Great Stables of Chantilly). Maybe you recognize it as the stunning backdrop from the Longines Global Champions Tour of Chantilly.
To make this fantasy even more storybook, the Grandes Ecuries is also home to the Musée Vivant du Cheval (Living Museum of the Horse), showcasing haute école demonstrations every week.
It was a dream of mine to spectate the LGCT show someday, never mind have the access code to the "Royal Stables of Europe."
Oh yeah, and the Chateau de Chantilly is directly across the street. Like 50 meters away.
The only possible complication with my new grand plan came in the follow up question: what was my level of French…?
"I did Rosetta Stone on the plane, but it hasn't kicked in yet."
One major drawback of a surprise job in foreign country is the whole not speaking French in France thing. Accepting the role just shy of a month before traveling, I only had time to learn basic greetings, weather and some essential phases like "fromage, si'vous plait" and "j'aime les chevaux."
No matter how often I caved into the relentless harassment of the Duolingo Owl's antagonizing notifications, I didn't achieve fluency in a single month.
I was like Emily, sauntering into the office doe-eyed and without a clue in the world. While the show came under fire for promoting French stereotypes, I would argue the screenplay is actually an American burn book. Starting with the thing Europeans find most infuriating: the American absurdity to demand English in a foreign country.
I was aware of the egregious social error I was about to commit—and I took the job anyways. In that way, I'm not completely blameless.
People weren't rude (at least to my face).
Fast forward to May, and I was on the platform at Charles de Gaulle airport, being greeting by two rather peculiar strangers. They were eagerly waving me down as I lugged my accidentally overweight suitcase to their green Mini Cooper, and contrasted the French double kiss greeting with my very American "Hi! How are you guys?"
The husband was lanky and had circular glasses while the wife styled a short black haircut, perfect skin and a shin-length dress. They were the quintessential French couple, minus the rude and standoffish qualities I was warned to expect from Parisians. They were happy to chat with me the whole way back to their home, where I was renting a room for the summer. During my stay they even volunteered their son to be my personal tour guide and French tutor. Thanks, Thibault.
Perhaps I was generally untroubled by Parisians because I'm from Boston, and we're also reputed to be quite cold. Though that's just exterior. If you've never met one, think Mark Wahlberg giving a spiel about family and loyalty, accent and all. I found the French to be the Bostonians of Europe. Not over-the-top friendly, but genuine.
So instantly I felt at home despite not understanding any mealtime conversation. It was like being at dinner with the adults from Charlie Brown.
Come to think of it, if anyone said anything rude I wouldn't have known, would I?
"Ringarde!"
I tried to fend off the label of basic tourist by engaging only in the most authentic French experiences. (Such as five hour dinners until 12:00 a.m., leaning on the horn and cursing whilst careening around the Arc de Triomphe, and adding "no?" to the end of most sentences.)
However, Emily made a good point to the stressed Pierre Cadault: there is some fun indulging in it every once in a while. So maybe I did go see the Eiffel Tower with a pain au chocolate in hand and picked up a souvenir keychain afterwards. I had to go for Paris Eiffel Jumping, anyways.
Parisian fashion
Being in my early twenties (the estimated age of Emily) I wasn't, and still don't, budget for Chanel and Louboutin. Logistically speaking, all of the outfit changes would have called for more than one checked bag and I, for one, had to sacrifice space for my tall boots and helmet and my fresh out of college budget.
More unrealistic than the wardrobe itself was Emily striding in stilettos almost everywhere across the city. Walking in heels over medieval cobblestone streets is not for those who value the function of their ankles.
Emily's bold, often horrendous, fashion statements make her stand out in one of the four global fashion capitals of the world. The reference to Americans and unapologetically loud style, I had to wonder why Emily didn't take. But the checkered hat really triggered me.
However, being in the fashion capital of the world did inspire me to embrace monochrome outfits and oversized blazers. So there's that.
Instant Social Media Fame
Emily posing with a croissant outside of a boulangerie gave her instant influencer status. I didn't post every moment of my trip on social media. In fact, I was so distant and preoccupied that I forgot to call my family most days.
Google translate is your frenemy
It's fairly common knowledge that you should view any phrase computed by Google translate with the utmost skepticism. Google translate loves to trick foreigners into uttering innuendos and franken-phrases that sound completely ridiculous to native speakers.
Yet if, like me, you're tasked with "translating" and rewriting a 1,000 word press release for Paris Eiffel Jumping with a same day turnaround, you'd sign your monolingualism soul on the dotted line too. I took my chances, and only discovered the errors in my translating ways when I was in French classes a year later. Le sigh.
About two months into the job and I had a decent level of reading and ear comprehension. But this came with its own frustrations, because suddenly I was Ariel after Ursula stole her voice. I knew what people were saying but had no ability to respond.
Ending up at parties above your social class.
"Drink some Champagne and pretend you're Blair Waldorf!" said my best friend's voice through the phone. I'd called her from the bathroom of the Gstaad Palace in Switzerland, in the middle of a full blown hyperventilation episode. We were covering the one of the most prestigious polo events in the world, the Hublot Polo Gold Cup of Gstaad.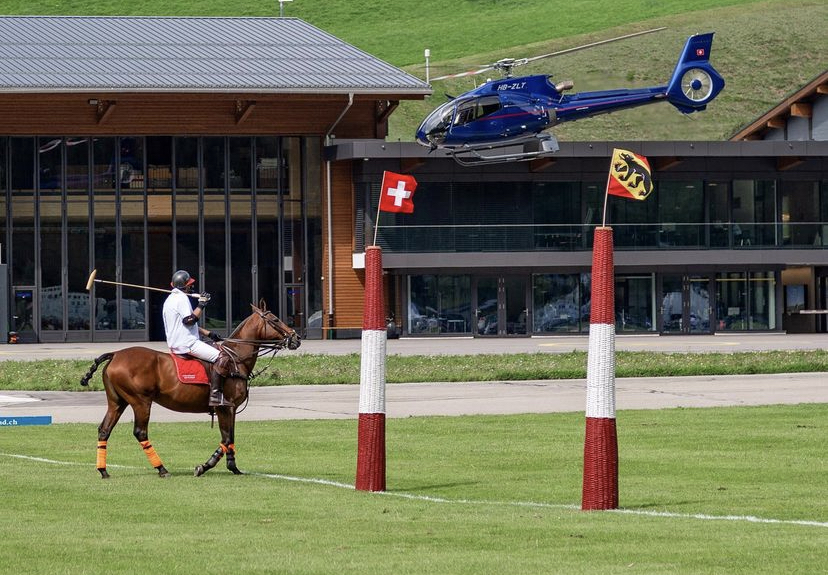 We had been invited to the garden cocktail party, which overlooked the Alps. I didn't even pack an evening dress because how else was I meant to fit all my favorite breeches? After imagining a flouncy summer skirt was fine, all the color drained from my face after seeing a stringed quartet donning tuxes and a champagne tower so tall it matched the snowcapped backdrop.
"Amateur mistake!" I thought, and the introvert in me knew running to the bathroom was the only sensical option.
After the pep talk from my best friend, I dabbed the sweat off of my upper lip, tipped "La Dame Pipi" and mustered the courage to find a secluded corner of the lawn, away from judgmental eyes. That is, until I spotted a rather uncomfortable looking group of Argentine polo players who also didn't speak French or Swiss-German either.
If there was one thing about Emily, her unabashed confidence helped her to make friends in the most unlikely places and stuffiest parties. I don't have that quality, but I did have champagne. Which was how I managed to become friends with the guests of honor and have the most thrilling evening of my life, but that's a story for another time.
A little part of you becomes French
Whether you like it or not. Take the rather official G7 Finance Ministers and Central Bank Governors badge, which featured the French version of my name: Marine. I adopted it as my alter ego in an assimilation effort, because more often than not it was also the name that made it to print.
And that's how I became Equestrian Emily in Paris. Would I do it again? In a heartbeat. But like Emily said, when it comes to the French, "I still can't tell if you're joking or not."