Adam's Apple is a 15-year-old grey Appaloosa gelding that first arrived at Days End Farm Horse Rescue (DEFHR), Woodbine, Maryland, in 2008 as part of a neglect case from Prince George's County, Maryland. Following his rehabilitation and training, Adam was adopted out to a loving and caring home in 2018.
However, in May 2021, Adam's adopters made the wise decision to return the gelding as they were dealing with unexpected health issues that would make it challenging for the adopters to continue to provide proper care. Though it was heartbreaking for the adopters, DEFHR staff commended them for making this thoughtful but difficult decision and welcomed Adam back with open arms, vowing to find him a new, loving home.
During the time Adam spent with his adopter, he was diagnosed with ocular squamous cell carcinoma (SCC), the most common form of cancer to affect the eyes and eyelids of horses, and the second most common cause of cancer in horses overall. Though an original tumor on Adam's lower left eyelid was removed, Adam also underwent laser therapy and veterinarians cautioned that, because SCC often sees a high rate of tumor recurrence, his caretakers would need to keep a close watch on his skin.
As with any pink-skinned horse, Adam was already more susceptible to sunburn than those with darker skin. Following his diagnosis, the gelding's daily management was changed to help reduce his exposure to ultraviolet (UV) rays. For Adam, this means being turned out only at night and providing him with UV protection including a sunshield body suit in the summertime and a double-layer fly mask anytime he is outdoors no matter the season.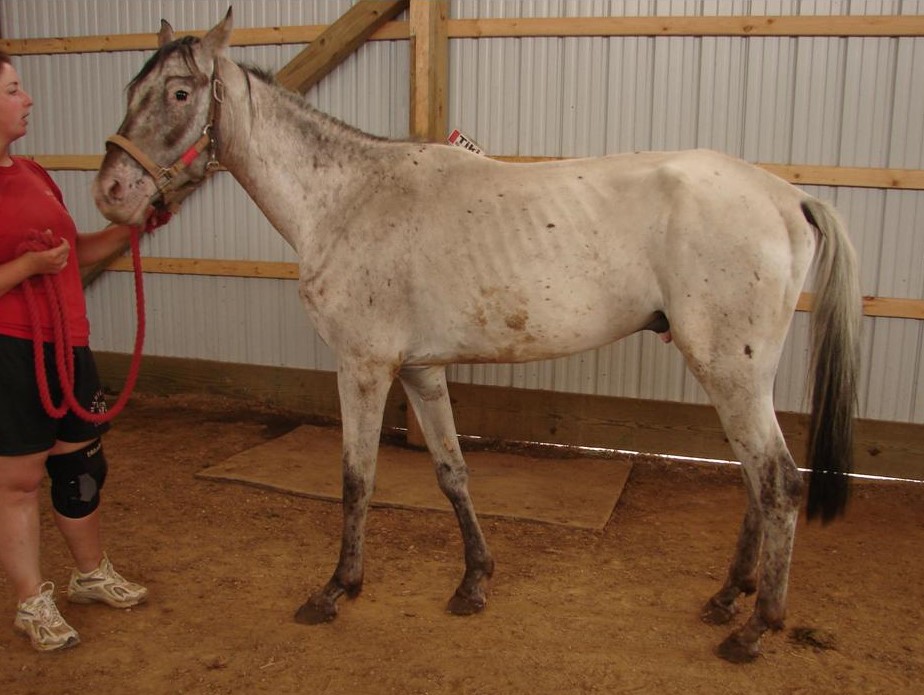 Though caring for Adam's is currently straight forward, and he's happy and thriving, there is no telling what lies ahead and if his prognosis will change. For many people, considering the adoption of a rescue horse with an evolving health condition can be daunting.
"It can be a hard sell for prospective adopters," said Lynn Garvin, DEFHR's Equine Health Manager who has been working with Adam since his return to the organization. "[Learning a horse has a condition like SCC] can be an intimidating thing to hear.
"But, if you can zoom out and look at the bigger picture, it's easy to see that Adam is a very valuable companion horse," continued Garvin of the gelding who isn't rideable due to an old shoulder injury.
Garvin shared that he is great in larger herds. "His unique ability to match the energy of another horse makes him an awesome transition horse. I've put him with older horses and younger horses. He will run and play with younger ones, but he will not frighten the seniors. As far as his ability as a companion, I just can't say it enough, he's such a great buddy horse. I never have to worry about him hurting anyone. He's just kind of goofy and a big dog.
"He's hilarious," Garvin continued. "He has a great temperament, he's a joker, and he's really engaging. He's one of the horses that our volunteers really love because he'll do things like steal the hoof pick out of your pocket, raid your grooming kit, and pick up buckets."
Though no one knows if or when Adam will need to be treated for SCC again, in terms of placing Adam in a new home, Garvin talks about the importance of finding the right adopter and setting them up for success.
"We make sure that potential adopters understand that this isn't very intimidating if you have a good veterinarian and you're confident that you're following their recommendations," explained Garvin.
She also emphasized that DEFHR staff keep in contact with adopters and are always available as a resource.
Though every rescue horse's needs are different—especially those with medical conditions—looking at the whole picture and seeking the input of experts can make all the difference in a horse's future. For Adam, it's clear his condition doesn't define him and DEFHR staff hope he'll soon find an adopter who will quickly recognize all this special horse brings to the table.
For more information about Adam or other adoptable horses at DEFHR, please visit: https://www.defhr.org/meet-the-horses/
---
For more than three decades, Days End Farm Horse Rescue has been renowned for working to not only prevent equine abuse and neglect, but also to educate the public about equine welfare and help their staff, volunteers, and members of the public become better horsemen and women. Learn more about DEFHR's adoptable horses as well as their numerous education and volunteer opportunities. Visit www.defhr.org or follow them on Facebook and Instagram.
Feature image: Despite being diagnosed with ocular squamous cell carcinoma, it's clear to staff and volunteers at Days End Farm Horse Rescue that Adam will bring a lot to the table for his future adopter. ©Days End Farm Horse Rescue