Eye Candy picked up their third victory of the Major League season—and another hometown win for Amy Millar and Jacqueline Steffens—in Caledon, Ontario. Phase VI of the tour was their hardest fought yet.
"In general, the level of competition in this series is getting more and more difficult as we go along. All of the teams perform fantastically today. I think it was the lowest scores ever to get into the top four. And they're just getting better and better and faster and faster," said Millar.
Let's review the highlights. And the lowlights.
Eye Candy squeaked into the top four
With record low team scores, staying above the cut line in Round One proved to be the most difficult task yet. Perennial threat Lucky Charms finished on a team total of just one fault from Margie Goldstein Engle. (That had to be strategic?) Their spot in the top four was assured. Same with A.I.M. United. Represented by Ali Ramsay (CAN), Andrew Welles (USA) and Daniel Bluman (ISR), they booked a ticket to the First Jump Off with a team score of four.
Eye Candy's hold on the top four was more tenuous, however.
Drawing sixth in the order, Millar and Steffens picked up a rail each in the first round to put the team total on eight, one fault ahead of Otomi Warriors (9). But with last week's runnerups, Roadrunners, and the Diamond Devils still to come, each fielding strong teams, both were in danger of falling below the cutline.
"Honestly, that's most stressful part. I mean, when you're in the ring, you're so focused on what you're doing in your job that that part's fine. But when you have to just sit there and wait to find out where the scores fall, that part's tough," said Steffens.
They didn't have to wait long for confirmation. Sam Walker's horse Evita looked untouchable for the Roadrunners right up until the last fence when the mare clipped the back rail of the oxer with a hind leg to put the team on four. When Bliss Heers, hot off an incredible run at Spruce Meadows, added an uncharacteristic 13 faults to the score, Eye Candy's spot in the second round was booked.
"We just got a little lucky, I think," said O'Shea. "So we're not complaining."
Consistency counts
In the second round Eye Candy laid it all on the table, with a pair of speedy clears from Millar (45.29 seconds) and Steffens (45.96). Only two riders posted faster fault-free times. A.I.M. United's Daniel Bluman and Cachemire de Braize stopped the clock at 43.53. Lucky Charms Margie Goldstein Engle and Dicas were faster still in 42.98.
But it's the team total that decides the medal rounds. Finishing just two tenths of a second behind Eye Candy (91.25 vs 91.49), Lucky Charms were ultimately relegated to the bronze medal match against Otomi Warriors, while Eye Candy advanced to the gold medal match against A.I.M. United.
"The strategy in this jump off is always go as fast as you can. That's pretty much it," said Millar. "We were lucky that we all pulled our weight in the jump off today."
Fun Freaky facts
Fun fact: Steffens mount originally competed under the name Freaky Liefhebber, which is Dutch for "Freaky Lover". He now goes by just "Freaky."
"Freaky had a name shortening when Eye Candy bought in for a half ownership with him," explained Steffens. "That was one of the conditions. It's a little bit more on brand and it suits him."
Squirt Gun was Eye Candy's MVP, again
Riding anchor in all six phases, Squirt Gun has yet to have a rail in the team event. Provided, of course, that O'Shea can get his fractious partner through the start timers. (Squirt Gun spun O'Shea off at Angelstone while pre-loaded for Round One and the team was eliminated.)
In Caledon, he once again proved his weight in gold medals, posting the fastest round of the day (42.93).
"He's an amazing horse. He's just incredibly athletic and the way he can use his body, it's very unusual. He's very light," mused O'Shea. "All I have to do is get through the start. He does most of it after that."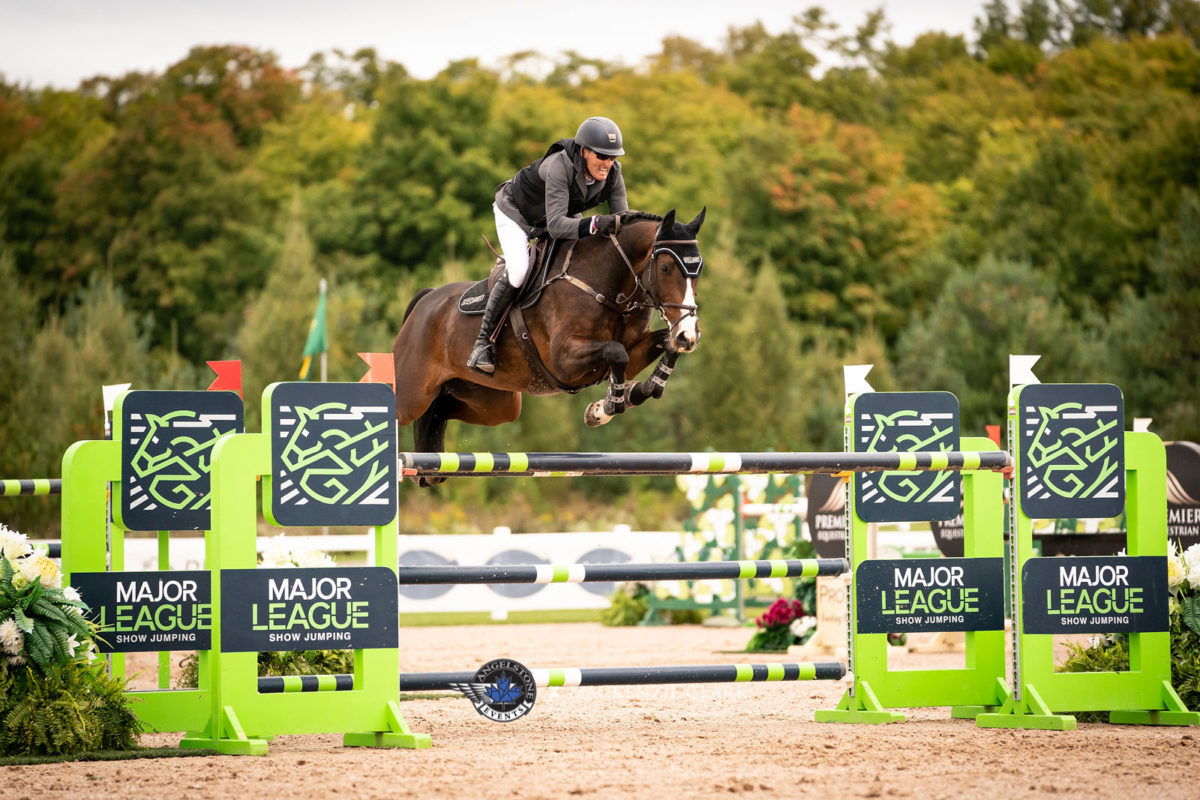 Look for team changes ahead
In six phases, Eye Candy has only once deviated from the winning formula that is Millar, Steffens and O'Shea. That will change in Mexico. The team's newest members—Emma Marlowe (USA), Conor Swail (IRL), and Simon McCarthy (IRL) were added to Eye Candy's roster this week—will head south for the next two phases of the tour, along with Steffens and O'Shea.
"We have two reserves [in Mexico], so we're going to be very well armed," said O'Shea. "That's our plan for the minute."
A.I.M. United took the silver medal. Otomi Warriors captured their first podium finish, taking bronze.
Feature image: ©Mackenzie Clark/MLSJ