One week, two personal bests, and years of trial and error—Yvonne Losos De Muñiz has much to celebrate at the moment.
The Dominican Olympian and Aquamarijn are riding out of Wellington, FL's Adequan Global Dressage Festival (AGDF) with record scores and high hopes for Tokyo 2020.
But their story is one of unexpected turns. It's been that way from the beginning.
Losos De Muñiz originally tried Aquamarijn while searching for a horse for a client. She and her husband decided to purchase the 2005 KWPN mare as a "backup" horse that the Central America and Caribbean Games gold medalist could develop.
"In the beginning," remarked Losos De Muñiz, "she gave me a lot of power, and I knew that if I could get that on my side it would be amazing. We decided to try, but I never saw her as my top horse. I always saw her as my backup, because we always need that, but I thought she'd be a cool one to bring up the levels."
With that power, however, came a lot of opinion—and conflict.
"She's very opinionated, but I am too. In the beginning we did clash, but I got over that quickly," shared Losos De Muñiz.
The pair made their first international appearance at a CDI3* in Biarritz, FRA in October 2016, a month after she took over ownership. But it wasn't until last week, nearly five years later, that Losos De Muñiz says she experienced the feeling every dressage rider chases in the sandbox.
On a week when the pair expected to be competing at the later cancelled FEI Dressage World Cup™ Final in Sweden, Losos De Muñiz saw all her hard work with Aquamarijn come to fruition in the FEI Grand Prix CDI4* for Freestyle on the final week of AGDF in Florida.
"I think it's one of the first times in my riding career with her that I've actually gone in and have had the control, the relaxation, the activity, all of those words that we use and search for in dressage, I actually went in there and went 'WOW, I've got it. Now what do I do with it?'"
The judges agreed. Losos De Muñiz and Aquamarijn earned a personal best score of 74.196%—that too was unexpected.
"I never thought I'd get a 74% with her," said the 53-year-old rider. "She's a bit of a difficult character, but it all fell into place. It's just years and years of practice and trial and error. It all just lined up for us. She was in there saying, 'Yes ma'am, how much do you want from me?' and that was an amazing feeling."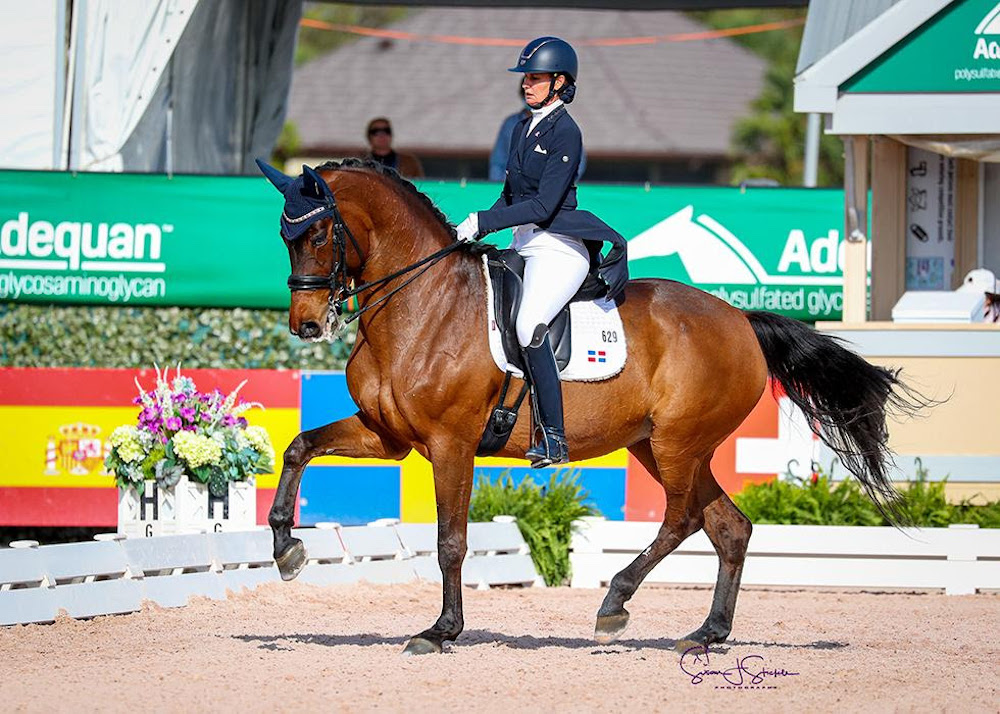 On Saturday, lightning struck twice. The pair logged their second win—and personal best score—of the week with a 80.745% in the FEI Grand Prix Freestyle CDI 4*.
"Right now I think I'm still on cloud nine," said Losos De Muñiz after her performance. "The whole week has been incredible.
"This season I made my freestyle more difficult, and there was a period of time once or twice after riding it that I have been tempted to back off and tone it down, but I knew that if I could ride it at home then I could ride it here. I just needed to figure out the amount of pressure where, when, and how, and today I figured it out. We nailed it, and it was such a cool feeling going down that center line, and I just wanted to cheer the whole way. It's really an amazing feeling when you're at that point with your equine partner; there is no other feeling in the world. It's pretty amazing."
The Dominican rider is now precisely where she hoped to be in her preparation with a horse that was never part of the plan.
"I've reached all of my personal goals, and right now I'm exactly where I wanted to be going into this next part of training while setting up for the Olympics, so I'm going to go on vacation now!" she shared.
As for Aquamarijn, whether she makes it Tokyo or not, she's already exceeded all expectations:
"She's gone from my backup [horse] to my number one."