Remember when there was a five star Grand Prix to watch every weekend?
When world ranking points accumulated on a near daily basis and it was impossible to keep up with all the show jumping happening all over the world?
Sigh. The the good ol' days.
Keeping abreast of international show jumping results may not be a challenge for many months to come, but there's a whisper of normalcy happening in Europe.
Last week, HUBSIDE JUMPING de Grimaud in France hosted the first 5* event in the world since COVID-19 shutdown competition.
Among the 48 horse and rider combinations to contest French course designer Cédric Longis' track on Sunday were two thirds of the World Top 30. Double sigh.
Judging by the results, the 2020 season is picking up right where it left off—with reigning World No. 1 Steve Guerdat in the top spot.
Of the nine combinations to advance to the jump off, France's Edward Levy, second to go, posted the first double clear, setting the time to beat in a very fast 37:86 seconds. That time held until the last when Guerdat shaved a tenth of a second off (37:73) to triumph with Victorio des Frotards.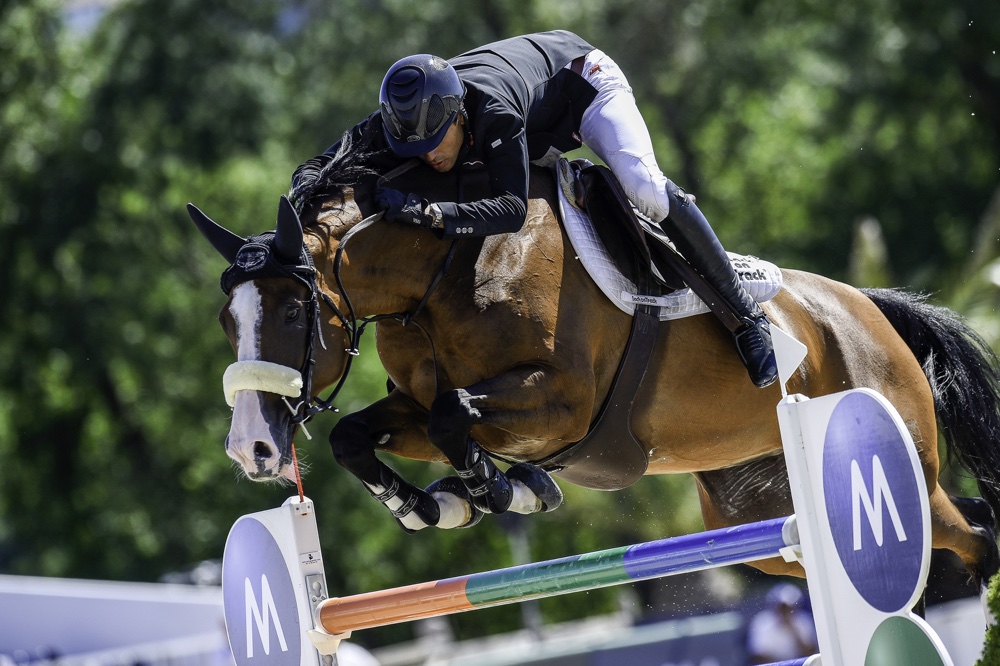 "It's always frustrating to be beaten by the last rider in the ring of course, but today it was the World No. 1, so it's a good consolation prize! There was line-up worthy of a championship in this Grand Prix and my mare was extraordinary," said Levy, before praising his horse. Rebeca LS was sixth in Friday's 1.50m speed class.
"This great result rounds off the good performances that Rebeca Ls has had here, so I'm really pleased. Even if Rebeca doesn't have a very long stride, she is always very fast on the ground. I think that Steve and I had the same number of strides, so I really don't know where he was faster.
"I have no regrets because I rode the jump-off round that I was supposed to, no matter what. Rebeca was able to have a rest during the lockdown like most of the older horses. She toned up while staying really fresh. When she got here, she was champing at the bit… And so was I! (laughs)"
Sweden's Peder Fredricson, the current World No. 6, took third. He was as happy to be at the show as he was to be on the podium.
"It was really great to take part in this show and meet up with all the riders again. I really missed them (laughs). We all really missed the social side of shows. And high-level sport is of course what we missed the most. Everyone wanted to win this Grand Prix and we were all super focused!" said the Swedish rider.
"I don't think that there were any options in the jump-off that would have allowed you to save time. It was all down to the horses' abilities."
For class victor Guerdat, Victorio is a horse that's living up to his name. The win marks the third 5 star Grand Prix victory for the 11-year-old Selle Francais gelding this year.
"I knew he could do it but despite this, there were a lot of unknowns in this Grand Prix, as I didn't jump a lot with my horses during the lockdown," said Guerdat.
"He jumped really well here during the first week of the HUBSIDE JUMPING and then he went home to rest a bit last week. He jumped really well in the first big class on Thursday, but in the 1m50 class on Friday I felt he was a bit tired.  So I wasn't sure how we would do today.
"Apparently, the day off really did him good, because during the first round he jumped incredibly. I think that he has never jumped as well as that! I had a great feeling in the ring when we jumped the first round. The jump-off of this Grand Prix was really fast, like all the classes that take place here, and that's why I chose to ride Victorio. He really gave it his all for me in the jump-off and I'm really proud of him! Next week, I will be back in the ring here but without Victorio, who is going home to have a rest." 
CSI 4*, 2* and 1* competition continues this week on the French Riviera.