Tim Worden, PhD, is a sports scientist based in Toronto, ON who specializes in the application of high performance training concepts. Here he offers his insight into the inner workings of team Canada's most successful show jumping family, Ian, Jonathon, Amy and Kelly Millar.
I have been lucky to spend time around a number of amazing professionals, including trainers, riders, grooms, veterinarians, and farriers, since I came back to the sport in 2010.
Prior to this time, my main interests were weightlifting and track and field, and I spent countless hours pouring over training theory and sports science literature. From studying the work of the top coaches in the world across multiple sports, it is clear that those coaches who consistently get the most out of their athletes have a well-developed philosophy that guides what they do each day in training. Specific principles guide their program, and it is these overarching ideas that ensure no stone is left unturned when teaching an athlete.
Of course, in equestrian sports, the Millar Brooke Farm program is one of the most successful programs in history. With four professionals in one stable—Ian, Jonathon, Amy and Kelly—there is an incredible amount of expertise and knowledge surrounding how to develop horses for the top of the show jumping sport.
For the past few years, I have made a focused effort to spend time at Millar Brooke Farm and to observe their day-to-day operation both in Perth, Ontario and their winter base in Wellington, FL. I have known the Millars for several years now and I always learn a great deal when I spend time around Ian, Jonathon, Amy and Kelly. On the flight back to Toronto from my most recent trip to Wellington, I found myself reflecting on what makes their program special.
I think the most important aspect of their program is the individualized approach to training horses.
When you watch the Millars train or discuss their work with a horse, it is clear they are tailoring each aspect of their program to meet the needs of that horse. They will do what the horse needs today, so that months and years from now it is a better athlete. They are always building on their past work with the horse—better than almost anyone else I've encountered, they understand that training is cumulative and what you do today is connected to what you did two months ago and will do two months from now.
Through their years of experience and studying, they are able to 'read' the messages the horse is sending and adapt their training accordingly. It is impressive to be able to build multiple horses up to the Olympic level, and few programs have this ability.
Riders who know I have spent some time around the Millars will occasionally ask what they do in training. For example, what exercises they do to develop a young horse or the types of flatwork they utilize. In response, I usually give a coy, "whatever the horse needs is what they will do."
But in reality, it is an almost impossible question for me to answer.
There is no cookie-cutter approach with the Millars. They do not jump a horse once a week because that is what they do with every horse. Instead, the program is highly dynamic and each week is structured differently based on what skills the horse needs to develop.
I think a lot of less experienced trainers will get caught up in the day-to-day operations of the farm and will ride a horse just so it gets ridden. Conversely, programs like the Millars methodically work through training to check all of the boxes, such that when the horse enters the ring it has the skill set needed to answer any question a course designer will present.
Another aspect central to the Millar Brooke approach is that if you are going to be successful in this sport you need to do it because you love horses.
You have to enjoy being at the barn, love working with horses, be motivated to learn about them, and be willing to put their care first. Without this deep appreciation for the horse, I do not think it is possible to have sustained success. It is this passion that drives riders, trainers and grooms to be truly invested in their equine partners, to listen to what the horse is saying, and to take this information and incorporate it into training.
For those who are not truly interested in listening to what their equine partner's body and actions are saying, they will be missing important details, which will slow progression and ultimately lead to poor performances or injury.
On one of my recent visits with the family, I was sitting on the fence watching Ian longe a young horse. After a warm-up and some light work Ian added in a few raised trot poles for the horse to trot over. The horse started to rush through the exercise as an alternative to deliberately stepping over the trot poles, as he should.
Explaining what was happening, Ian said, "Horses are no different than humans. They don't like to do what they aren't good at."
It was a simple observation that I think is often overlooked. When you encounter some resistance from your horse in training, it is important to step back and to first understand where the resistance is coming from (i.e. is it a lack of knowledge about how to perform the task or a lack of fitness?), and then find a way to address the problem.
In my example above, Ian knew it was a young horse not understanding how to move its' body to complete the exercise so he was patient and gave the horse time to figure out the task without any pressure. Conversely, if Ian had a veteran horse that started resisting work in training, this would be an early warning sign that there was likely some sort of soreness issue—work would be stopped and the soreness would be investigated immediately.
Beyond their competition performances, the Millars are also famous for their horse care protocols. Everyone who works for Millar Brooke Farm is taught their way of caring for horses and there are over 100 pages of documents that summarize the different protocols for specific situations. There are protocols for clipping horses, caring for feet, bathing, shipping, FEI competition, and so on.
The main reason for the protocols is to ensure the safety of both horse and human—by following these protocols the likelihood of an 'accident' occurring is significantly reduced.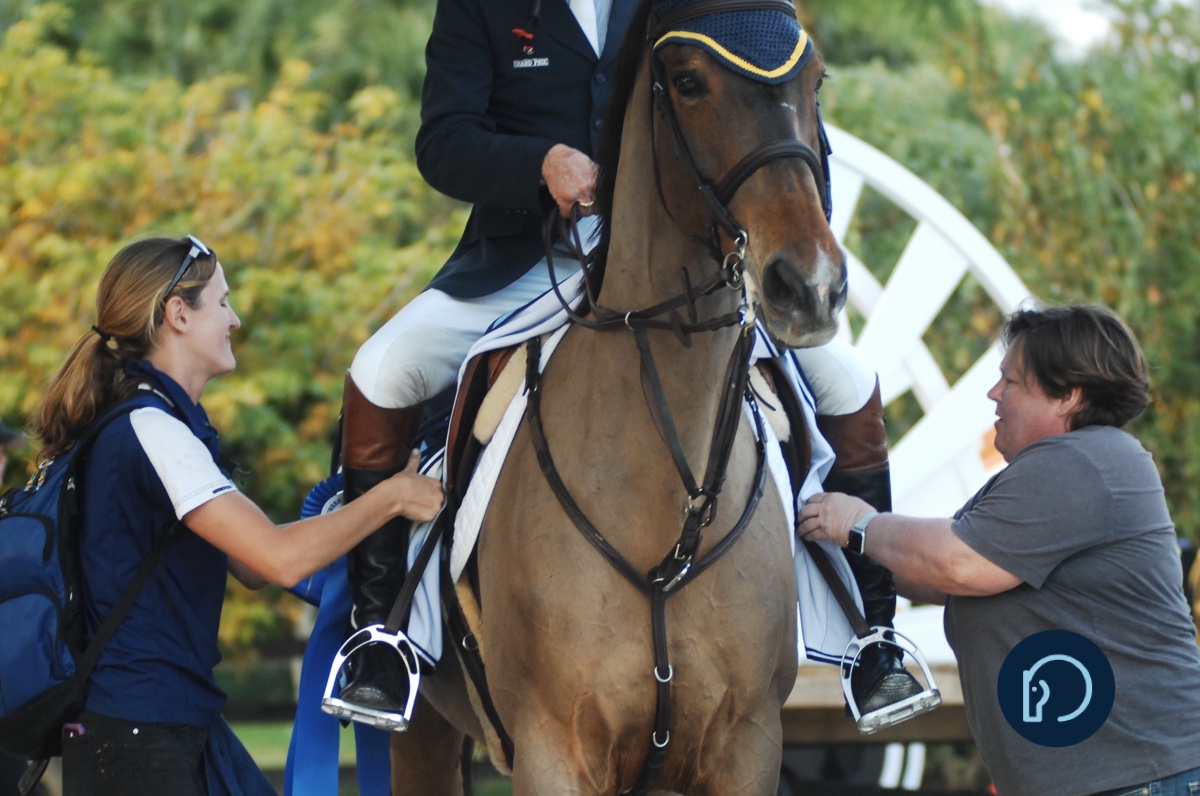 Another benefit is that when all staff, riders and trainers follow the same protocols, it becomes much easier to understand each horse's environment and to make any needed adjustments. Said differently, if I am confident in knowing how a horse is cared for even when I am not at the barn, then if any issues arises it is much easier to understand why that issue arose and how to correct it.
Horses are creatures of habit and they respond well to consistency. Conversely, if the barn program is different day-to-day depending on who happens to be around, it becomes much more difficult to have a consistent program and it is much easier to overlook potential issues.
Of course, Ian, Jonathon, Amy and Kelly have a great depth of experience to draw on when training horses. But, in my opinion, it is their ability to implement an individualized program, to listen to what each horse is telling them and adapt accordingly, and to apply training exercises in a methodical way that has allowed them to achieve a high level of success for decades.
---
Dr. Tim Worden is a scientist specializing in applying high performance sports training concepts to horses. He completed his MSc (Biomechanics and Neuroscience) and PhD (Biomechanics) at the University of Guelph, Canada, and he has worked with a number of FEI jumping riders over the years. Instagram: @twordentraining