Remember when the Internet was in an uproar over the future of horse sport and Baby Boomers the world over were convinced that lazy millennials would be the ruin the industry and all that is good?
So, like, yesterday.
Well, turns out those fears may be for not. This weekend's World Cup results were the riding equivalent of OK, Boomer. Complete with ironic eye roll.
Over the weekend past, some three World Cup classes were held in the US, Canada and Italy. Every one of them was won by a millennial.
The movement started in California with NY-native Adrienne Sternlicht.
At age 26, Sternlicht is already a World Equestrian Games team gold medalist (read: accomplished). On Saturday, she added the World Cup™ Thermal to her growing list of accolades aboard Bennys Legacy, a mount she's only had for a few months.
Last to go in a five-horse jump-off, Sternlicht and the 11-year-old Oldenburg gelding crossed the timers 1.3 seconds faster than runners up Kerri Potter (USA) and Ariell la Sirene (39.56 to 40.89). Which is to say they won definitively and without the benefit of shared experience or her trainer, McLain Ward, on site.
"It's my third show with him and my third jump-off," said Sternlicht. "I thought that this jump-off played to his strengths. He's not a horse that's particularly used to going fast, as he's incredibly careful. I just tried to a ride a smooth round and take advantage of his stride, take time where I needed and challenge him in a few places."
That same night in Toronto, youth didn't just reign supreme in the World Cup—it swept the podium.
Former teen prodigy Bertram Allen (IRL), who is all of 24, topped a four-horse jump off in his Royal Winter Fair debut to capture the World Cup™ Toronto with this blistering jump off ride aboard GK Casper.
It was the horse's first World Cup performance and they were up against Olympic medalists McLain Ward (USA), Beezie Madden (USA), Eric Lamaze (CAN), Laura Kraut (USA), Ben Maher (GBR) and Kent Farrington (USA).
"It's one of the biggest classes that GK Casper has jumped and his first World Cup. It was hard, but I knew if I got the first round behind me, I didn't have to worry about the jumps as much in the second round. I could really give it a lash," said Allen.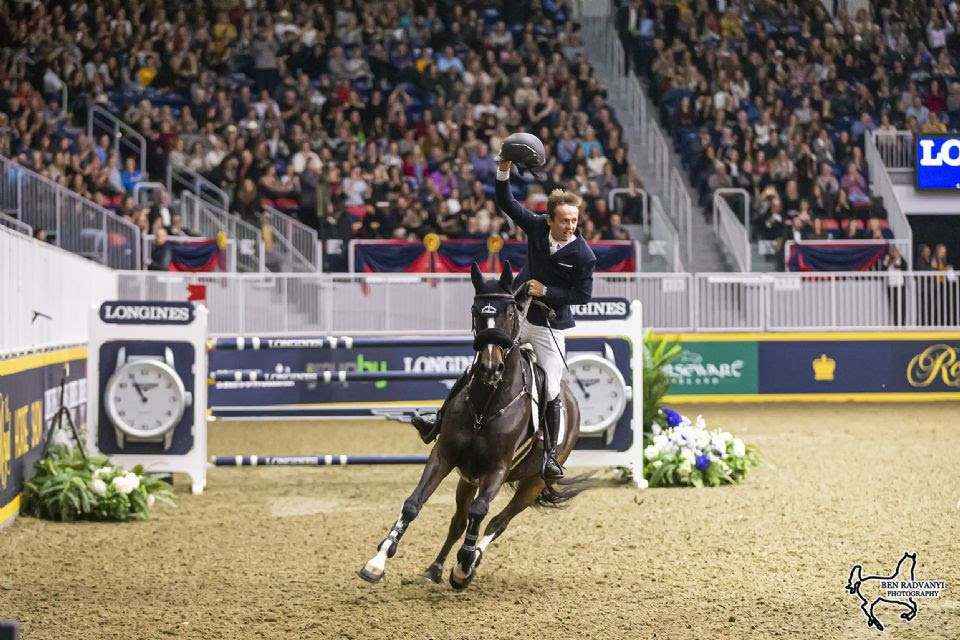 Belgium's Jos Verlooy, age 23, and Igor—a pair that took team gold and individual bronze at the 2019 European Championships this summer—claimed second in Toronto, while 18-year-old post-millennial Brian Moggre finished third.
Meanwhile across the pond, Scott Brash, who at 33 is still technically a millennial despite the massive number of victories to his record, won the World Cup in Verona with Hello M'Lady.
"I finished second here in Verona a couple of years ago [with Ursula] so it's great to go one better here this time around!," said Brash. "M'Lady is a delicate mare, she can get a little stressed with the atmosphere so it took be a bit of time at this show just to get her relaxed in the collecting ring, but her talent showed through in the end in the jump-off today—I thought she was amazing!"
Now one millennial superstar in a World Cup could be counted as an anomaly. But three in the same weekend? That suggests the next generation of riders are doing just fine, regardless of the reigning sentiment on millennial work ethic.
They do, however, continue to be susceptible to peer pressure. When asked why he decided to come to Canada for the first time, Allen replied:
"Jos [Verlooy] has been a few times and he said to me, 'I'll go if you go' and I said, 'I'll go if you go.' Between us, we ended up saying we'll do it."
At least one of them, is happy about that decision.
"I actually regret it now!" said a rueful Verlooy.