Ten years ago, I loaded up my one true love and sent him six hours north for his next adventure. He was my childhood horse, and he was a beautiful bay Thoroughbred.
I gave him away as a last minute Hail Mary at repairing my relationship with my father, as he sat hooked up to at IV, chemotherapy dripping into his central line in Pittsburgh, PA. Because the one thing that my father and I fought about was the one thing I loved above all else: my horse.
I can remember driving home from Canton, NY and thinking that now, finally, my relationship with my ailing father would be repaired. For the first time, we wouldn't fight about board. We wouldn't argue over me borrowing his SUV to haul. We wouldn't bicker over shows and competitions. And we would finally just have each other.
Only, it wasn't meant to be. I got back to Pittsburgh to be greeted by my family asking me to sit down. To sign paperwork saying that we would not revive him. To admit it was the end.
Three days later, my father died.
I survived without the love of a horse for a mere six months; and by survived, I mean that in the loosest of terms. I quit the job I had lined up as a veterinary technician, moved into an apartment with a boy I didn't love, and I sank into a severe depression.
And as I sat on the couch watching Ellen, I realized that horses weren't just a hobby to me. They weren't there for ribbons and medals. They didn't exist just to cost my family thousands of dollars, or to mess up every vacation. They were brought into my life to serve as a higher purpose, and that purpose was to heal. I just had the misfortune of realizing this at the most inopportune time, while I lay broken and catatonic.
It was the lowest I have ever been. A place I hope to never get to again. And what made it worse, was that for the first time in my life, I didn't have my sanctuary. My coping mechanism. My therapist.
My horse.
But as is life, I rebounded. In retrospect, it seemed destined. In reality, it was just chance. But in March of 2009, I found hope, I found myself, and I found my sanctuary again. Only this time, it was on a Thoroughbred farm.
People ask me all of the time why I am so defensive of the Thoroughbred industry. How do I condone the failures within or the misperception surrounding. And all I can say is that this industry picked me up when I needed a helping hand. It gave me everything I was lacking and then more. It healed the broken shell of a girl into a woman who has made these horses her life.
And as I healed, I learned.
I learned simple things like how to breed a mare, wrap a sweat, or give an IV medication.
I learned more complex things like how to sales prep a yearling, how to foal a mare, and how to diagnose, assess, and treat a plethora of diseases and disorders that I had never even heard of.
And throughout it all, I learned about the people. The grooms who slept in stalls with colicky mares the day before they sold. The owners who burst into tears after hearing that their foal didn't make it. The veterinarians who guided, taught, fought, and eventually collapsed right next to the lowly intern after a bad day. And the managers who sacrificed money, freedom, and at times sanity, all for the love of the horse.
I found myself surrounded by like-minded humans. By other people who believed that there was something otherworldly about these animals. Something that couldn't be described or replicated. Something so powerful, so beautiful, so healing.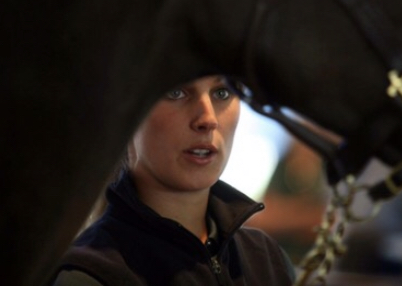 And as my hands wrapped around the firm wooden handle of a metal fork, my legs paced up the hills of a long yearling walkset, and my core withheld the pull of a rank colt, I felt myself come back.
The child who had saddled that Shetland pony only to get thrown into a tree. The young girl who had fallen in love with a bay Thoroughbred at the age of 12, only to realize she had bit off more than she could chew. The young adult who had travelled the country to Wyoming to enhance her horsemanship, only to get bucked off 17 times on the first day.
All of that had happened to get to that point. To become the woman who had lost it all, but was climbing out of the ditch one hand at a time. One stall at time. One foaling at a time. One bandage at a time. One Thoroughbred at a time.
And I came back.
Which leads me to today. Ten years later. 50,000 stalls mucked. 40,000 bandages placed. 2,000 mares foaled. Countless horses changed.
It is February 1st, 2019.  Almost exactly ten years to the day of this makeover within this industry. And today, I watch a commercial for Winstar Farm. It was to air during the Super Bowl, and it brought tears to my eyes. It spoke of how horses change you, how they define you, how they speak to you.
And they end it by asking everyone to share their stories, alongside the hashtag #HorsesChangedMyLife.
Horses didn't just change my life, they saved my life. But through their recovery of my soul, they altered every aspect of my path.
Because of horses, I met the love of my life.
Because of horses, I have the most amazing circle of friends.
Because of horses, I am employed.
Because of horses, I am here.
I truly believe that had I not stumbled onto Chesapeake Farm that March of 2009, battered and bruised, that my entire path would have been altered. Different. Not as great.
Horses changed my life right when I needed them. The Thoroughbred industry picked up a scared, sad, and jaded 22-year-old woman and lifted her into a life that she could have never imagined. I can only hope to pay that back others at their time of need. One stall at a time. One handwalk at a time. One van ride at a time. One horse at a time.
They have altered me. They have bettered me. And now they define me. I know that I will never go another day without that crutch in my life. The ability to escape into the quiet aisleway of a barely lit barn, sneak into a stall with a mud-streaked bay with his head hanging low, and sink into the soft bedding, watching my body recalibrate. The anxiety, sadness, frustration go out, and the deep breath of a whiskered nose comes in.
It is grounding. It is relaxing. It is therapeutic. It is numbing. It is peaceful. It is always there. And because I realize just how much it means to me, it is all I will ever know.
So tell me, how have horses changed you? Share your stories, and add #HorsesChangedMyLife.
---
About the Author
Carleigh Fedorka holds a Ph.D. in Veterinary Science from the University of Kentucky's Gluck Equine Research Center. A Pennsylvania native, she moved to Kentucky after graduating from St. Lawrence University and has worked closely in all aspects of the Thoroughbred industry. She spends her free time eventing as well as training, selling and rehoming OTTBs. Read more about her horse life at her blog, A Yankee in Paris.