Come Nov. 9-12, North America's premiere equestrian gathering will feature four days of non-stop horses, shopping, and horse shopping. And that's only one of the reasons you're going to fall in love with it…
Shop for all the things.
With over 300 vendors showcasing hundreds of thousands of horse-related items, Equine Affaire is the largest horse-related trade show in the nation. In the words of POTUS, "It's huuuuuuuge!"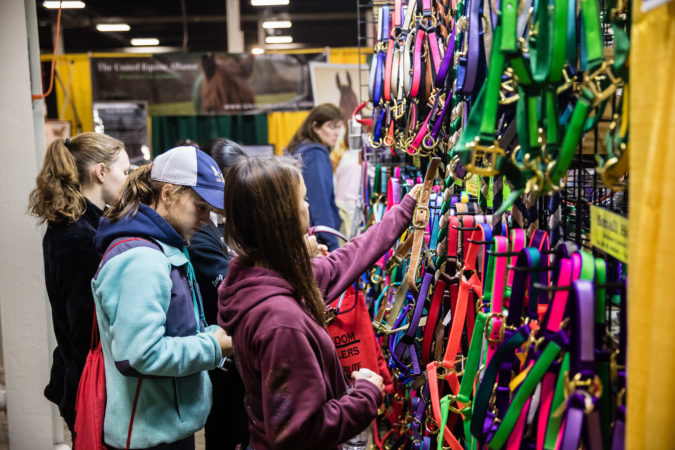 Learn from the industry's foremost professionals
No matter what your discipline, breed preference, or guiding spiritual guru, there's a leading expert for everyone at Equine Affaire. This year's event includes horsemen Ken McNabb. Julie Goodnight, Van Hargis, Steffen Peters,  Phillip Dutton, Craig Johnson—and so many more! See the exceptional lineup of presenters. 
Find your next love match…
Of the equine variety! There'll be horses aplenty seeking new homes in the Horses for Sale stalls.

Discover breeds you've never heard of!
And get up close and personal with ones you have in the Breed Pavilion. Like these Icelandic Horses, which are equal parts fiesty and adorable.
Expand your mind with Equine Fundamentals Forum
Nature versus nurture in horse instincts, common structural defects in anatomy, natural hoof care, understanding why horses bite, strike and kick—these are but a few of the thought-provoking talks that will be discussed at the forum. You'll feel smarter just reading the schedule.
NEW! Explore equine-related career paths
The Career and College Fair Scavenger Hunt is an engaging way to meet a variety of industry professionals and college representatives. Prizes and more will be awarded during a panel discussion on Saturday.
Discover how to get your horse to play in a paddling pool.
And other unusual obstacles and horsemanship challenges as horses and riders vie for $5,500 in cash prizes in the Versatile Horse & Rider Competition on Friday afternoon.
Did we mention the shopping?
So. Much. Shopping.
Take in a concert
About horses! Equine Affaire's signature musical celebration of the horse, "The Fantasia" sponsored by Absorbine, is a must-see for every equestrian enthusiast.

Daily and four-day tickets will be sold at the entrance gates of the Eastern States Exposition beginning at 8:30am on each event day. You may purchase tickets for all event days on the first day of arrival at Equine Affaire. Ticket sales are "cash only" at the event. See you there!
---