So you've decided to move. Congratulations! What a new and exciting chapter of your life. There are always a couple things to consider during a move but the one that takes precedence is, of course, where is the best for your horse?
Never fear, we have constructed a comprehensive and completely accurate list of the pros and cons to horse ownership in different regions of the continental U.S., so that you and Butternut can make the most informed decision possible about your new home.
Region: Pacific Northwest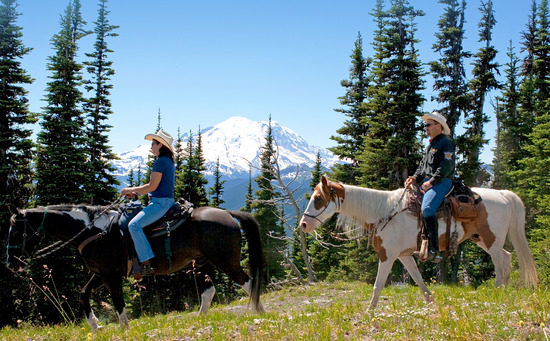 Pros: Mild winters and summers, not to mention the scenery. The picturesque trail rides you and your horse will enjoy in states like Oregon and Washington are simply unrivaled.
Cons: Extremely high average rainfall (up to 200 inches in parts of Washington). Know how hydrotherapy is supposed to be good for horses? That's a good thing, as they'll be swimming from one side of the turnout to the other during the rainy season. And good luck dealing with all that mud.
In conclusion: Sure, you and your horse can make a go of it in the Northwest. You might find yourselves migrating south for the rainy season though.
Region: California
Pros: Everything. What's not to love about California? It has mountains, beaches, forests, all the riding terrain you could possibly imagine. English barns? Western barns? Yes and yes. And winter? That pesky thing doesn't even exist here.
Cons: The lack of water and the abundance of wildfires, mudslides and earthquakes. The ongoing drought is a serious problem; you can't put out those pesky brushfires without the wet stuff. You and your horse kind of have to drink it, too. So be prepared to pay through the nose for the right to shower, and be forewarned that your stables could burn down before you're even done paying off the water bill. Oh, and cost of living ranges from ridiculously expensive to obscenely expensive, depending how close you want to be to the major cities and the coast.
In conclusion: What's a little fire and pervasive drought in paradise?
Region: The Wild West
Pros: If you're looking for some of the most unique vistas in the world then states like Colorado, New Mexico and Arizona are for you, as the desert and mountains offer some of the most unique biomes in the world. Have you always wanted to immortalize your horse on canvas? Santa Fe, NM is consistently named one of the most artistic cities in the world. Maybe they'll paint you a portrait of Butternut.
Cons: You're living in the desert.The cost of water and sunblock will be exorbitant, and there are rattlesnakes. Rattlesnakes are not cuddly and horses hate them.
In conclusion: Backwoods dwelling for horse people is an adventure. Prepare accordingly.
Region: Texas
Pros: Texas is widely known as the state of cowboys and cattle ranching, so gear up Western lovers because this is the place for you. While English stables aren't quite as popular, they too are abundant if you know where to look. For those of you looking for horse-land close to city-land, Harlingen and McAllen are consistently ranked amongst the top 10 cheapest cities in the U.S.
Cons: Moving to Texas is like moving to a whole other continent, especially if you and your horse plan on traveling. Depending on your starting point you can drive for three days and still be in Texas. Make sure you like it because once you move there, you're pretty much stuck. And if you have an irrational fear of rodeo clowns, you have been forewarned.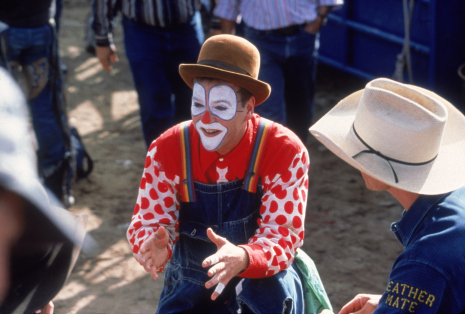 In conclusion: If you're looking for laid-back horsey culture without breaking the bank, move to Texas. If you're a radical liberal or staunch conservative looking for laid back horsey culture, do your research. Political affiliation can differ drastically depending on what part of Texas you're in.
Region: The Midwest
Pros: Ever wanted to run flat out with your horse and never deal with the whole uphill/downhill thing? The midwest is the place for you (just kidding, we're sure that mountains exist somewhere). Known for its cheap land, good pasture and friendly inhabitants, horse owners around the likes of Minnesota, Wisconsin, Kansas and Missouri say they never want to leave. All 27 of them.
Cons: Tornados. 'Nuf said. Snow also blankets the midwest, but winters are said to be "cheerier" (i.e. sunnier) than their northeast counterparts, albeit colder. So at least you can soak up some vitamin D as your fingers fall off from frostbite. And if you need to pop over to the neighbor's house to borrow a cup of sugar, remember that "next door" might be several miles away (luckily you have Butternut to ride).
In conclusion: The midwest seems like a pretty safe bet for you and your horse to make a life. Just remember that it only takes one tornado to uproot your and your steed out of Kansas and into the magical land of Oz.
Region: Kentucky and the southern states pretending to be Kentucky
Pros: Kentucky is inarguably considered some of the greatest horse land in the country—Kentucky Bluegrass is famous for a reason and it's the global epicenter of the thoroughbred industry. Everybody and their uncle is a horse owner, so there are reservoirs of horse knowledge everywhere you turn. With the likes of Churchill Downs, Keeneland and the Kentucky Horse Park, there's never a dull horse moment. Nearby states are also considered an acceptable alternative to Kentucky according to the vox populi, as they are still in driving distance.
Cons: Winters may be a little better in Kentucky than elsewhere in the country, but each season still hits pretty hard. Be prepared for an icy Christmas, stormy Easter and muggy 4th of July. Need tricks to deal with the drastically differing seasons? Ask anyone, since everyone has an opinion. It's kind of hard to be taken seriously when everyone you meet is a "horse expert".
In conclusion: Kentucky, Tennessee, Virginia, the Carolinas and any of the states to the South are all sound choices when it comes to the availability of horse country. But if you're not into horse racing, you better start learning about it now or you will have nothing to talk about at cocktail parties.
Region: The Northeast
Pros: Nowhere beats the Northeast for that old timey New England horse experience. You've got picturesque barns, killer scenery in the summer and fall, and oodles of horse people in pockets all over the region. Commuting between states is a cinch since they're all so close together, making the show circuit almost doable. And apple picking? Come on, what could be better?
Cons: The months of October-April. I don't care how pretty snow is, no human or horse should have to tunnel their way to the barn. Get one of those faux sunlight lamp contraptions because the vitamin D deficiency is real.
In conclusion: If you and your horse are experts at taking full advantage of summer and hibernating during the winter, the northeast is for you.
Region: Florida
Pros: Horse people winter in Florida for a reason. With equine hubs like Ocala and Wellington, you're hard pressed to find a more vibrant horse culture. Whether it's accomplished jumpers or polo players, you're likely to find some fierce competition in the show ring all year round.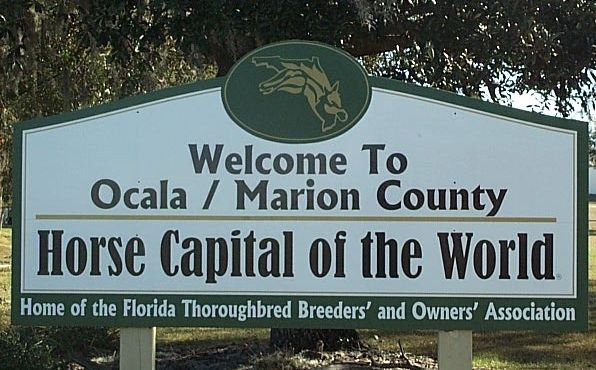 Cons: The "Sunshine State" takes the nomer a little too seriously during summer months— be prepared to roast alive June-August. And if you're interested in living in areas like Wellington or Ocala, you might need to buy a couple lottery tickets first because farm prices are steep.
In conclusion: If you can afford it, go for it. If you'd rather not break the bank, look elsewhere.
Happy horse home hunting!