2014 was an amazing year for me.
I made the US dressage team for the first time. I competed on my first European tour and in my first championship. And by some miracle, Verdades ("Diddy") and I scored an 82% at the World Equestrian Games (WEG) in France. The World Equestrian Games!
Here's the thing. We never would've had the year we did if it weren't for Debbie MacDonald.
I didn't even have a trainer in 2013.
The first few national Grand Prix I did at Clarcona Horseman's Park in Apopka, Florida—the very first ones of my life—I was completely on my own. And it just wasn't happening. It was a really low point in my life where I was feeling like I made it all this way. I think I have a good horse. I think I can ride. What are we missing?
It was the coaching.
Debbie approached me after the observation events at the Global Dressage Festival (GDF) in Wellington, Florida toward the end of January 2014. She said, "I watched you ride. Whenever you can come for a lesson I'll be available for you."
We started working together that winter. The timing couldn't have been better. Debbie had decided with her husband Bob and assistant, Adrienne Lyle, that 2014 would be their first winter in Florida. I'm based out of Orlando, so I could haul my horse to Wellington for lessons. I didn't know anybody in there at the time. I would reach out on Facebook and haul into farms anywhere people would allow.
By March, we'd squeaked into the top 15 in the country. Amazing. Because of that ranking, we earned a spot in the US Festival of Champions (FOC) in New Jersey. The top eight horses and riders in that championship are named to the short list for WEG and get to compete with the US team in Europe.
I thought, if I don't spend every waking minute trying to learn everything I can before these championships and I finish ninth, I'm going to kick myself for the rest of my life.
So that's what I did.
I shadowed Debbie everywhere she went. I traveled with her students Adrienne Lyle and Katherine Batesman. We watched each other train and show. We videoed each other and reviewed the video. It was a real program.
Must Read: 13 Things You Didn't Know About Laura Graves' Superstar Verdades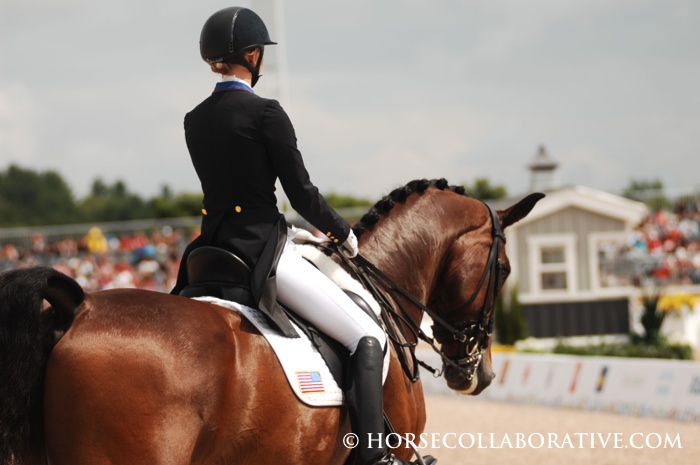 A month before the Festival of Champions, the three of us entered in a CDI in Kentucky. My training was going so well at that point, I thought, it's going to be amazing! I'm going to have a great show and everyone's going to know that I'm coming and they're going to be looking for me.
I was this naïve little kid living on a cloud.
I ended up getting a super low score. It actually knocked me out of the top 15 into the 19th spot. Only the top 15 qualify for FOC.
At that point, I'm already halfway to New Jersey. So I'm sitting there with Adrienne and Debbie and Katherine saying, "Do I keep driving? The show's over now. Should I just turn around and go home?"
Debbie told me to just come up to New Jersey. "People always drop off," she said.
I'm thinking, what if not enough? It's an awfully long drive.
With social media now you know all the information so quickly. I'm watching as everyone's posting their invitations to FOC on Facebook and I still haven't gotten mine.
I finally did get the call from Jenny van Wieren. I'm sure it wasn't as long as it felt like, but the wait? It was scary.
But then so was the alternative.
What if I hadn't taken that risk? What if I'd missed all that time with Debbie?
That whole championship was an amazing experience. After Kentucky, I didn't think I had a shot at making the top eight. I was just happy to be there, competing in good company. It's a liberating feeling when you feel like nobody really cares. If I miss my ones, nobody really cares! If my horse walks in a pirouette, nobody really cares!
Then I came out of the Grand Prix and Caroline Roffman, Adrienne Lyle, and I are tied for fourth place. These are two young professionals who I admire so much. And now I'm neck in neck with them. Amazing.
After that, it just got better. Second in the Special. A 78.425% in the Freestyle. It was so unexpected.
Looking back, I'm so grateful for the team behind me and for the judges for being so gracious and fair even though they didn't know who I was.
I hate to say that. But if they know your name, they expect you to ride well. If they don't, they don't know what to do with you sometimes. That was a really exciting thing for me and for the sport.
I ended up finishing second behind Steffen, which is still pretty much winning. That's what I tell people. Second to Steffen feels like winning.
He's amazing, by the way. That championship was the first time I spent time with him and he was so genuinely supportive. A real peer. I've been lucky to get to know him a lot better since. The comradery that is being built in our US Dressage team is really special. Honestly making friendships that will last a lifetime.
I knew that our second place finish in New Jersey assured us of a spot on the WEG team. But I didn't feel much of anything about it at the time. I'm a pretty unemotional person. I just box it up and get on with my day.
And anyway, there were so many things to get through before we'd be riding in France. Relocating to Europe. The observation events in Austria and Aachen. Just learning to live somewhere where you don't speak the language!
This one day on our European tour, Adrienne and I went to the grocery store and pulled the parking ticket. In America, you can usually pay with your debit card at the checkout. Well, it's not working. We can't get out of the garage and now there's a car behind us. We can't back up.
Adrienne jumps out of the car, "Don't worry I'll go talk to him!" I'm just sitting there and here she is directing traffic, directing all these people who don't speak the same language. She's just so gutsy. She just takes charge.
You have to be in those situations. You have to figure it out. You have to be an adult. I could still learn that from her.
They lead us down through this tunnel, I'm thinking, is my horse even going to walk through this tunnel? 
The opening ceremonies, for me, was the moment when it all became real. Walking with Team USA in this packed stadium and they're waving the American flag. Oh my gosh, the butterflies. It was the most unbelievably proud feeling that I've ever had. It's something I'll remember for the rest of my life.
When we finally got to WEG, I was so incredibly proud of this horse who had been so explosive and still can be. But I wasn't sure how he'd react. We had the opportunity as riders to look at the venue before the team warm ups. It's a soccer stadium. They lead us down through this tunnel, I'm thinking, is my horse even going to walk through this tunnel? Can I even get him in there?
Then you come into the arena and it's just massive. Oh, no.
Diddy did walk down that tunnel to the ring.
The second day he was even happier to do it.
By the Freestyle, he walks into the arena like, "What's up, guys?"
It's just amazing how these animals develop and trust you and let you put them in these wild environments and really thrive on the energy—when it's a good energy. It was a really heartwarming experience for me to have that training into us and just ride.
Again, the judges were amazingly gracious in reflecting what they saw truly. Only three other Americans have scored over 80% in a championship. Debbie being one of them.
What we were able to do as a team in France surprised everyone. When we did all the statistics, they expected us to finish sixth or even eighth. To finish fourth really blew away all the stats guys. It was this huge, unbelievably exciting thing.
And then just like that, it's over.
You go from this extreme adrenaline high where everything is so structured. You're so single-mindedly focused on this one thing. You know what you're doing next week, next month. There's always something that needs doing. Paperwork for the team. Interviews. Social media to catch up on. All these things.
Then you get home, thinking you'll relax for a few days and it's like, how come no one is calling? Everybody cared so much yesterday. Now I'm all by myself. It's this incredibly lonely feeling.
You have to be okay with that. You have to really be okay with who you are on the inside and be able to handle your emotions if you're going to be successful at this. It's a rollercoaster.
Returning to the show ring after a big moment like that was a whole cycle of learning in itself.
There was time after WEG when I first came back to Florida and a lot of people hadn't seen my horse in the flesh since Europe and there were all these stories. What if I show up here in Florida and people are not impressed? What if people are like, she got an 82 in her Freestyle?
I had all these worries that I was going to be disappointing. That I wouldn't live up to what everyone thought. It was really overwhelming.
And I wasn't riding very well because of it.
Lisa Wilcox, she was on that European tour with us in 2014, she pulled me aside in the barns at the Global Dressage Festival and said, "Why are you riding like that? You used to ride like no one was watching and that was one of the most endearing things about you. Just forget about it. Just ride."
She was right. I was too worried about what everybody else was thinking. Sometimes you don't realize what you're doing to yourself until someone else points it out.
After that, I decided I'm just going to ride and do the best I can do every day. It was a big lesson for me. And it's something I'm taking to Rio.
This year, it's different. I'm going into this championship with a lot more experience. And, I would hope anyway, that the perspective these global judges have on our country is a little different than maybe it was in the past.
It's been 12 years since a US dressage team has been on a podium at the Olympics. Whoever does that, whatever group of four that ends up being, it'll be a really proud moment.
Flash forward: Laura Graves, Steffen Peters, Allison Brock and Kasey Perry-Glass did it! The US dressage team captured the team bronze medal in Rio. Graves went on to finish fourth individually. #Superstar 
---
Stay up to date with our on-the-ground coverage of the 2016 Olympics!
Follow Horse Network's Performance Editor, Carley Sparks, live from Rio. And for even more behind-the-scenes action from the ground, follow us on Twitter.