Champion thoroughbred and prominent stallion Gulch passed away Sunday at his home at Old Friends Farm in Georgetown, KY. At age 32, Gulch was the oldest living Breeders' Cup champion, winning the 1988 Sprint.
The son of Mr. Prospector was a 7 time Grade I winner and earned over $3 million in a career that spanned from 1986-1988. At stud, Gulch passed on his potent pedigree, siring the likes of 1995 Kentucky Derby winner Thunder Gulch, 2011 Breeders' Cup Mile winner Court Vision, as well as numerous European turf champions, a testament to his ability and versatility.
After a successful stud career at Lane's End Farm, Gulch was donated to the thoroughbred retirement sanctuary Old Friends Farm, where he was one of the star attractions. Battling cancer and time, he was peacefully laid to rest Sunday morning at Old Friends.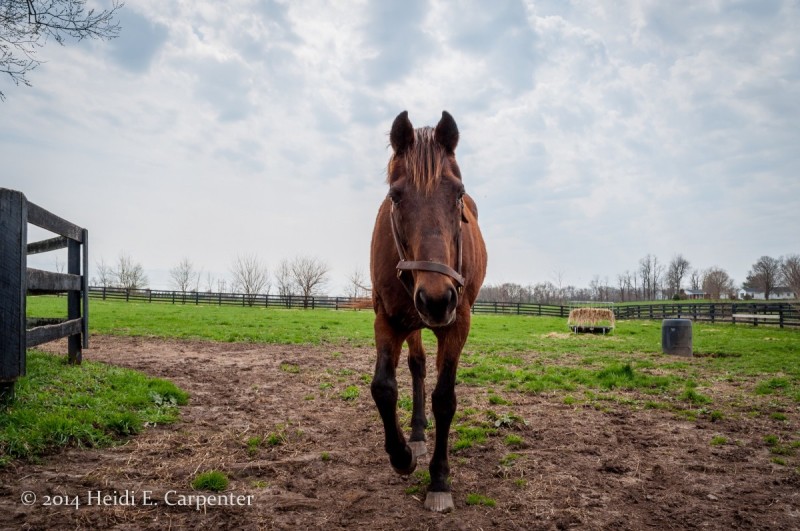 Laura Hillenbrand, best-selling author of Seabiscuit and Unbroken, posted a beautiful tribute on Facebook to the horse she fell in love with on the racetrack, and had the opportunity to meet last October during a visit to Old Friends.
Goodbye, sweet Gulch.
In 1988, when I was young and desperately ill, I wrapped my heart up in horse racing. Watching the paradox of mass and lightness that is the thoroughbred, I could briefly forget my own broken body and live instead in his. In that season, a horse named Gulch came along. He was everything: scorchingly fast yet long on stamina, beautifully crafted, hell-for-leather tenacious. He left the track long ago, but I never lost my gratitude for the thrilling escape he gave me.
A longtime supporter of Old Friends, I had been corresponding with the farm's founder, Michael Blowen, and always inquired about Gulch, asking Michael to walk by his paddock and give him a kiss for me…When I began to believe I could traverse the country to reach Oregon, I thought long and hard about going to Old Friends. Swinging south to Kentucky would add days to a journey that was already a fantastic and extremely risky leap for me, but I had to see Gulch in his waning days. Of the many marvelous horses who'd kept me breathing in the early days of my illness, he was the last one left. The horse who had been a part of my life as it fell to pieces was still part of it when I set myself free. I owed him this.
When the RV crunched up the driveway and pulled up at Old Friends, Michael hurried up, gave me a big hug, and pointed to a distant paddock. "There he is," he said. I could see only a brown form, far away, in a vivid sea of green. We rode out into his paddock on a golf cart. Gulch stood, surrounded by caretakers, who were gently giving him acupuncture. The sun, setting behind him, lit up his coat in an amber penumbra. As we drove up, his sleepy eyes grew worried, his ears came forward, and he raised his head in alarm. Michael stopped the golf cart, knowing it was unsettling the horse. I walked up and stroked Gulch's face, and they let me hold his lead while they worked on him. He was gentle and so kind, murmuring his lips against my fingers. He looked impossibly youthful for his age, which was roughly 100 in human years. I stood a long while with him, stroking his face and neck and whispering my thanks for what he'd given me so long ago. I'd never felt so privileged.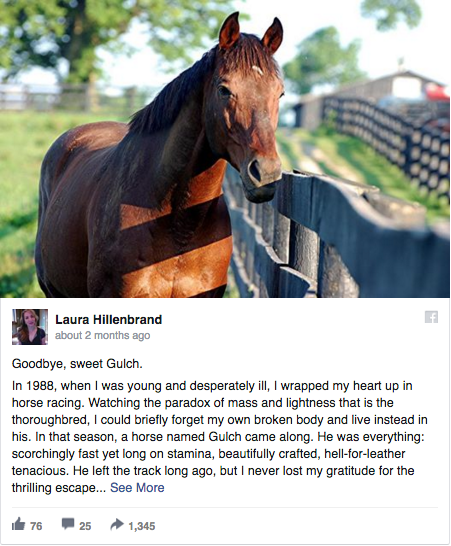 Old Friends also took to Facebook on Sunday to eulogize their beloved friend:
Gulch lived in a comfortable paddock just behind the visitor's center at Old Friends. He spent his days in quiet contentment, occasionally allowing for a break in his well planned routine of grazing or standing under his small grove of tall shade trees rooted just on the opposite side of the fence line. On days when the winds blew in, he would retreat to the shelter of his run in shed. When the gentle autumn sun would generously share it's light, he would lie down in the still lush grass, perhaps to dream of stretch runs from days gone by. And when the early winter brought soaking rains followed by muddy pastures ideal for rolling, I watched as the aged bay son of Mr. Prospector took his time and picked the choicest spot to enjoy his own mud bath. Despite his age, he rolled from side to side with great agility. And as if to remind me that he was an Eclipse Champion Sprinter, he returned to his feet with such speed that I had no time to snap a photo. This was perhaps a month before his death, and until the end, he remained very much his own man, with more than an echo of the magnificent athlete he had been during the zenith of his career….Gulch was truly a horse that had earned and commanded every margin of respect he was given. How many other stallions could say that Her Majesty, Queen Elizabeth II sent her own blue-blooded mares to his court? Gulch could. But for all his accomplishments, the Gulch that I will remember is the horse who kept his own council, and was content to graze silently in the shade…who on occasion would let down the wall he had so carefully constructed and offer the gift of his friendship….
Gulchie, as I called him, much to his chagrin I'm sure, was kind enough to tolerate me. He sat through the many poorly sung Happy Birthdays I greeted him with, more or less, on his special day each year…
It takes a long time to say goodbye to such a big soul as you. Gulchie, so I think I'll stop trying now…surely, it would take a lifetime to say how much you meant to us. Keep an eye on your earthly herd, from your place in the celestial herd. I'm sure you are running near the lead, tail streaming, surging onward into the West. Thank you for all you were and all you gave. We will love and remember you always. Love, your friend, Viv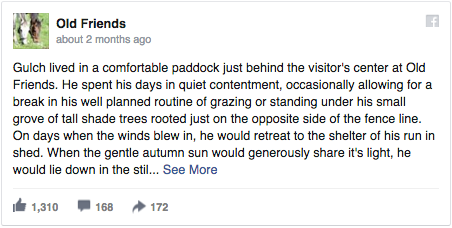 Gulch leaves behind an enormous hoofprint in the horse world, not only in racing but in the many other disciplines featuring his descendants. RIP.
And any chance we get to heap praise on organizations like Old Friends, we'll take it, because if there's one thing our animals deserve, it's to live out their lives with dignity.