From his first wobbly steps over the Kentucky bluegrass, much has been expected of the bay colt they call American Pharoah, who will attempt to become just the 12th Triple Crown champion in history next Saturday in the Belmont Stakes.
"From day one…He was gorgeous," owner/breeder Ahmed Zayat remarked before the Kentucky Derby. "The way he was muscled, the way he's built, his gaskins, his hind end—you can tell that he's built different."
Zayat also credits the colt's naturally "cuddly" disposition for his success.
"What was amazing was he's the most kind horse you can own—he's almost like a pet," the gregarious horseman explained to Brisnet. "You can do anything with him—you can pet him, you can kiss him. He is so easy. He's the kindest, sweetest, cuddly horse you would want—you literally want to cuddle with him."
If this sounds like superficial sales speak, consider this: after sending his homebred to auction as a yearling, where he failed to meet a reported seven figure reserve, Zayat literally put his money where his mouth is and bought him back for $300,000. A bargain in hindsight, but unquestionably a hopeful fling of the dice considering his sire, Pioneerof the Nile (another Zayat homebred), was a newly minted and still unproven stallion at the time, and his dam, Littleprincessemma (she too a Zayat production), had produced just one foal prior.
"With these horses I took to the sale, I either chickened out or had sellers' remorse," Admitted Zayat in an interview with TDN, noting that he also bought back Pioneerof the Nile as a yearling for around the same price. "We're not being geniuses here; it's pure luck, or maybe we are blessed. Who knows?"
In a game of speculation, one thing is certain: American Pharoah can run. With a strapping blend of effortless speed, raw power and sheer determination, many keen observers believe he's simply breathing different air than the rest. So where exactly does this dazzling skill set come from?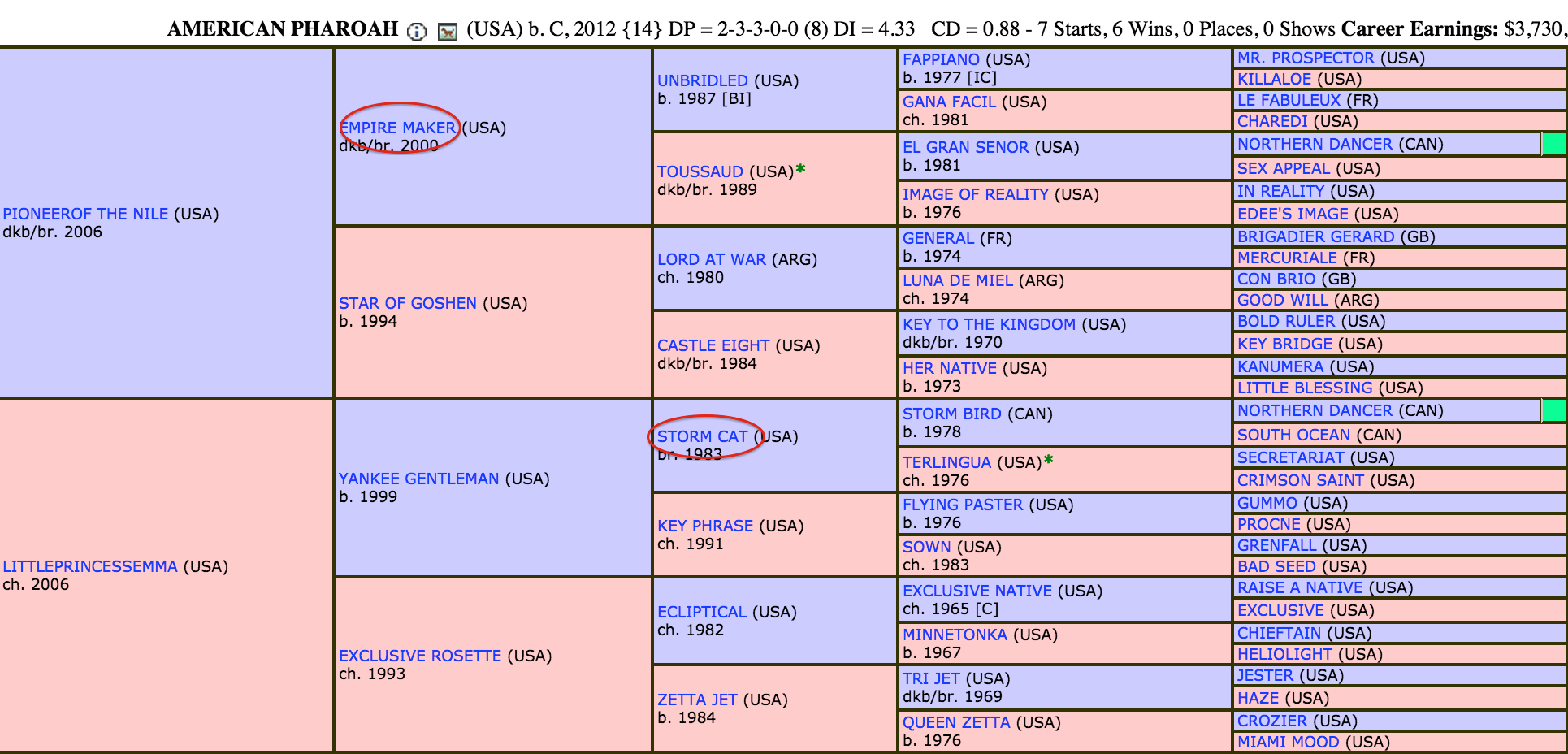 State of De'Nile
There's plenty to love about the top half of American Pharoah's pedigree. A son of the regally bred 2003 Belmont Stakes winner Empire Maker, Pioneerof the Nile was himself quite the standout on the racetrack. After sweeping the major West Coast prep races early in his 3-year-old campaign, he rolled into the 2009 Kentucky Derby as the horse to beat…which he was, by improbable longshot Mine That Bird. The Preakness Stakes would be his last race, when after an alarming 11th place finish a soft tissue injury was discovered in his left front leg and he was retired to stud duty.
While he never had the chance to live up to his full potential on the track, Pioneerof the Nile has already roared past his stallion prospectus in just his fourth season. His initial stud fee of $17,500 has already jumped to $60,000 and could soar in excess of $100,000 next season. Although it's far too early to pen his stallion biography, Pioneerof the Nile appears poised to be a major influence on North American racing for many years to come.
Princess Cruise
On paper, Littleprincessemma does not scream "classic champion producing dam." The daughter of the stakes winning sprinter Yankee Gentleman (by Storm Cat) was herself a highly regarded foal, selling as a yearling for $250k in 2007. Her racing career would be both brief and uneventful however, as an injury forced her off the racetrack after just two career starts. Well-bred, no doubt, but a pedigree much more accustomed to turning out milers than potential Triple Crown winners. At least, you would think.
"We're not being geniuses here. It's pure luck…or, maybe we're blessed." -Ahmed Zayat
Just like Team Zayat's 2012 Kentucky Derby runner-up Bodemeister, American Pharoah is a product of the Empire Maker-sire/Storm Cat-mare cross. It's clearly a recipe for success, as both colts possess sprinter-like speed with the class and stamina to knock it out past a mile and 1/8. But beyond bloodlines, American Pharoah just seems to have "it," that intangible ability to just do what's needed to win. His stride is an unbending, effortless work of art and he clearly loves and understands his job.
Sound familiar? It should. We were singing the same song a year ago when the bargain barrel Cal-bred colt named California Chrome outran his pedigree all the way to Horse of the Year honors. You simply cannot undervalue the "it" factor.
A Strange Tail Indeed
Much has been made about American Pharoah's cropped tail. The "bob", if you will. No, it's not a genetic abnormality, rather, a crime scene. It's speculated that while being trained down in Florida as a youngster, his tail was chewed off by a pasture mate. The lead suspect, according to America's Best Racing, is former stablemate Mr. Z. If you can't beat 'em, eat 'em?
Great piece from @davehill77 on the aerodynamic advantage of #AmericanPharoah's short tail: http://t.co/TPACUDYolh pic.twitter.com/nbFoS2aHDt

— Americas Best Racing (@ABRLive) May 28, 2015
Bottom Line
American Pharoah is not bred to thrive in the Belmont Stakes—very few horses in the world are bred to get the mile and a half on dirt—but that certainly does not mean he won't. It just might not be as easy as his romp through the mud puddles in the Preakness. He'll be running against physics, history, perhaps fatigue, a throng of loud Long Island drunks and a host of fresher legged rivals with plenty of talent. The Pharoah has already proven himself the best of his generation, but whether or not he has enough of "it" to be remembered as a legend…
[pause for effect]
We'll find out soon enough.