In May 2015, Michael Jung (GER) put paid to William Fox-Pitt (GBR)'s 12-month strong hold on top of the FEI World Eventing Rankings. He's held on to that title nearly every month since. What do we know about eventing's leading man?
1. He's the first eventing athlete to hold the European, World and Olympic titles at the same time.
He also's the first to win four championship titles consecutively.
2. He won the individual and team gold at the London 2012 Olympic Games.
Jung captured the second gold medal on his 30th birthday, July 31, 2012.
3. He won double gold medals at the 2011, 2013 and the 2015 FEI European Championships.
That's individual and team gold.
4. And he's claimed gold at the past two Alltech FEI World Equestrian Games.
In 2010, Jung rode to individual gold in Kentucky (USA) with La Biosthetique Sam FBW. In 2014, he was part of Germany's gold medal winning team and took home the individual silver in Normandy (FRA).
5. He's recorded 22 FEI victories with La Biosthetique Sam FBW to date.
Riding his veteran partner, Jung became the first German rider to win a British CCI4* when they captured the Land Rover Burghley Horse Trials (GBR) last year. They also won Luhmühlen CCI4* in Germany and the FEI World Cup™ Eventing final in Strzegom (POL) in 2009.
6. His nickname is Michi.
And/or Magic Michi.
7. In 2015, he won North America's only 4* event.
The German superstar captured the title with 10-year-old mare FisherRocana FST and finished third on La Biosthetique Sam FBW. Alas, he didn't win the prestigious FEI Classics 4* Series in 2014/2015—he was second to teammate Ingrid Klimke.
8. He's known for his modern training methods.

According to Olympic.org, those methods focus on jumping technique to ensure the horse approaches each fence correctly and limits the chances of it refusing. Plus, he doesn't jump young horses until they can fully extend their stride.
9. He also competes in jumping and dressage.
Because of course, he does. Jung received the Goldene Reitabzeichen [Golden Pin] in 2003 for his achievements in those disciplines.
10. He's been on top of the World Rankings since June 2015!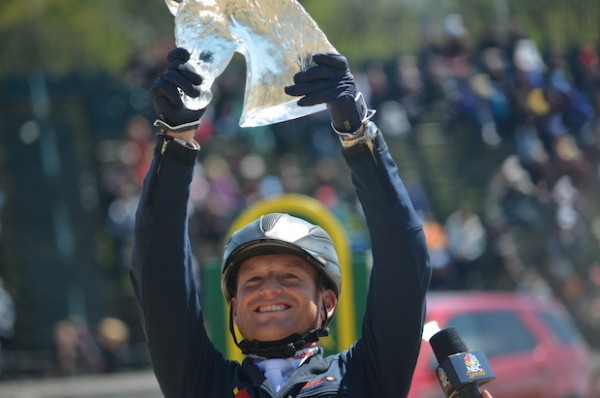 Jung topped the World Ranking for the first time in April 2015. After a brief blip in May, he reclaimed the lead in June 2015 where he's stayed since. He currently has a commanding a 150+ point lead over World #2, Australia's Christopher Burton.
Congratulations, Michael! #ForeverJung