For celebrities, life is rarely simple. The paparazzi never quit; cellphone, email, and vacation privacy is an illusion at best; and the constant public scrutiny is enough to reduce most grown men to tears. When it comes to the occasional bad hair day, bitchy resting face, or baffling T Magazine interview, it's always open season on the rich and famous, and today, we're unabashedly part of the problem.
So avert your eyes—or better yet, read on, for 25 uncannily awesome celebrity horse look-alikes.
1.
Pomp and Circumstance
This horse kind of looks like Zoolander. It's really really ridiculously good looking.
2.
Tightly Wound
Bradley Cooper and this horse have that confidence imbued by only the tightest of curls.
3.
Grunge-tastic
For this horse and Juliette Lewis, hairbrushes are sooo 1993.
4.
Over-acted
This horse kind of looks like Nick Cage. At least one crazy-eyes scene per movie, right?
5.
Heartbreaker
It's inevitable, this horse kind of looks like Brad Pitt.
6.
Codebreaker
With well-defined facial features, this horse kind of looks like Benedict Cumberbatch.
7.
Flippin' the Bird
This horse kind of looks like he's from the Flock of Seagulls.
8.
Just Beat It
Kanye West and this horse are in the middle of something (shopping/rolling) so stop bothering them.
9.
Rock n' Ringlets
Slash and a horse wearing Slash's hat. Powerful coifs all around.
10.
Speaking in Tongues
We know what you're thinking. But hey, they're just bein' Miley.
11.
White Wizards
This horse looks a lot like Sauruman from Lord of the Rings.
12.
Horses of a Different Color
You're not dreaming (on) – that's a lot of mouth Steven Tyler + horse.
13.
Stable Pundits
Ann Coulter and this horse have something important, controversial, and quite possibly rude to say.
14.
Dudes on the Prowl
Owen Wilson thinks: "Oh heyyyy Girl." Horse thinks: "Hay Girl! Yeah, you. Over here!"
15.
Armed and Ready
Channing Tatum and this horse are beefed up and ready for action. Or lunch. Whichever's next.
16.
Tiny Tots
Kristin Chenoweth and this mini horse: super adorable, great bangs.
17.
Bourne to Ride
Good Will kind of looks like this tired hunter.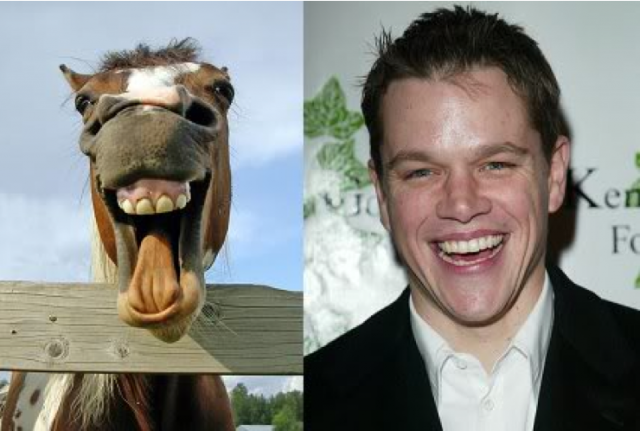 18.
Dirty Blond
Christina Aguilera and this horse are beautiful, no matter what they say. (They say her hair looks a little rough).
19.
Pajama Party
Zooey Deschanel and this horse <3 their heart pajamas. It's a thing.
20.
Haterade
Arnold Schwarzenegger and this horse are so mad.
21.
Bieber Fever
Justin Bieber and this horse both flip their hair back and forth, but only one of them has been charged with assault.
22.
Tickled Pink
Rihanna and this horse are pretty in pink (but Ri skips the Rainbow Brite accessories).
23.
Locks of Love
Cher and a horse. Wait, that's a horse, right? No? It's definitely a horse.
24.
Jailbirds
The filthy horse equivalent of the iconic Nick Nolte mugshot.
25.
Winsome Duo
We really didn't want to jump on this bandwagon (but then we did). Sorry, Sarah Jessica Parker.