If you're ever hired or volunteer (God bless you) for horse show jump crew duty, there are certain things you should know in advance.
1. Jump crew days start early. Very early.

(via tumblr.com)
2. Because of this, you'll spend the next 12 hours in a constant state of hangriness.

(via reddit)
3. But the only thing to eat will be fried food and Gatorade (you'll consume both with gusto).

(via gracie-law.tumblr.com)
4. It's sunny, so you think maybe you'll get to work on your tan.

(via giphy/tumblr.com)
 5. But 150-pound standards don't move by themselves.
6. Except when they do.

(via Facebook.com/RidersDeal)
7. At least you'll get in a good day's workout.

(via reddit)
 8. Even if raking the track feels pointless.

(via gifbay.com)
9. You're even starting to fancy yourself a bit of an equitation expert.
(via jessielyn3.tumblr.com)
10. Unfortunately, this morning's entries aren't jumping very well.
11. It's almost like they're doing it on purpose.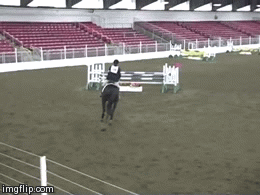 (via youtube.com/MovingImages NW)
12. You can't get ahead of it, and suddenly, you start to have summer camp flashbacks.
13. At 400 hunter trips in, you're questioning your decision to take this on.

(via reddit)
14. By 600, you've started to question everything.

(giphy.com)
15. You have only one hope left in this life…
16. That, and the fact that there's a liverpool in the afternoon jumper classes. (  )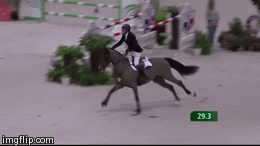 (via youtube.com/Jean-François Meid EQUIMAGE)