In the market for protective gear that keeps you and your horse safe? Now's your chance to catch a deal.
Seven of your favorite brands are on sale right now at Equishopper.com with massive end of season sales from Champion, One K, Shires, Kensington, Amigo, Tredstep, RJ Classics and more—but only until Tuesday.
Here are our a few of our favorite protective gear finds. Because safety shouldn't cost an arm and a leg.
Helmets
All Champion helmets are 15% off, and there are a wide range of styles to choose from in the Pro-Ultimate, Revolve, X-Air, Ventair Deluxe, Evolution and Air-Tech lines. From classic helmets for the cross-country course, show ring or trails to skull caps, there 53 options to keep the ol' noggin safe and sound. Plus a snazzy variety of colors, finishes, ventilation and sparkle level.
Many of the helmets have the MIPS system, which allows sliding movement of 10–15mm in all directions to reduce rotational motion, and all meet the British Safety Standards PAS 015 2011, VG1, ASTM F1163-15.
Deals can also be found on IRH Equi-Lite Helmets (20% off), TuffRider Starter Helmets (19% off) and One K Helmets (free helmet bag).
Body Protectors
Champion Ti22 body protectors for adults and children alike at 15% off right now. They come in black or the cool-sounding gunmetal grey.
Ti22 body protectors are made with military-grade outer mesh fabric over SegTek segments, which make these vests ultra-lightweight. All have a zip front and side lace adjustments for flexibility and fit. The Ti22 vests are certified to EN 13158: 2018 Beta Level 3, 2018 and come in regular, short and tall, to ensure a great fit.
Champion Ti22 shoulder pads are sold separately and are 15% off as well.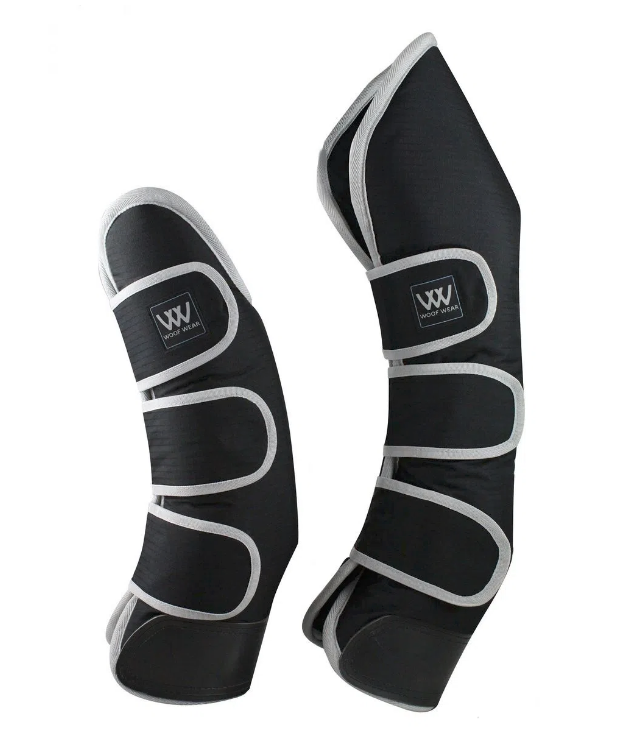 Protective Boots
Let's turn our attention to our beloved horses—Woof Wear boots and accessories are up to 50% off!
Woof Wear has sought to protect each joint and tendon of your horse's legs. We will start with the largest of boots, which of course are the shipping boots (15% off). Made with 1000D nylon, so they won't rip despite your horse's best efforts and lined in fleece for a cozy fit, Woof Wear Shipping Boots protect everything from as low as the heel and coronet band to above the knees and hocks.
Woof Wear also offers therapeutic boots, including Mud Fever Boots (where have these been all my life?!) made of a waterproof, breathable fabric designed to prevent mud fever by sealing the leg from the knee to the base of the heel. Save your horse and your wallet from the irritation of scratches.
To protect your horse's legs while riding Woof Wear has a wide variety of hind, fetlock, tendon, open front, cross-country, brushing, overreach and training boots—all for at least 15% off, some are 50% off.