Both were foaled in 2003, a year when the respected Thoroughbred racing crop would include Sweetnorthernsaint, Bluegrass Cat, Lawyer Ron and Brother Derek among others.
One was a son of then-leading sire Dynaformer, bred and owned by the M. Roy Jacksons at smaller Pennsylvania-based Lael Stables.
The other was a Darley homebred, a son of A.P. Indy, expected to compete for the Kentucky Derby trophy so pursued by owner Sheikh Mohammed bin Rashid Al Maktoum of Dubai.
One was trained by a former Olympic Equestrian and Show-Jumping Hall of Fame Champion, Michael Matz.
The other was guided by leading trainer Tom Albertrani, a former jockey mentored by the great Hall of Fame trainer Bill Mott.
Literally separated by their respective equestrian sports and half a world, both came together on May 20, 2006 in what would become one of the most memorable, albeit tragic, Thoroughbred races in Triple Crown history.
One would fight valiantly, watched literally by the world as he fought back from a life-threatening injury.
The other would become a Preakness winner, the Champion Eclipse Award Three-Year-Old and Number One rated Thoroughbred in the world in what was a very good year.
One continues to be mourned.
The other was near forgotten.
Until today.
Fated
Barbaro and Bernardini were fated by the racing gods to be joined forever in life by a small misstep that happened in the Preakness at Pimlico Racecourse that sad May day.
Kentucky Derby winner and Triple Crown contender Barbaro was expected to win the second leg of that Triple Crown, but his shattered right hind leg denied him the chance at victory a scant hundred yards into the race after he had broken too early, prophetically, from the starting gate.
Bernardini missed the Kentucky Derby due to a nagging minor injury, but would claim the first Triple Crown victory for a Darley homebred in that Preakness following Barbaro's breakdown.
But no one would notice Bernardini's achievement in the hailstorm of concern that followed Barbaro.
Never to race again, Barbaro's owners pledged to give him all the support, financial and emotional, to aid their Champion in his recovery.
The world followed his successful surgery and subsequent recovery. Letters, flowers, gifts flowed into Barbaro's recuperative home at the New Bolton Center in Pennsylvania.
Exceptionalism Ignored
Having won the Withers (G3) at Aqueduct before the Preakness (G1), Bernardini would go on to win the Jim Dandy (G2) and Travers Stakes (G1) at Saratoga, and the Jockey Club Gold Cup (G1) at Belmont. He would finish second in that year's Breeders' Cup Classic (G1) to the incomparable Invasor.
Starless, blazeless, he seemed an ordinary Thoroughbred. Few would notice his spectacular racing career, save ardent followers of the sport.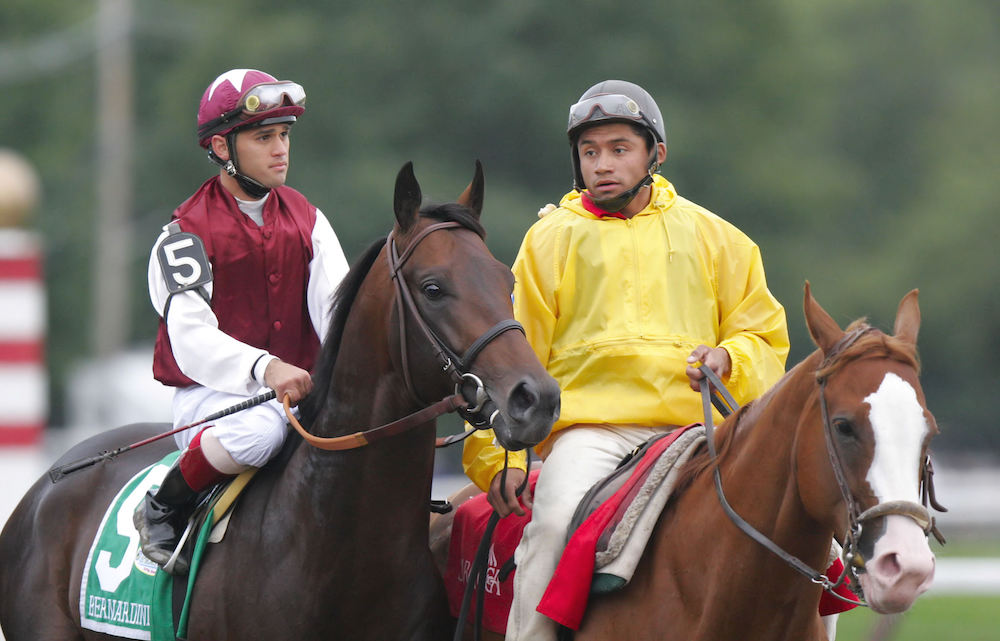 Barbaro would fight back from his injuries, just as he fought on the racecourse. His injuries would not defeat him, but a puzzling disease would.
On Jan.29, 2007, Barbaro was euthanized at the University of Pennsylvania's New Bolton Center to spare him further suffering from laminitis, the crippling and painful inflammation of the soft tissue surrounding a horse's hooves.
Bernardini would go on to become a successful sire. His very first crop would include four G1 winners, notably Stay Thirsty in the Travers (G1) and Woodward (G1), To Honor and To Serve in the Cigar Mile (G1). He would shuttle to Australia for the Southern Hemisphere breeding season.
To date, Bernardini had sired 48 graded or group stakes winners and 15 grade or group 1 winners worldwide.
Reunited
Bernardini was euthanized early Friday morning at age 18 at his Darley America Jonabell Farm home, where he stood as a leading sire. The cause of his passing was complications from laminitis, the identical disease that eventually felled Barbaro.
In their statement announcing his passing, Darley America released few details on Bernardini's illness or its length, focusing instead on his accomplishments, both as a racehorse and sire.
"Bernardini was one of a kind," said Godolphin USA director of farm operations Michael Banahan. "From the day he was born, he exuded class. He was that crop's best foal, best yearling, and best racehorse. His brilliance was only surpassed by his wonderful character. He will be sorely missed by all on the farm but especially by his handler for the past 15 years, Philip Hampton. It was an honor to be a custodian of this classic-winning stallion whose legacy will live long as a broodmare sire."
Trainer Tom Albertrani added, "Bernardini was such a majestic animal. He was very talented, one of the best horses I've ever been around. I just feel very fortunate to have the opportunity to train him. He was a star."
Jimmy Bell, president of Godolphin USA, noted that Bernardini was the first winner of a Triple Crown race for Sheikh Mohammed's Godolphin racing operation and a homebred.
Like legendary Secretariat, Bernardini's breeding accomplishments are more impressive among his daughters. He is the maternal grandsire of Catholic Boy, Colonel Liam and Maxfield, among others.
He was the youngest stallion to ever reach 50 black-type winners, indicating progeny that have won or placed in an important race.
He currently has 54 black-type winners, 32 graded or stakes winners and 11 graded or group 1 winners.
"We have been blessed to have him," said Bell. "A beautiful horse, and a lovely character, we are lucky to have so many of his daughters on the farm to continue his legacy."
Both in life and at his passing, Bernardini was fated to be forever remembered with Barbaro, both now reunited.